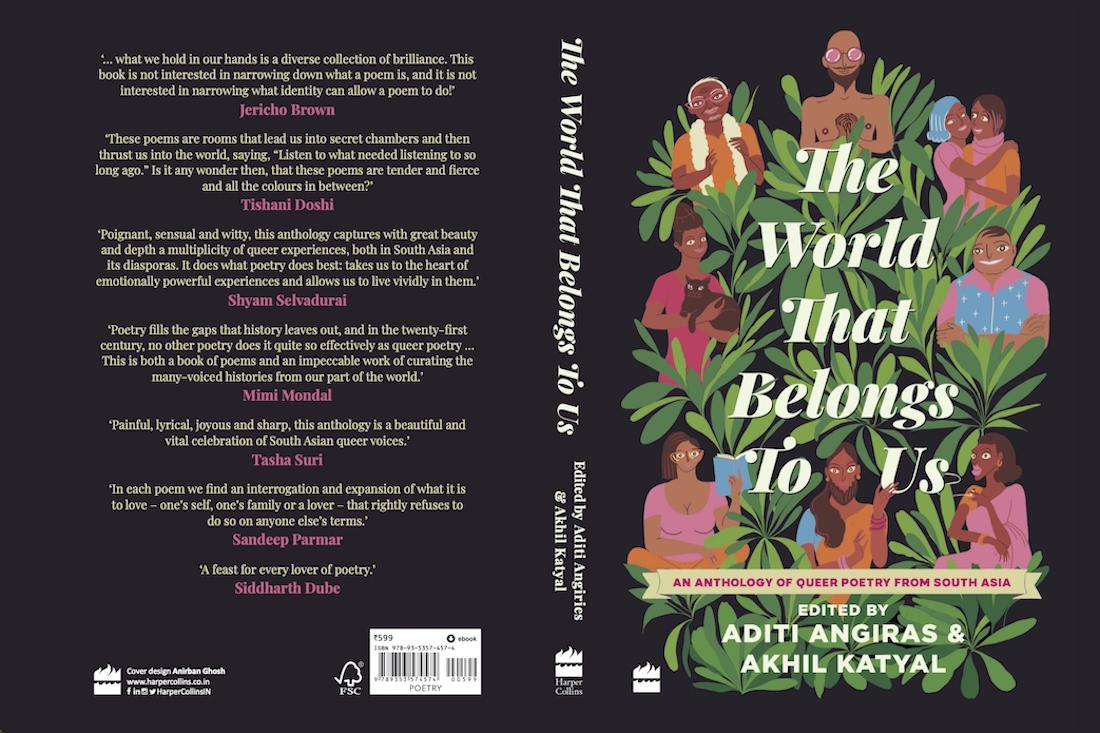 The World That Belongs To Us
An Anthology of Queer Poetry from South Asia
The world today is chaotic, not just because a pandemic has engulfed us whole, but because the uprising for freedom to be who we are, and the fight for dignity of human value is roaring fiercely. The Stonewall riots and the emergence of Pride is a testament to this. Socially oppressive structures have always limited our understanding of the self, expression of the same is repressed even further. However, humanity has always found itself amidst revolutions because the fight is collective, and literature and poetry has found itself at the forefront of such revolutions almost always.
It cannot be ignored that for far too long, even the space of literature and poetry has been dominated by heteronormative narratives. A book like The World That Belongs To Us: An Anthology of Queer Poetry from South Asia, is then an urgent book in its intention to shed necessary light on the voices that have been ignored for being queer. The book is quite simply an imaginative and beautiful testament to the diversity, politics, aesthetics and ethics of queer life in South Asia today. We connected with its editors, Aditi Angiras and Akhil Katyal to know more about the mammoth task of making this book and more. Excerpts follow:
Could you tell us a little bit about yourselves and how you were led towards literature and poetry?
Aditi Angiras: I've lived and loved in Delhi for almost 15 years now, and here is where I mostly write from and write about. I wanted to always be an artist, to paint, but words were easier to hide in notebooks, and cheaper too. So, I became a poet. I discovered libraries and LP rap records when I was at school in Darjeeling, that's how it began. One foot treading a Wordsworth trail, another tapping to a 4/4 beat. I studied literature at University but hip-hop taught me a lot more writing than anyone or anything else did.
Akhil Katyal: I am a poet who lives in Delhi. The grub comes to the table because of a teaching job at the Creative Writing programme in Ambedkar University Delhi. I was led to literature and poetry due to two things: great teachers in college, and the city of Lucknow, where I grew up. At Hindu College, excellent teachers like Lalita Subbu, Brinda Bose and Suroopa Mukherjee took me under their wing when one was a novice in every respect and helped sharpen one's reading, and more painstakingly, one's writing. Lucknow, where I spent most of my childhood, was for me Punjabi relatives, 'Hindustani' neighbours as my parents would call them, an utterly English school set up by a French founder, and all this in a sea of Urdu and Awadhi. So a certain literariness must have taken root in this clash and convergence of languages.
How would you describe your relationship with poetry as?
AA: I think, purgation. Catharsis, even. It's this ritual of trying to articulate what's absolutely overwhelming and always falling short. Each poem is almost an evidence of my struggle to come around to things that don't make a lot of sense at the time.
AK: Therapeutic will be a good word to describe this. When the day does not add up, writing a poem often comes to the rescue. It orders the confusion that has assailed you, in the sense, that the poem becomes a precise photocopy of what is weighing on you, a way of articulating, hence diffusing, it. The more precise its copy, the more exact its articulation, the more that weight gets lifted.
How was the book, The World That Belongs To Us: An Anthology of Queer Poetry from South Asia conceived?
AA: Akhil will be able to share the story of its conception and about the chain of events better, but in a manner the work that I'd been doing with Bring Back The Poets for the last few years found a shore when I got that first phone call about this project. This idea of a collective of poems coming together from various communities, through different channels, across countries -- it's beautiful, this politics of poetry.
AK: Our commissioning editor Sohini Basak came up with the idea and Aditi and I were only too happy to get on board. Her role in conceiving of this book, getting the call for submissions translated, juggling a hundred email threads at the same time, her capacity to listen to our concerns and confusions, and her all-round resourcefulness as an editor was central to the growth and the final shape of this book. She is also a wonderful poet herself, which is why she had the best eye and ear for this book.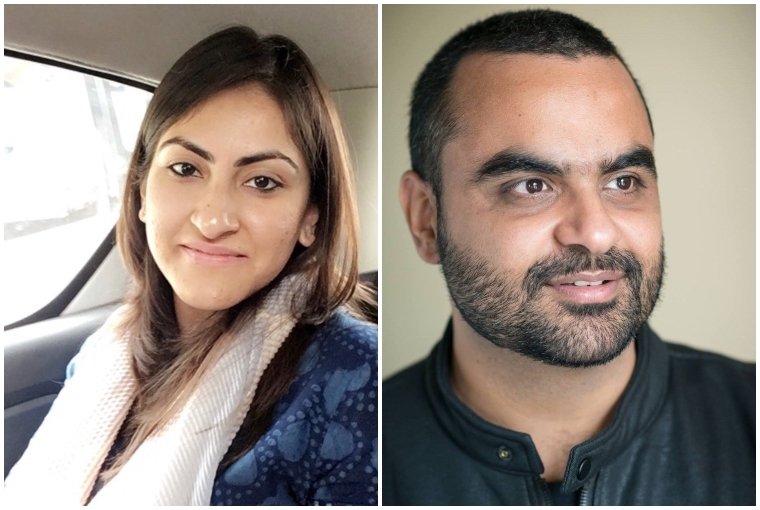 Aditi Angiras and Akhil Katyal
The diversity within the LGBTQIA community is magnanimous. Could you tell us a little bit about your curatorial process behind the anthology.
AA: We had discussed, Akhil and I, that we'd like these pages to be inclusive and not just representational. That we'd keep the walls down and the borders open. That we'd be more community organisers and less gatekeepers. I think our methodology was simply to just listen. We spoke to friends and beyond, we sought advice, we looked into books and looked out of windows, we tried to make sense of everything that everyone was trying to share with us. Honestly this anthology is a small reverb of what we heard.
AK: To call it a 'process' makes it sound very planned. We learned on the job and there were tons of people helping us. When the call for submissions first went out, lots of folks made suggestions for additions, some debated it and voiced their concerns, others got on board enthusiastically by sharing it with their friends, acquaintances, and anyone else who they thought must contribute. Our 'process', if any, was to keep our eyes and ears open. Also, often to actively reach out to folks to contribute. To try and get as many languages as possible in which, I think, we both failed and succeeded. To not have any pre-prepared definitions and limits to what 'queerness' is and what a 'queer poem' can be. To front contradictions instead of hiding them. All this has meant that as it stands, the volume has more than a hundred poets and translators, and poems in translation from ten languages. The promise has been realised in some measure.
You've spoken of the myriad challenges the both of you faced in the Preface to the anthology. What for you was the biggest challenge of them all?
AA: That two years and two-fifty pages could only speak so many things in so many languages. There are corners we couldn't reach, chambers we couldn't escape. The call for submission was translated in many tongues, but we didn't get to talk to everyone. Publishing poetry in itself comes with its own challenges and that poverty is another conversation. I'd say the biggest challenge has been that there is so much to do but I believe that future anthologies will take us from here.
AK: I think the book could have had far more languages, because queerness does not transpire in a few languages alone. Every language finds its own tentative, often dynamic, frames for queerness. When the call first went out, it went out in about seven languages, including Hindi, Tamil, Malayalam, Gujarati, Urdu, Kannada and English. Which is a pittance considering the boggling diversity of languages in our subcontinent. But it was what we could manage then and when the poems started coming, they finally reached us in little more than ten languages, including Punjabi, Nepali, Manipuri, Marathi, Bengali, in addition to those mentioned above. Several translators stepped in, including Mamta Sagar, Jasdeep Singh, N.P. Ashley, Somrita Urni Ganguly, Maaz Bin Bilal, Souradeep Roy, Rohan Chhetri, Rukmini Banerjee, Dhiren Borisa, Anish Gawande, K.C. Kanda, and often the poets themselves, and helped us bring these poems to life in English. However I do think we could have done better in this respect, reached out to more folks in more languages, stepped out of our instinctive comfort in English more. It has happened to some degree, but no where near where it could be.
The anthology is rather urgent and necessary in its intention and scope. What do you hope the readers take away from this book?
AA: That the world that belongs to each of us is far more intricate and intimate that we can even imagine. That queer as a word cannot even hold together all the things we can be, all the things that we live, all the things that we feel. But here's a small glimpse at those possibilities. It could be your haircut, your relationship with your family, how you rewrite a poem or an old song, what you wear, where you live and how you love, it could be anything and everything that you want it to be.
AK: I hope the readers take away the fact that there is no one guiding frame for queerness. That queer folks speak in a hundred tongues. That our life-worlds are as rich and different from each others' as possible. That we desire from our worlds all sorts of freedom, not just of being 'queer'. That nothing of this 'freedom' can be said to be abstract, real bodies are at stake. For instance, when the Indian government passes a transphobic bill in the name of supporting trans people, real people in the world stand to lose from it. The poems are a record of our failures and successes, as individuals, as movements, as lovers, as friends, and as community. Poetry gives an intimate window to our life-worlds. That intimacy should be read carefully for its honesty, for its gumption, for its ambition, and for its daring.
The world has been thrust into a rather baffling and challenging time. What do you think the role of poetry is or should be in our current situation?
AA: Sab yaad rakhha jayega, that's what a lot of poetry tries to do. To remind and to remember. Remind and remember. Akhil and I have been talking about the fact that this book is coming out at a strange strange time, where the world's hurting in ways that even poetry can't sooth. We urge our readers to reach out to us for links and more details, to help queer folks who need more than our words and wishes. Please do donate, it makes all the difference.
AK: To be honest, this is a tricky question. I would much rather that folks pull out their wallets for supporting a fund-raiser that helps queer people in distress than for buying this book of poems. Get this book after that, if you can. To get the food on the table, to pay rent to the impatient landlords, to be able to afford gender-affirmative surgery, to be able to afford shelter outside difficult families-by-birth, is primary. Sometimes poetry will help us live through it but only poetry won't do it. Sometimes poetry will give flesh and blood to our pain but that pain will often need resolution other than the one in the poem. We cannot exaggerate the role of poetry even as we cannot dismiss it.
The workers' movement, since the early 20th century, taught us the importance of both 'bread and roses', that you need food but you also need aesthetic pleasure, cultural vitality to have any sort of fullness of life, but we can't turn away from the fact that food enables you to receive pleasure of any kind, to be culturally vital. You can't eat a book. So go find fund-raisers being run by Sumi Das, Grace Banu and Santa Khurai (who has contributed two wonderful poems to this book), among several, several others to enable our communities to get through the lockdown with dignity and respect. Then once that's done, we will talk poetry. Because it is precisely poetry which will help us make sense of it all, of all that we went through during this crazy time, the period of lockdown, pandemic, Trans Act, and different sorts of repression that queerness meets daily. Poetry, along with other resources, will see us through it.
How have you been coping with the pandemic and what will be the new normal for you post it?
AA: I'm not sure, to be honest. I remember the three months to be hectic, heavy and with me barely holding on. I'm trying to find a routine, some rhythm in my days again. I've started reading and even writing this past week, so taking life one day at a time.
AK: For the longest time, my university with its grading, administration work, Zoom meetings, feedback sessions, and online classes, did not leave any real time to think about the pandemic. Now that the vacations have started, I am lying flat on the bed and staring at the ceiling mostly. Apart from the two short and scary grocery runs a week, a lot of prohibitive indoors, and long walks when I can't take it all. And bracing myself for the horrible prospect of the coming semester that threatens to be entirely 'online'. Kill me please.
Lastly, what are you working on next?
AA: I'm already looking forward to returning to a room with a stage, organising readings and events, collaborating with other artists. I'm also working on short fiction and a book of essays. Let's see what that looks like.
AK: I have written 6318 words of my first novel. Give me five years and I will come back with a serviceable first draft.
Text
Nidhi Verma