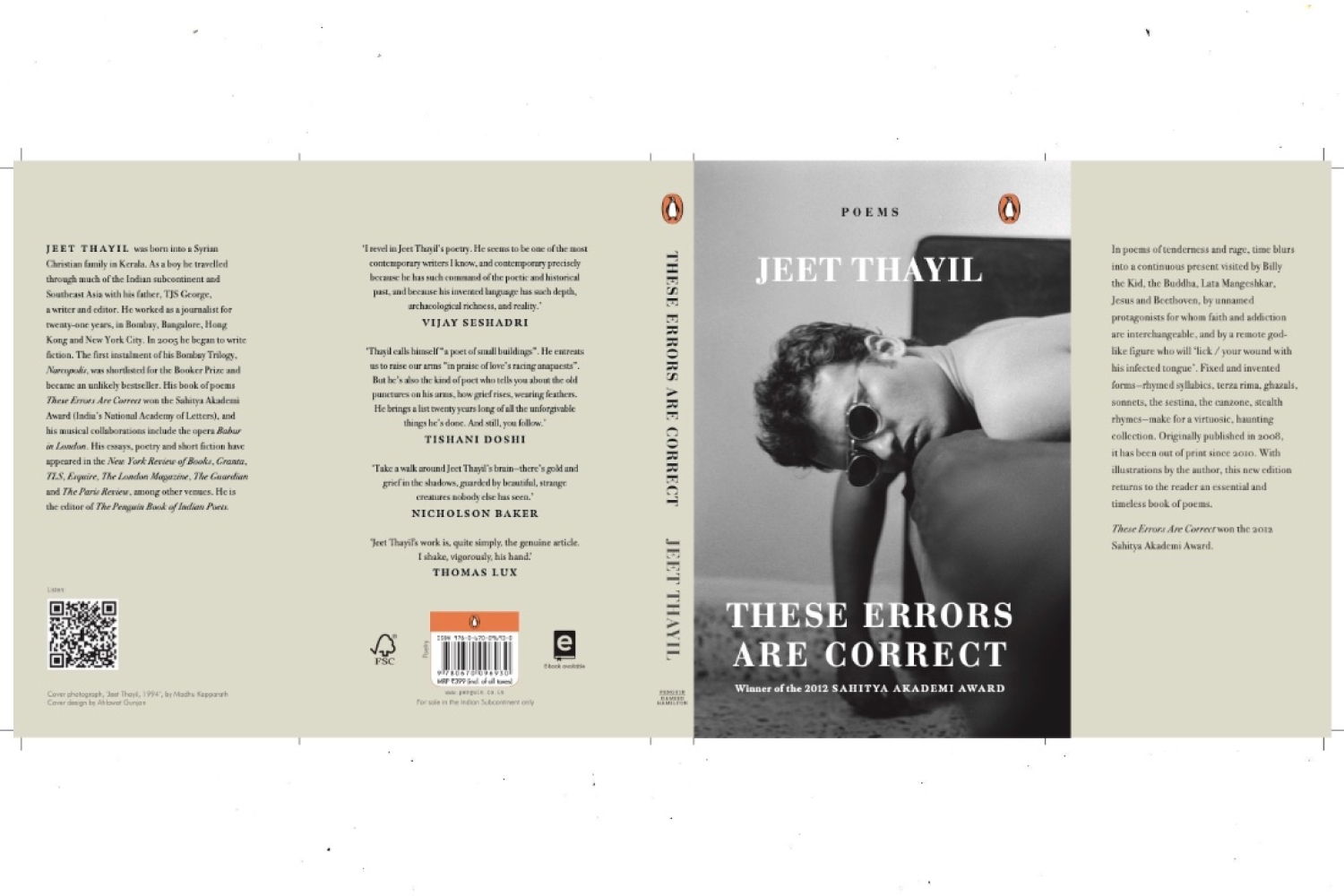 'As with any relationship, when you define it, you change it. The opposite of the quantum Zeno effect. A system changes when you watch it. I'm grateful to have any relationship with poetry. I don't take it for granted. You never know where the next one will come from, or if it will come at all,' reveals Jeet Thayil of his relationship with poetry. In 2004, he began work on a collection of poetry that not only earned him the Sahitya Akademi Award, but was destined to withstand the test of time, owing to its enduring exploration of grief, and ultimately, love. 'I think it's true to say these are poems of love and grief. I think it's true to say that grief is love that has nowhere to go. I hope the reader gets a sense of that,' he says of These Errors are Correct, which was first published in 2008, some time after Jeet Thayil's wife, Shakti Bhatt's death, and was dedicated to her. After being out of print for more than a decade now, a new edition of the book, with the addition of intriguing illustrations by the poet, was recently released. At a time when everyone in the world is dealing with the aftermath of some form of loss due to the pandemic, or otherwise, the resurgence of These Errors are Correct is certainly a boon. More excerpts of our conversation with the poet about the book follow:
What led to the making of the new edition of These Errors are Correct?
It's been out of print since 2010 or so. I mentioned this to Aparna Kumar, my editor at Penguin Random House India, and one thing led to another. It was her idea to put illustrations in the book.
Could you give us some insight into your creative process behind the new edition, especially vis-a-vis the illustrations?
I made a set of drawings that circle around the poems. Sometimes it would be a very specific reference: I'd focus on a line and put it into the drawing as a kind of caption, for instance, 'they've heard your lie before, that a river runs under the river'. Which is slightly different from the line in the poem, and it led to a drawing of koi. The illustrations illumine a line or an image, sometimes in an abstract, free-associative way. And sometimes they take their own unexpected direction. When that happens, whether with poetry or visual art, all I do is follow. What else can you do?
The collection is rife with linguistic experimentations with the poetic form. Could you acquaint us with some of the invented forms of poetry used in this book?
It's pretty experimental and improvised, but there are also classical forms like the sestina and the canzone, and lots of sonnets. There are poems that use, what I call, stealth rhymes. For example, 'Dear Heptanesia,' which is a poem of 27 lines in which each end-word of each line rhymes with another, but not in any discernible pattern. You won't see it unless you're looking for it. (Heptanesia is the old Greek word for a cluster of seven islands. Ptolemy's name for Bombay.) Another invented form uses rhymed syllabics, in which each line of each stanza has a fixed number of syllables, and the stanza also has a fixed rhyme pattern. 'The New Island' is a poem of four five-line stanzas. The first three lines are ten syllables each. The third and fourth lines are four and six syllables each, adding up to ten. So: it's four ten-syllable lines, a conventional quatrain, but the last line has been broken up into two. The rhyme scheme is ABABC CDCDE, and so on.
As this is a deeply personal book for you, did revisiting it produce any challenges?
There are poems in the book I'd rather not read, not out loud in public and not alone. It's been fifteen years since I wrote them but they still feel raw.
Lastly, how have you been coping with the pandemic and what are you working on next?
I think the old AA sayings apply to pandemics. One day at a time. Let go and let god. Easy does it. Don't think, drink. Okay, maybe the last one isn't AA, who knows? The point is, there's no point overthinking things. Get past the day and the future takes care of itself. At the moment, I'm working on a new book of poems, my first full-length collection since These Errors are Correct fifteen years ago. And a new book of prose, Stormy Monday, which is a collection of essays, travel writing, autobiography and documents, including photographs, letters and ephemera.

Text Nidhi Verma
Date 29-07-2022