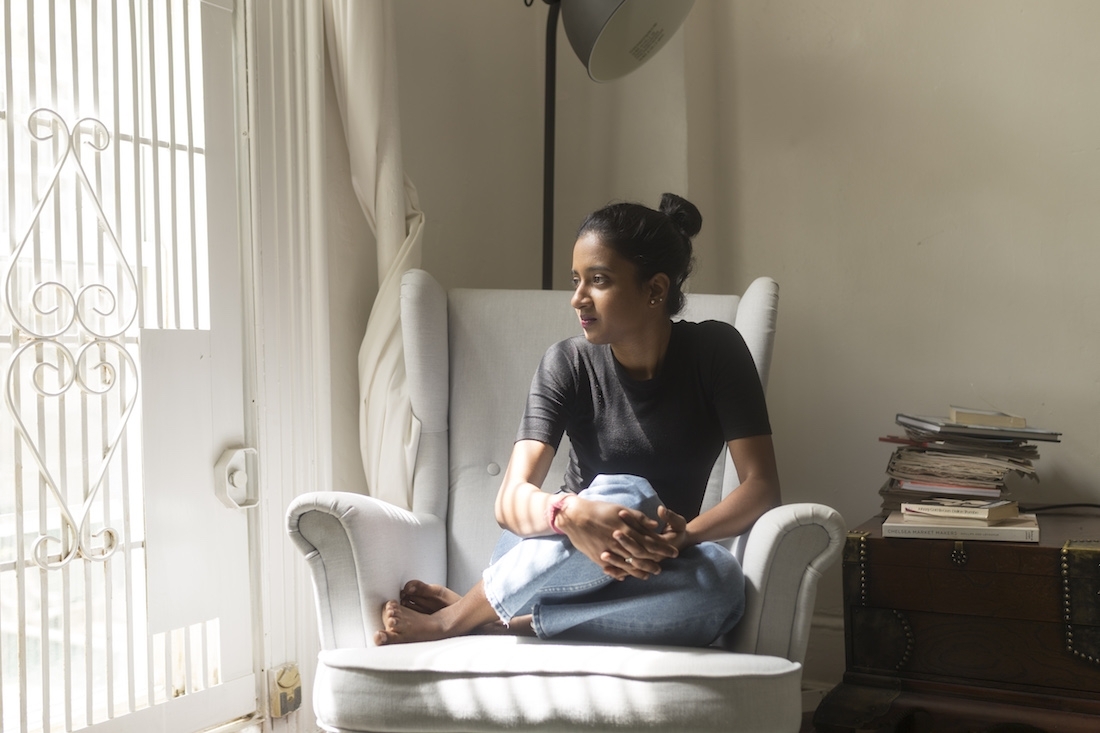 Wonder Girls
Varsha Adusumilli
Wonder Girls is about making relatable role models accessible for young women in India. The author of the book, Varsha Adusumilli, has featured in-depth life journeys of young women who are thriving in their careers, ranging from a particle physicist, to a Bollywood casting director, a rock climber, a scientist, a neurosurgeon, to a brand marketer, and many other career choices. The women featured come from diverse cultural backgrounds, including remote villages of Sikkim and Goa, tier 2 cities such as Jabalpur and Vijayawada, and the metros. At 27%, India's women's workforce participation is among the lowest in the world. While the media does a fantastic job of showcasing the high-achieving women in sectors such as banking etc, Indian women are looking for role models who are 1-2 steps away from them in their journeys so that they too can emulate those steps in a far less intimidating way. With the release of this amazingly well curated book that promises to be a gamut full of inspiration for women of all ages across the world, we had a chance to interview the author on the story behind the conception of the book and what it seeks to present.
Tell us a little bit about yourself and your journey so far.
I live in Bangalore. In my previous role , I was at a venture capital firm in Bangalore named Kalaari Capital working on their seed fund. Prior to that, i spent four years at a media startup YourStory. My formative years were spent at the Goa campus of BITS Pilani. I will call myself a true Bangalorean when my attempts to learn Kannada result in something substantial.
What led to the conception of Wonder Girls?
Wonder Girls was born at my best friend's wedding in Jaipur. Since I was dressed very differently from rest of the crowd at the wedding, a lot of my friend's cousins would come up to me and start asking me questions as a way of striking a conversation with me. They would say "didi, how old are you. Are your parents looking out for you. You came all the way from bangalore to here on a flight?!! You went abroad?!!!" no matter who came up to me, these were the standard set of questions. The questions were highly predictable. But something interesting happened after a couple of days once these young women became comfortable in my presence. They began to ask me questions that were deeply relevant to them rather than the ones that are driven by societal constructs and expectations.
For example, a young woman asked me, didi I want to become a dentist but my father wants me to marry, how should I talk him out of it. Someone said, didi i really want an internship in bombay or delhi, where should i look up online and how to get started, how to write a resume?
That was an epiphanic moment for me. Which is that the very moment these young women and girls saw someone who was relatable to them but yet slightly unconventional from their own frame of reference, they too derived the courage to want to pursue their own dreams. While traditional media does a fantastic job of celebrating women overachievers, young women are seeking role models who could be their next-door neighbours who are thriving in their careers and lives. A leader like a Chanda Kochhar or Vani Kola or a Kiran Shaw is far removed and intimidating for the young girls that I had met in Jaipur - because each of these leaders achieved A LOT. These women are looking for someone who is 1-2 steps away from them in their journeys so that they too can emulate those steps and make progress.
The idea of relatability is critical piece when it comes to role modelling. That realization was the genesis of Wonder Girls - a book which chronicles journeys of millenial women who are all thriving in their chosen careers.
What was the process behind selection the women and their stories that you have presented in your book?
I wanted to pick women from diverse life and career paths. I was looking for young millennial women because the relatability of role models like I said is important. I also wanted people from diverse geographies, not just big cities but also women from other places of India.
I have bucketed professions across science / research , sport and physicality , and areas such as marketing, branding, communication etc. I also made a list of various geographies. I tried to map women I select accordingly. I tried to be as inclusive as possible even though you could only do so much with 15 chapters. For example, I have a captain of india's Rugby team from Pune. I have a casting director who grew up in and educated in Jaipur. I have a scientist from a village in sikkim called soreng who discovered a new species of an animal. I have a gym coach from surat. I have a particle physicist employed at IISC. I have an engineer turned photographer hailing from vijayawada, but works in new york today. I have a flight commander based in mumbai with roots in nanded. I have an RJ who struggled with confidence issues growing up. I have someone from Saligao in Goa. Each chapter is different and interesting and unique. Readers can draw varied lessons from each of the chapters.
Each chapter is an indepth narrative of the women's life and how they arrived at where they are today. None of the chapters are high level gyan but really focussed showcasing reality as is to the readers. My early readers can vouch for this!
How do you personally think narrative and books like these can change the societal norms and notions that are fed to young girls?
We are all influenced by the images we see and the narratives and voices we hear. Globally if you take the phenomenon of "scully effect" - 50 of percent of regular watchers of the x files were inspired and were more likely to pursue careers in stem after watching the character of Dana scully who pays the role of a medical doctor and an FBI agent in the series. Who is the Indian equivalent of Dana scully? Thankfully things are changing for us. But we need to propel it more and further. Role modelling has a huge impact on all of us, both for men and women.
Narratives and images subconsciously drive our aspirations and our world view. Then the onus is on us to act responsibly within this context. For india to continue to prosper both socially and economically it's essential that more women (alongside men) realise their potential. There are enough studies done on this topic by McKinsey, world bank, harvard, and many reputed global foundations.
My book aims to showcase to young women narratives of other women who could really be their next door neighbours who are all thriving in their careers of choice. As the adage goes, "if she/he can see it, then she/he can become it"
So to answer your question, yes media in forms of cinema, books, audio, just the narratives we hear from people around us, have a huge impact on all people.
How would you describe the current views of media and society towards women achievers?
Indian women have bucked the global trends in many many areas. Take banking in India - many many top banks have women at helm. This is truly phenomenal. I was surprised to know that india leads the world in terms of percentage points of women employed as pilots. Who would have thought! The goal must be to translate that to many many other areas. Look at our sporting medals!
While we have so many good things to celebrate, we need more female workplace participation overall in the service industries. One way to propel change is show young women other young role models who are thriving overall in their lives and careers. Which is what I tried to do with Wonder Girls. How do we take the real in-depth journeys of girls next door to masses? Because that narrative needs to be mainstream now.
Patterns that lead to success - uncovered by interviewing millennial Indian women
I have spent several hundred hours interviewing the women that are featured in Wonder Girls. There are somethings that especially standout as common themes among the women. There are patterns that led to success of many of these young women. My book captures them at the end. Many of the women I featured started working and exploring options early. Some of them did side gigs from teenage years. They did internships etc to figure out what works for them and where they can shine. They tapped into some sort of support system to rely on. This is extremely important it turns out. They all loved the thrill of their first cheque and the Independence and control that financial freedom brought them. They are ambitious and some of them wear it on their sleeves. Even though as teenagers many had body confidence issues, once they stared thriving in their lives they overcame all of those things. Body confidence for them has been built over time. All of them constantly invest in themselves in terms of learning and picking new skills while working at jobs. They are thoughtful about relationships and what they want from those relationships. This is a different archetype of a woman role model. I was super impressed and motivated by speaking with so many millennial Indian women. I was thrilled to see how sorted many of these women were. The pilot in my book talks about writing down the qualities she needs in a partner before picking one and she had a reason why she lists out each one of the qualities. Nothing was driven by whims and fancies. She was thoughtful about the whole thing.
The casting director talks about taking a huge risk to quit zee and join what was then a no name casting company. But even while taking that huge financial risk, she had thought through reasons why she would succeed in her new chosen path. She had that conviction. The seeming risk was driven by that conviction.
The artist talks about time and how to think about it. It's especially important as we live in a world riddled with deep anxiety, distractions, and busyness that leads to nothing much. She talks about value of time and what deep focus means.
The gym trainer talks about growth and transformation.
There are so many nuggets of wisdom in these millennial women journeys that are relevant for both men and women.
The chapters in the book have been super in-depth in terms of narrating the overall journey of a young woman without being too dramatic about anything. So imagine getting a view peak into another person's life without judgements? That's what the chapters feel like.

TEXT Nidhi Verma