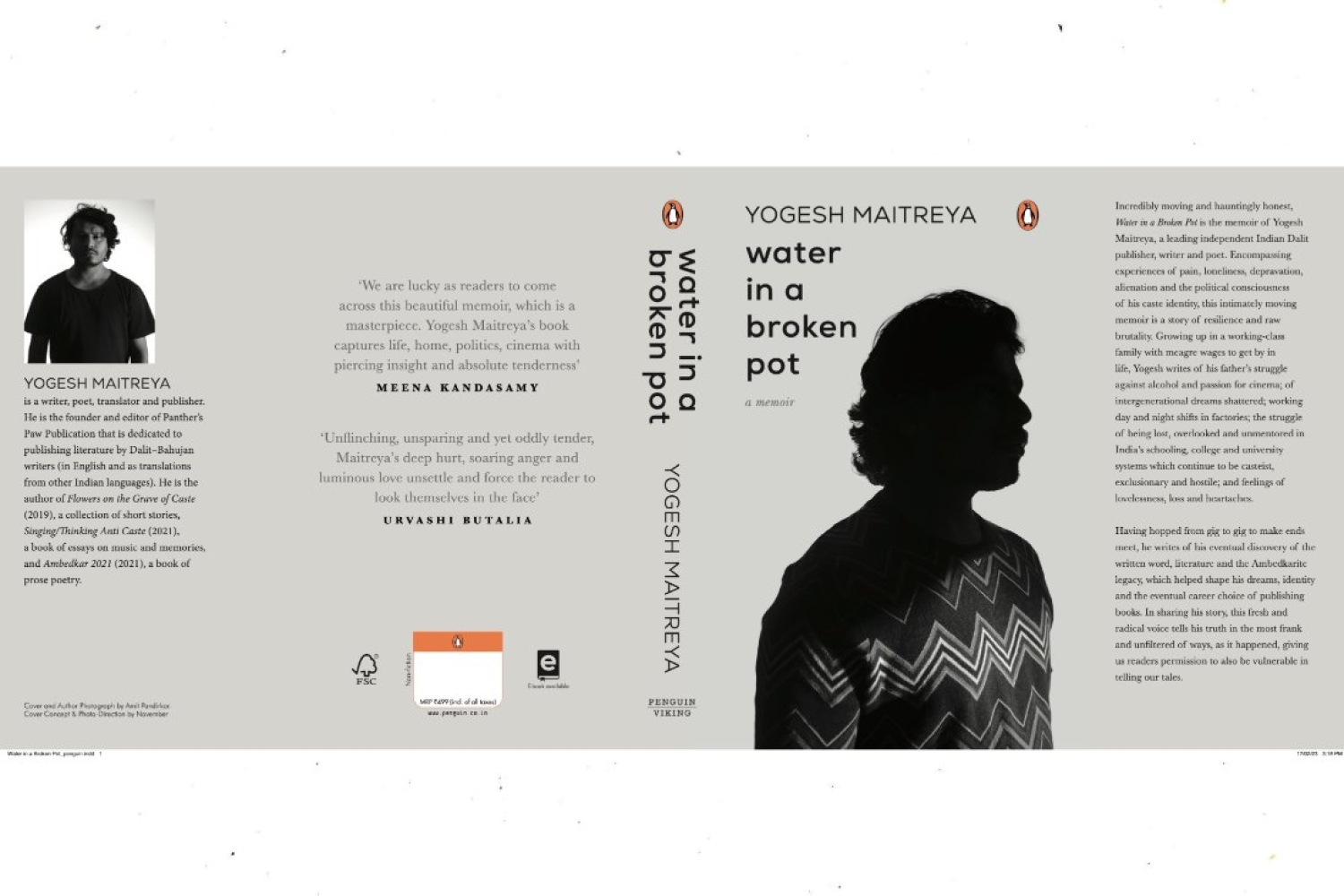 Yogesh Maitreya recounts two occasions when he realised the power of language and literature – while reading Baluta by Daya Pawar and reading Notes On A Native Son by James Baldwin. "I felt I was immediately drawn into the power and magic of written words because both these texts revealed to me my own innermost fears and anxieties, and put them in words so I can make sense of them. It was a huge revelation because reading them changed me and I felt that words have an undefeated ability to touch our minds. I also felt it when I was reading poems by Adrian Rich. I felt literature and language have this beautiful strength to change us for the better." With the release of his memoir, Water in a Broken Pot, he uses this power of literature emphatically to share his story, marked by the experience of his Dalit identity and politics.
"Readers from different social locations will take different things from the book. This book is about life to which we've shut our ears and eyes so far. Hence this book will reveal itself to readers at various stages of their lives. One can't finish and shut the book. The book begins to grow only after one is done with reading it," he reveals of his memoir. More from our conversation with the author about the powerful and moving book below:
Do you remember your first memory of writing?
I remember 'writing' helping me make sense of my pain and my situation when I went through my first heartbreak. I was around 23/24. I was still a naive person and much of my ideas about love and romance and relationships was formed by Bollywood trash and its unintelligible music. So I had started to jot down something to which I called poems. They were mostly about my feelings, what I was going through, and by writing them on paper (those poems were so naive and so immature and childish even in their tones) I felt a sense of growing up because it was a communication that I had never had an opportunity to establish with anyone else in my life. It was indeed my first memory, if I recall consciously, about writing.
Since then, after all these years, how has your craft as a writer evolved?
I started by writing very naive and romantic poems, and I feel like hiding my face now when I think about those poems. But this is how most of us begin writing. Then, one has to read various subjects to come to terms with their own voice in writing. I started reading non-fiction and research writings on literature, language et cetera. And I also began to read Ambedkar and it changed me forever as a writer. Ambedkar gave me perspective. Ambedkar gave me history. Ambedkar gave me a sense of belonging. Ambedkar gave me the purpose to write. It took me fifteen years to finally find my voice in my words.
What compelled you to create Water in a Broken Pot?
My ABSENCE in everything around me.
And what, for you, constitutes the core of this book?
The core of my memoir is the story itself. It is a story in search of meanings of pain, disappointments and longings in life. It is incomplete without words, words which were written in the process of making this book what it is today. There is no one thing in it. Because it's about making sense of many things in life. To say, the core of it is even the reading of it. Without this book being read, nothing makes sense about it, not even a speculation of it.
Could you give us some insight into your creative process behind this book?
I wrote this book surrounded by chaos at my home during covid. Like everyone else, I too was going through a low phase in my life and didn't know what the future would constitute. But in terms of the process of this book, or even other books I have written, I focus on one thing at a time and engage with it. I feel anxiety until I finish it and I feel emptiness once I am done with a book. The same thing happened with this book too. I revisited memories which I didn't want to, but had to.
What other challenged accompanied your process?
Revisiting painful memories and engaging with them as a writer is a challenge, and I faced it. How to make sense of histories, stories, memories which were shaped in my mother tongue (Varhadi) in a language (English) which is so foreign to us even now, was another challenge, but once you come in contact with any language and invest in it, associate yourself emotionally with it, then it's not that hard to find or create your story using it.
Lastly, what are you working on next?
I am working on a small book of critical essays on "Self, Caste and Deception". It'll be out in couple of months.
Words Nidhi Verma
Date 04-05-2023