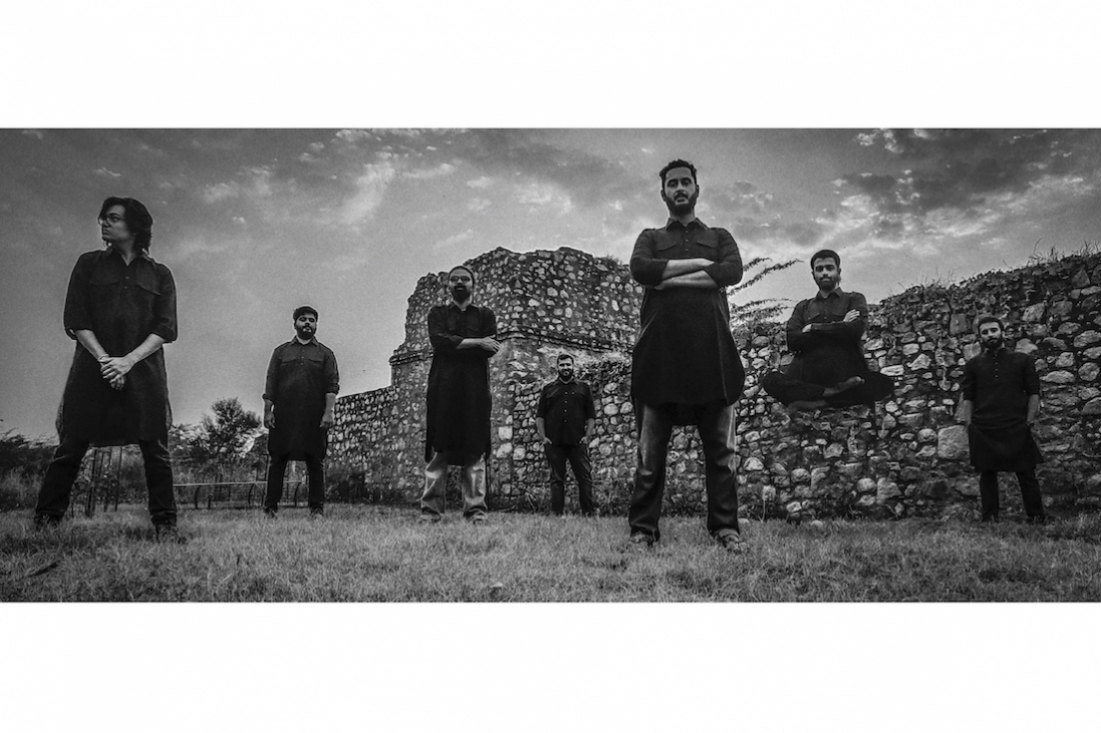 An art-rock experience like never before, Daastan LIVE is honestly, a rare act in this day and age. A fresh new format that combines various art-forms on a bed of progressive rock music, Dastaan LIVE is an exploration of the many realities, of lives in urban India. It is a multi-arts experience that is rooted in live music, combined with elements of spoken word poetry, live projections, visuals, installations, sound & light design. With music composed by Anirban Ghosh and Sumant Balakrishnan at its foundation, Dastaan Live is driven by powerful verses of Faiz Ahmed Faiz, Sahir Ludhianvi, Majaaz, Nazir Akbarabadi, and Baba Nagarjuna among others. Perhaps, the beauty, finesse & magic of the collective can only be experienced in its full glory - LIVE and VR video seemed to be the ideal bridge between their live shows and recorded material. Hence, Dastaan LIVE has recently released two video presentations which includes India's first Indie 360-degree VR video, of their debut single Mat Ro Bachche, based on a Faiz Ahmed Faiz classic. Based on the poem 'Philistini Bachche Ke Liye Lori' by Faiz Ahmed Faiz. Dastaan's debut offering, is a progressive rock track, sparse and haunting one minute, loud and chaotic the next.
We connected with Sumant Balakrishnan, Co-Founder/ Guitars / Vocals and Anirban Ghosh, Co-Founder / Bass Guitar / Backing Vocals of Dastaan LIVE to know more about them and their work.
How did you journey in music begin?
Baan - Although I discovered music as a six year old with tabla lessons, it was a stint with guitar and bass guitar in the music society during my years as an undergraduate student at the University of Delhi, that I realised my true forte. Today, music for me is the language I am the happiest expressing in, and the bass guitar is my instrument of choice.
I continued engaging with the instrument while completing my formal education in Computer Sciences. It was because of my sheer passion for music that I got the opportunity to perform alongside musicians and artists around the world and learn bass guitar under the aegis of legendary musician – Gary Willis. This gave me the motivation and the courage to continue to believe in my dreams.
Sumant: Baan and I have been musicians playing in and around the indie scene for a number of years. The most exciting thing with Dastaan LIVE was to create an experience as opposed to a regular rock concert and that's where our journey began in earnest. The music lends itself really well to the poetry we use in our performances and remains at the core of the show.
How would you define your music sensibility?
Baan - Much thanks to the varied experience of performing with musicians and artists / arts-practitioners across genres and domains around the world, my musical sensibilities have seen many shades of gray - ranging from fusion to Indian (both hindustani and carnatic) & western classical to jazz to rock to metal. It has always been hard for me to 'box' myself into one style, which is why I kept on experimenting not just with different styles of music, but also with art-forms and formats. I have always been intrigued with this cross-pollination of art forms that create meaningful and transformative experiences. I look at music as a form of expression which has no boundaries - one can take Beethoven's fifth and re-imagine it in a million different ways or can compose a simple tune and present it in the most 'innovative' and 'imaginative' way to the audience.
Sumant: our music leans towards progressive rock with all our favourite genres of music thrown in the mix. We've also got a really interesting blend of western and Hindustani music provided by a diverse group of seasoned musicians.
How did the idea for a 360-degree VR video for your debit single Mat Ro Bachche come about?
Sumant: Our collaborator and spatial designer - Vaibhavi Kowshik suggested that we try it after the last show of Surviving Democracy ( a run of six shows at the Oddbird theatre in April 2019). It comes so close to the real experience of watching our unique 360' show that we decided to shoot it in peak summer in our costumes-black pathani suits, well worth it in the end though.
Baan: Vaibhavi and Anuj (filmmaker and live performer) sat tirelessly on the edit to bring out the experience in the best way possible (that gives a glimpse of our live performance). We always wanted to combine tech, art and design to tell stories and this was the perfect opportunity for us to experiment with VR and create an immersive experience for the viewers. We have also developed our custom made VR glasses for this purpose (based on Google Cardboard technology) and are constantly pushing our boundaries by collaborating with tech startups / freelancers who are working with new media (AR/VR/XR).
Walk us through the making of Mat Ro Bachche. (ideation, music, story)
Sumant: It all started with a guitar riff I had come up with. After me and Baan thought on it and added a few parts we decided to juxtapose the aggressive sound of the instruments with something gentle, a lullaby. Sudheer Rikhari, our resident spoken word poet led us to Mat ro bachche based on Falistini bachche ke liye lori by Faiz Ahmed Faiz. Once we had finished recording the song, destiny had it that we managed to put together a great team to work on two separate videos for the same song. The idea for the 360' preceded the shadow puppetry video that we shot and released first. In terms of a story we just wanted to show the band inhabiting unconventional spaces (where you wouldn't expect to see them) and to put the listener/viewer right in the middle of it.
Lastly what's next?
Sumant: We have more songs to be released in the pipeline, probably with music videos of their own. Besides this we constantly endeavour to reach out to artists of a similar vein to collaborate with and have recently opened our rehearsal space ( called WIP) to alternative arts performances, workshops and intimate concerts. We are also planning a pan- India tour to spread the good word about Dastaan LIVE.
Baan: We will be launching our crowdfunding campaign to support the tour, video and other projects soon. Other than this, we are performing two stadium shows in Nov (in Delhi), headlining a big conference in December and also ending the year with a performance at the Serendipity Festival (Goa). Expect much more from us in the near future.