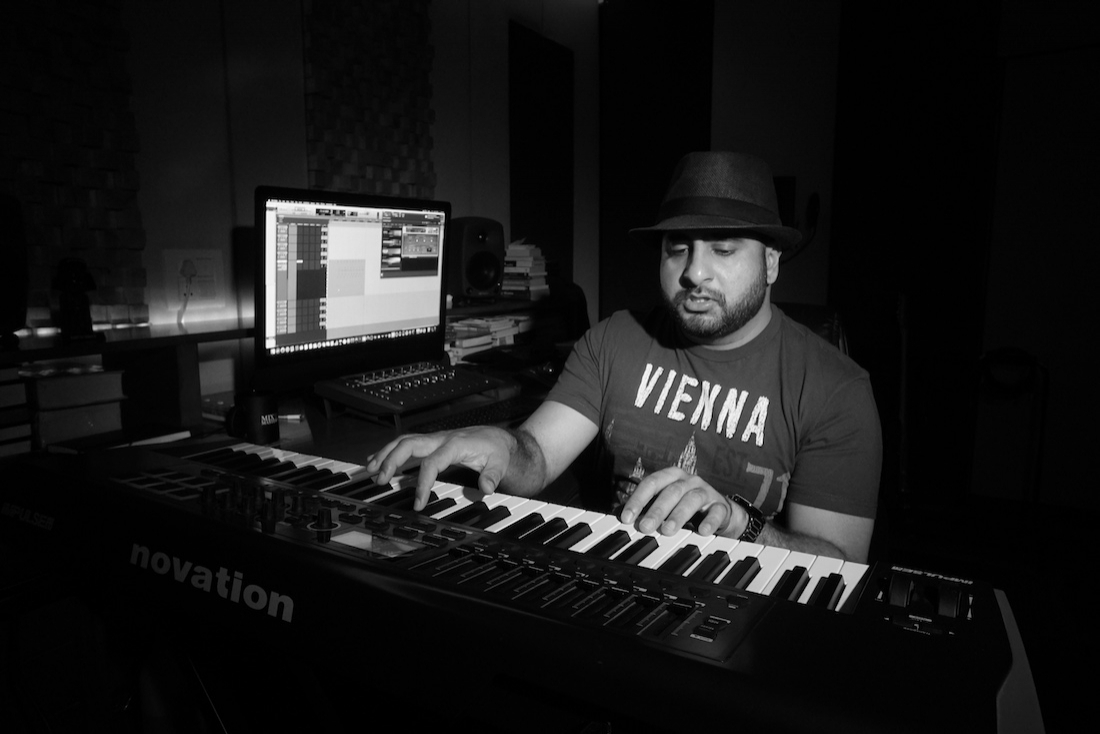 Keep Holding On
Rohan Solomon
While many are sitting at home and finding it impossible to cope with the lockdown, singer- songwriter, composer, vocal coach and audio engineer Rohan Solomon has managed to release a new track titled, Keep Holding On. We explore the artist's practice and the process behind the newly released track.
The Artist
I was always fascinated with music even before I became a musician. I grew up listening to Jackson 5, Michael Jackson and The Beatles LP records and would never get bored. It became kind of an obsession. My family will tell you about the hell I put them through with my obsession with the song Lakadi ki Kathi from the movie Masoom. At the age of 10, I started singing with my mom every morning as she did her Indian Classical riyaaz. Two years later, my cousins taught me the basics of piano and guitar, and I just instantly started writing songs. Never really thought about it too much. It just seemed like the natural thing to do. I had grown up listening to other people's stories via their music. It just felt like I needed to tell my story as well.
The Message
I don't think my music/art has a singular message. Each song is different. Some are based on true events and feelings, and some are purely fictional. There are no boundaries. I do what makes me happy, regardless of the 'sound' or 'genre' that people usually get 'boxed' into. If there is any message I can give to other artists, it would be to follow your dreams and tell your story. You can't always make everyone happy, but the most important thing is for you to be happy. If you genuinely love your music, then you've achieved the goal. Other people liking your music is the added bonus that comes along with it. Most importantly, stay true to yourself. That's how I go about my music. I have to be the first one to love my songs. Hopefully in the process, my music can tell some stories that people find interesting.
Keep Holding On
Well, just being at home, getting to spend more time with the family, catch up on some of my favourite shows or even re-watch some of my favourite shows, and also listening to music more often makes me happy and think less about the situation of the world. In general, I'm a positive person and truly hope that we will all come out of this pandemic better than how we went in. As far as work goes, luckily I have a home studio and I had been pretty much working from home for over a year now. So in that aspect not much has changed, except for the fact that I can't have clients coming over to record (for my audio engineering work). I simply choose to look at the positive side of things. For example, because of the internet and wonders of home studios (that most artists seem to have regardless of how basic it may be), they are able to send me their recordings via email, so it is possible to get things done, even under limiting circumstances. I have also launched my audio school as an online platform as of now and am able to teach my students via video calls. Since the influx of clients has reduced, this gives me extra time to work on my own music as well. I can really take my time with things and get them to sound just right.
Making the song Keep Holding On was a really organic process. This lockdown had completely changed everyone's life and so many people were finding it difficult to cope with the situation. However, I noticed how I found myself catching up friends on video call more often than I did before the lockdown. I guess, we are all going through this together. That was the main theme or emotion that I was feeling and the best way I know to express, is to write the song. I also wanted to take it a step further. All my friends from across the globe were dealing with the same situation, so I thought it would be a nice addition to ask them if they wanted to play something to this beat and chords that I had created and send me a few audio tracks followed by videos. Stuff that I could piece together and make it all sound whole. Pretty much everyone I asked said yes and seemed to be very excited by the idea of this song and video. As the pieces started flowing in, I started working on them to fit in the song. Since it was a collaboration of people, I wanted to ask two of my friends to sing on a verse as well. One of them was actually recovering from COVID-19 during the recording process and still managed to do it so well and get everything back to me in time. It's amazing how the will of the people can keep you going. Just a side note, this singer actually used a phone to record the vocals. That's the craziest part, there is no such thing as perfection and the emotion and message of the song trumps any technical aspect like good equipment. I know people are finding it hard to function normally and that's understandable, but without sounding preachy, we must find our rhythm to ensure 'that feeling' doesn't keep us down.
The Pandemic and Beyond
The new normal will definitely be a slightly paranoid one because when you're meeting new people, you never know what all or who all they've met with earlier that day and could be carrying germs. On the other hand, I feel that people would have had the free time to explore things and develop skills that they've always wanted to but never really had the time to do so. This may be an enlightening experience. I hope that more and more people will follow their dreams and chase their goals with something that makes them happy and figure out a career plan with that in mind, as opposed to doing something that makes them unhappy, just for the sake of money.
As a musician and a producer, I feel like this will give me more time and space, to see, observe, think and feel. Therefore, there will be more content to write songs about. These feelings and everything I'm going through, I've never gone through before. One thing is for sure, producing a song for an artist who happens to be in a different country won't be as unbelievable as it was before. Hopefully that will increase the number of collaborations that I will be a part of. It's all about looking at the bright side in the end.