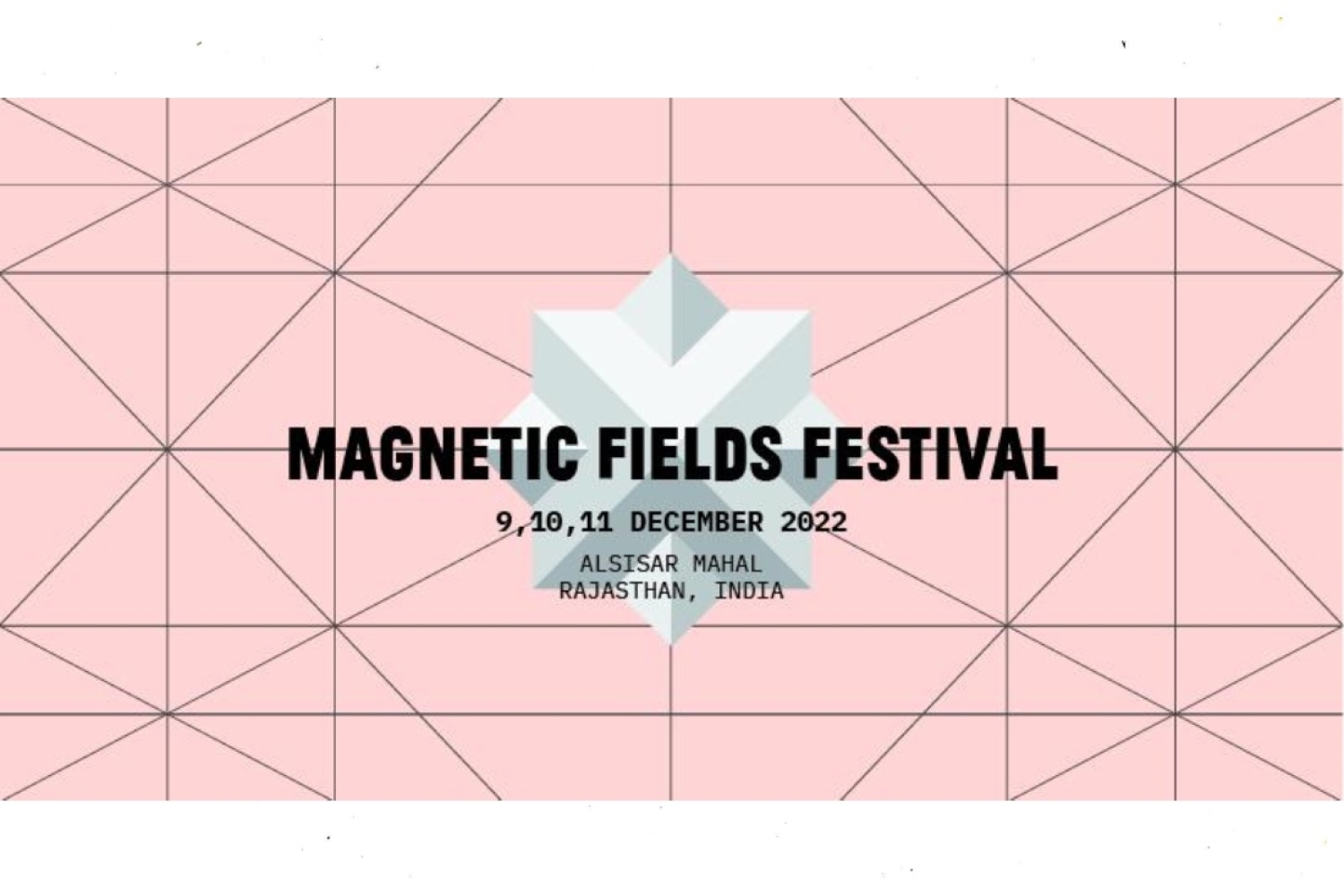 Magnetic Fields Festival 2022
Back after a two-year hiatus, Magnetic Fields festival invites back festival favourites like Four Tet, Ben UFO, HVOB (live), and ropes in exciting acts like Batu, Sherelle, Young Marco, ONRA, Saoirse, Jossy Mitsu and more. Shining a spotlight on Indian talent, the festival will also serve as the debut show for many Indian acts like Elsewhere in India: Murthovic & Thiruda (live), Tyrell Dub Corp, Nate08, Sijya and a showcase of acts from Indian record label Export Quality.
Magnetic Fields, has since its debut in 2013, come to be globally recognised as one of the most exciting contemporary art and music festivals around the world. Tethered to its intention to showcase diverse, future-facing sounds from India and around the world, and shine a spotlight on talent from the region, Magnetic Fields is primed for an emotional return – after a pandemic-induced hiatus – to the desert, from December 9-11.
Tickets for the December festival were snatched up by fans within days of going on sale. Magnetic Fields represents an exciting vision of modern India, and its focus is as much on curating exciting music as on introducing new concepts and experiences to attendees.
Magnetic Words
We all have a story. Some of our stories are inspirational, some provocative, some make us dance a little while some leave us thinking. Whatever the feeling, stories enrich our lives in some way or the other. In a first, Magnetic Words in collaboration with Platform is an initiative that encompasses creative dialogue, intriguing films, visual imagery, inspiring performances, and much more. Each talent will get a stage to tell us their story and support that with, either a reading, an act, a presentation or whatever their artistry demands, furthering our aim to inform people of brilliant talents across genres and leave them inspired.
Scheduled for Saturday afternoon at The Peacock Club, Magnetic Words x Platform showcase will feature Academy Award nominee Sushmit Ghosh, a filmmaker whose film Writing with Fire was the first documentary from India to be nominated at Oscars 2022; performance poet Pragya Bhagat, who is also the founder of The Poetry Circle, a community space that fosters a love for words; the Delhi-based architect, writer, and community artist Swati Janu and winner of the Moira Gemmill Prize for Emerging Architecture; and Delhi-based photographer Devashish Gaur who works with archives and found objects to explore narratives of intimacy, home and identity, like in his latest photo series This Is The Closest We Will Get, a photo series through which he dives into questions of belonging, inheritance and freedom using archival photos of his grandfather across the figure of his father to create a bridge between them.
Jameson Connects South Stage
Sijya, an up-and-coming producer from Delhi will open proceedings with her debut live set on the stage. Coming back to perform live on the day stage are Viennese electronic duo HVOB, who last visited Alsisar in 2015. German musical duo Grandbrothers create electronic music with a specially-adapted grand piano and custom software, and will also bring their hypnotic live set to Alsisar this December. Another special presentation and a Magnetic Fields exclusive is Elsewhere in India ft Murthovic and Thiruda, is a live transmedia performance that combines game engine technology with incredible art alongside a genre-bending palate of Carnatic-electronic music.
BUDx North Stage
In its eight edition, the North Stage has been anointed with a new name, BUDx North Stage, but – like always – will feature DJs and producers that have established themselves as pioneers of a certain style or sound. This year leading the charge on the North Stage will be UK DJ and producer Four Tet presenting a showcase featuring his favourite producers and peers in Four Tet Presents: Four Tet, Chloé Robinson Anthony Naples and Hamza Rahimtula. This will be Four Tet's second appearance at the festival.
Ben UFO and Pangaea return to Alsisar Mahal this time with Pearson Sound to present a special 15 Years of Hessle Audio showcase for the night stage. Hessle Audio is one of the most respected labels in electronic music with a long list of influential productions that have enraptured ravers and critics alike. Having earned her chops as a radio presenter, Saoirse is a selector par excellence with a keen ear for rhythms and sounds. She will close the night stage on Sunday night, making her the first female DJ and producer to do so.
Ray-Ban Desert Oasis
Opening the festival on Friday afternoon at Ray-Ban Desert Oasis stage and welcoming attendees on site will be the diverse sounds of Delhi-based selectors Girls Night Out & Friends, a trio that includes Bast and DJ Pants. On Saturday, bandana-toting Amsterdam-based DJ and producer Young Marco will take over console duties alongside the Bangalore-based DJ and Boiler Room alum, Alina and fellow city dweller and producer Aaguu.
BUDxYARD
The garden, which turns into a raver's dream come nightfall, will feature late-night, lively sets from beatmakers that inform and entertain crowds in equal measure. Leading the charge at BUDxYARD will be two of UK dance music's most exciting names, Batu and Sherelle. Joining them will be another fan favourite Dreamstates, and up-and-coming DJs like Anushka, Prismer and STAIN.
Resident Advisor party on Saturday night
One of the highlights of the festival, the Resident Advisor Saturday night throwdown has come to assume special status, and in 2022, it hosts one of UK dance music scene's breakout star and Rinse FM resident, Jossy Mitsu. Also part of the Saturday night offering will be the spirited Indian-Thai duo of Kohra and Sunju Hargun – who have established themselves as pillars of the music scene in India and Thailand respectively, and will go back to back at Alsisar.
Export Quality label showcase at The Peacock Club
A multi-disciplinary space that transforms from a storytelling tent in the day into a disco-ball dancefloor, The Peacock Club will for one night host a showcase of Indian record label Export Quality featuring diverse acts like Dohnraj & The Peculiars, Sunflower Tape Machine, Tribemama Marykali, Dappest x adL, Ranj + Clifr and Curtain Blue (live band debut).
Sundowner
Everyone's favourite sunset stage, Sundowner will feature an exclusive presentation by French hip-hop artist ONRA of his latest album, 1.0.8 Future – a veritable crate digger's delight, ONRA (Sounds Of Asia & India. Other highlights include debut performances from Delhi-based producer FILM's alter ego Tyrell Dub Corp called 'Futurhythmachine', a live set from popstar Anuskha Manchanda's alter-ego KISS NUKA, experimental producer Shantam, Bangalore-based lo-fi singer and songwriter Rudy Mukta, and chillwave producer CHRMS.