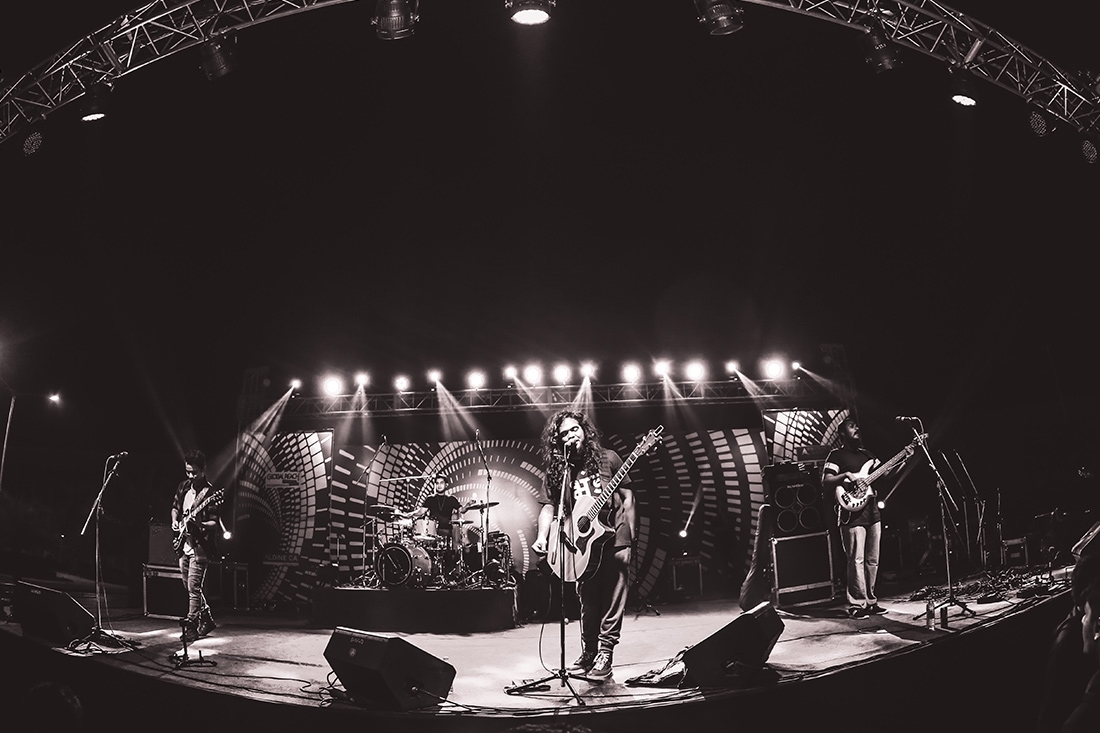 The Local Train's sound speaks to your soul. It is the kind of music you want to be left alone with - the kind that keeps you company on a clear starry night. But when the beat drops, you wouldn't be surprised to catch yourself swaying to the frenzied tune. Punctuated with heady beats and soulful swells, their music reaches into your gut and unlatches something - a memory, an emotion, a feeling.

The band came together in 2011, and since then the four boys have been on a journey of self discovery, pushing themselves and their music far beyond their expectations. Their song Aaoge Tum Kabhi that found a place in Pan Nalin's Angry Indian Goddesses doubled up as their claim to fame. Cut to today, they released the video for the first single from their second album. Khudi draws from their personal experiences, and is breathtakingly beautiful, both in its tunes and visuals. The four boys get together to give us a peak into their music journey, their new single, and tell us why life, is the biggest inspiration of all.

How did the four of you come together to create The Local Train?
We came together to make music and we've stuck together since.
Raman had penned down a few lyrics, and he met Ramit at a studio in Chandigarh to record demo tracks. Soon enough, Sahil came in with the drums. Not everything happened instantly, but gradually, by 2011, the line-up was finalised, with Paras coming in to fill in the need for a lead guitarist.

Where and how does inspiration strike?
Our songs, as you hear them, are a compilation of our life experiences, and what we see around us every day. And we think it is best if we can translate those experiences into our art, and that way, we click and connect with our audiences. So, in a nutshell, life is our inspiration.

Tell me about your sensibilities when it comes to your music. What influences your work?
Being enthusiasts, one can imagine that we have all had heroes since we were very young. And with none of us being from the exact same age group, our idols differ in era and genre, and we all bring a different flavour to our music. You can see major influences of Nirvana, Aerosmith, U2, Porcupine Tree to Lucky Ali, Indian Ocean, The 1975, Alt-J, and the likes. We're trying to make music from everything that we experience as well. Luckily being an independent band we have the freedom to write and sing about whatever appeals to us.

What does music mean to you?
Honestly we never thought we'd grow up to be musicians playing in a rock band for a living. But you don't think about that as much now. Music is a language and we're still figuring out how to express ourselves. It's so much about discovery though. Everyday we're trying to learn something new and get better at being able to create something meaningful.

Three words that describe your sound?
It's always difficult to describe ourselves. I think 3 words that would fit are 'One Fat Blunt'.

Deconstruct your songwriting process – what comes first, the words or the tunes?
It's never a fixed process and it can't be! Sometimes it starts with a couple of lyric lines, sometimes just a guitar riff. Songs have changed direction completely just because the drummer was messing around with a groove that suddenly made more sense than what we were trying to do. We've even recorded entire songs and then scrapped them because it just didn't appeal to us anymore.

From your debut album to today – how has your sound evolved? Has it helped you grow too, both as individuals and musicians?
We've come a long way from Aalas Ke Pedh. That was a debut album and it was a long struggling process to figure out how things actually happen. Hopefully we've all matured a little as musicians and we hope it shows in our second album as well. We're experimenting more with concepts that are appealing to us. We're looking at more guitar driven songs and a heavier sound this time but still making sure our flavour sits in.

Your latest single Khudi is breathtaking – both in its tunes and visuals. What inspired the song?
Khudi is the first single from the second album but we started playing it live way back in 2015. The song was in the process since then but it took us sometime to record, conceptualise and shoot the video. We're glad to have worked with some really creative people who gave us the right direction. Khudi means self actualisation and the song came at a time when we as a band were going through a massive change in thought as well. Most of our songs come from our own experiences and our take of the world around us.

At the moment, what excites you about India's indie music scene the most?
Unexploited potential. There is so much talent out there, but no proper channelisation of the same. The Indian scene has been promising for a long time now, but the evolution, sadly hasn't kept pace. What is most exciting is the hunger for originality at the moment, and with the right approach, the opportunities are endless.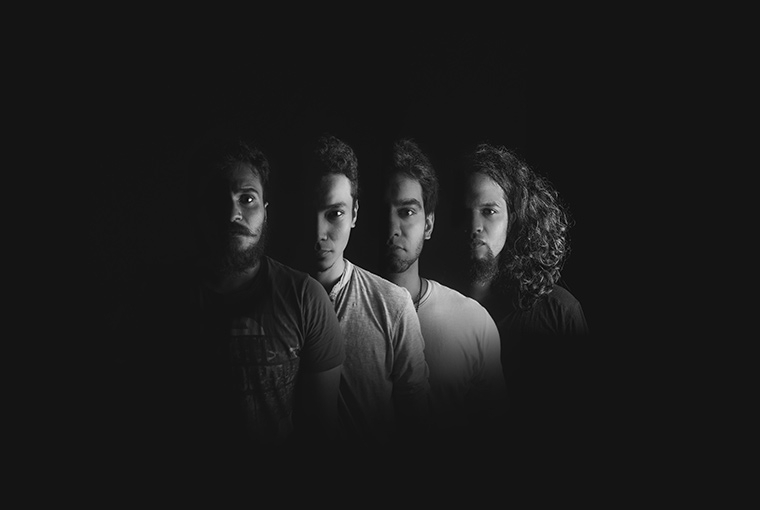 One artist you can't wait to collaborate with?
Honestly we're still searching for our sound and our individuality in creating music and that process takes years if not decades. There's a lot of musicians in this country and outside that we'd love to associate with. We'd love to work with Lucky Ali, he's a big inspiration for making original music and really meaningful music videos. We've shared the stage with him at festivals and he's a treat to watch when he is in his element.

Where do you wish to go from here?
Short term goal is to finish our album and hopefully go watch Foo Fighters live in South East Asia! They're on tour and now is the best possible time to watch them at their peak.
Long term goal is to hopefully someday play in the same festival as Foo Fighters!
But on a serious note we love playing live shows and we're really excited to see the growing boom in the live circuit in the country. Hopefully someday bands in this country will be selling out packed stadiums. We wish to be in those stadiums!

Follow The Local Train here.


Text Ritupriya Basu