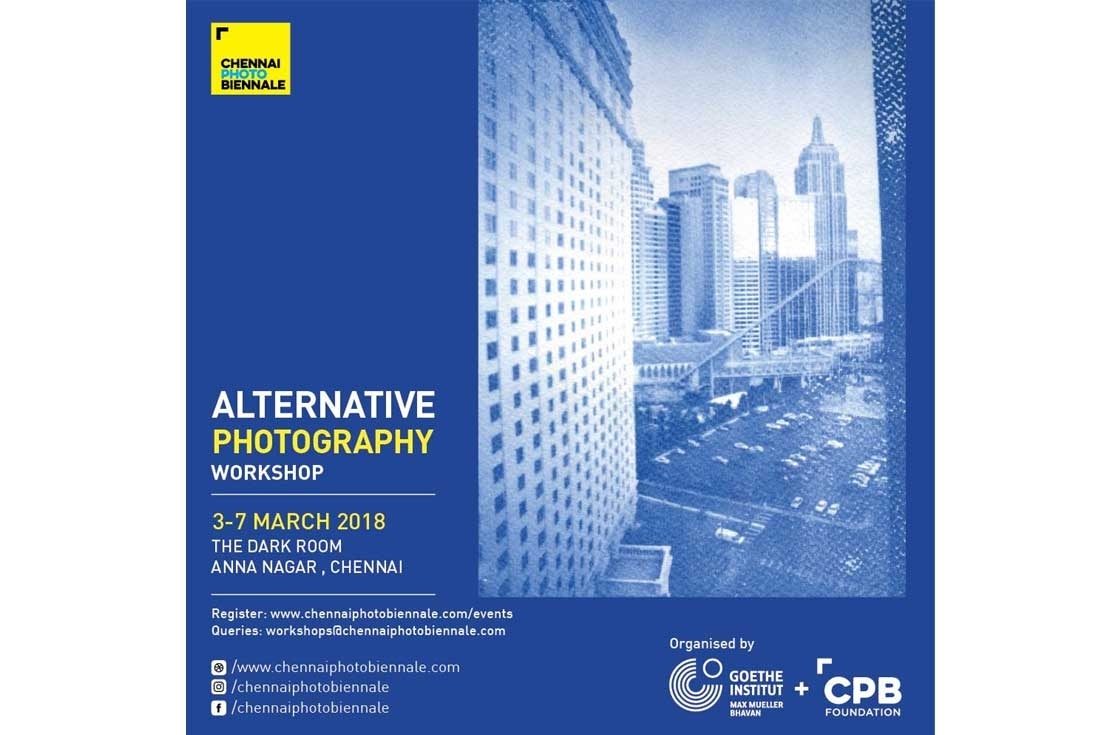 Chennai Photo Biennale
Alternative Photo Workshop
Chennai Photo Biennale Foundation in co-operation with Goethe-Institut, Chennai invites enthusiasts and photography professionals alike to dive into traditional photographic processes.

Participants will have an opportunity to work with digitally printed negatives from their images and make contact prints using both Cyanotype and Van Dyke Brown processes. This workshop is open to anyone of at least 16 years of age and with an interest in photography. Neither camera or laptop is required to attend.

Invented in 1842, the cyanotype process was created by Sir John Herschel as an easy method to replicate diagrams and documents, thus creating the first blueprints. A year later, Anna Atkins adopted the technique to create photograms that documented the ferns and other life forms by placing specimens directly on coated paper and using sunlight to record silhouettes and became arguably the first woman photographer.

Van Dyke Brown is a printing process named after Flemish Baroque artists Anthony Van Dycke and was patented in Germany in 1895 by Andreas & Roost. The process allows you to contact print images by sensitising paper using silver nitrate and exposing to UV light. Owing to the low sensitivity of the chemistry, the process can be conducted safely at home even without a darkroom.
Brian Potts is a Melbourne based artist, educator and traveller. He has taught at Photography Studies College, Melbourne, for 20 years and later at Light and Life Academy, India, for 3 years.
He has exhibited in both solo and group exhibitions (Gallery 41, Alchemy Gallery, La Camera, Linden Gallery, Upstairs Gallery and Kerala Gallery). His images are in private and public institution collections in Australia, England and the USA.
Brian returns to India almost annually to travel the country, collaborate with multi-disciplinary artists and work on his own projects that push the edge of the photographic medium with his exploration of the constructed image.
Images created using these early photographic techniques have an undeniable 'poetic' or 'sensitive' quality; evoking both emotions and atmosphere. The spirit of exploration is integral. Not only rewarding for creating of a unique object, it both informs and challenges current photographic practice and creativity.

The process of making these images not only influences the result in terms of the aesthetic and origins of art but has an integral affect on the theme or concept. Alsowe will walk you through how to continue practicing some of these techniques at home.

Dates: 3rd to 7th March 2018
Venue: The Dark Room, Anna Nagar
Timings: 10am to 5pm
Fees: Rs. 11,000 per person
fees include the cost of chemicals, watercolour paper, use of darkroom equipment, mentorship and hands-on support.