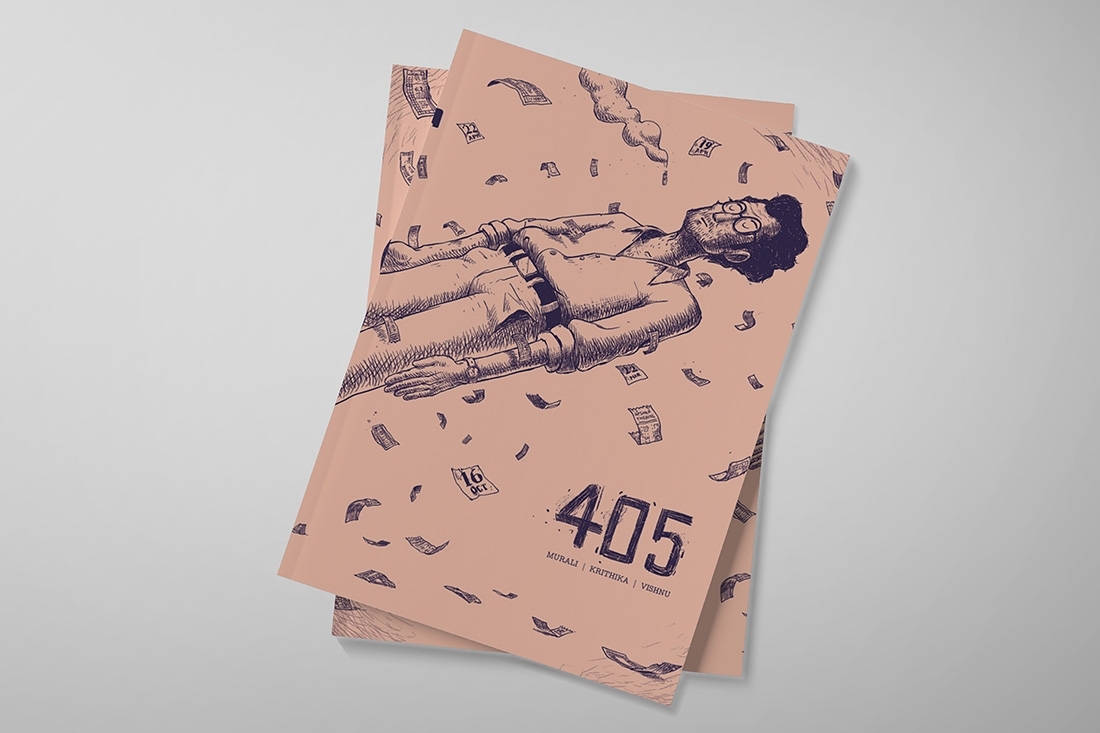 Born out of a pet project by Murali Govindan and Krithika Manohar, 405 traces the story of an unnamed man who arrives in Bangalore early one morning, and sets out on a meandering journey to explore the city, enjoying the simple pleasures of a daily routine that we so often take for granted. But as you leaf through the pages, the climax approaches unannounced and takes you by surprise. Imagined in endearing illustrations by Vishnu Nair, the story scoops you up and takes you along the day, as the long-legged bushy-haired man wanders through markets, gulps down a crisp, buttery dosa and watches a movie. The comic book was released this week by Kokaachi studio as a part of FIRST CUTS - a creator-driven imprint through which the studio showcases the debut works by some amazing storytellers. 'We loved this story the very first time Murali narrated it to us, at a coffee shop in Bangalore. When the climax came, it hit us with a soft, sledgehammer blow. We were crushed, it was the most affecting story that we had heard in a long while. In fact, we loved it so much, that we immediately asked him if we could bring it our as a comic. Back then, Murali and Krithika wanted to make it into a short film, but the logistics of an extensive outdoor shoot proved to be an insurmountable hurdle. Undettered, the duo took the kernel of the premise, and created a completely new story out of it. The Visitor became their first short film. It's been more than three years since that evening at the coffee shop, and we can't tell you how excited and happy we are to share the story of the man we only know of as 405,' says the Kokaachi team.

I connect with Murali and Krithika and they take me through the story and its journey to the pages of the comic.

How did your romance with writing and filmmaking begin?
Murali: Filmmaking has always been my area of interest, fueled by which I ended up as a producer for ad films. It was a natural extension for me to get in to directing films. Writing happened because I was not getting the apt story for my short film and I was forced to write stories myself. So actually writing started more out of necessity. But the process turned out to be a fulfilling one, even though it puts me through immense hardships & sufferings.

Krithika: Visual arts has always been my area of interest. After completing my graduation in commercial arts, I decided to try my hand at films, and I loved it! Writing was a part of this process and it has helped me channelize and articulate my ideas better.
What inspired the story of 405? How did the two of you start working on the script?
K: Murali and I were colleagues then, and we were always on the lookout for opportunities to write stories. I was instantly kicked about his initial idea for 405. After many discussions over numerous cups of tea in Koshy's, we finally arrived at the story that is now beautifully illustrated in the book. Not to forget our love for the city of Bangalore, which forms an intergral part of this story.

The story was initially written for a short film. Was the same story adapted, unchanged, for your debut short The Visitor?
K: As much as we loved the idea of 405 evolving into a film, we were aware of the production challenges it involved. At the same time, we were keen on making a film. We started re-writing 405 with the aim of making it easier to produce, and before we knew it, we had stumbled upon a completely new story that was equally engaging.

How was the original story reimagined for the comic book?
M: Surprisingly we didn't change much while it was adapted for the comic book. The situations and emotions in the story were retained as it is. And I am extremely happy to see that Vishnu has taken the story to the next level through his beautiful illustration. His panels were filled with the desired emotions and I can't ask for more!

Take me through your collaboration with illustrator Vishnu Nair. Did the book turn out any different than how you had originally envisioned it?
K: The book has turned our exactly as we had envisioned it. Illustrated stories have the power to draw the reader into the world of the artist and leave them room to imagine further. Vishnu's art is strong, intense yet simple, with emotions that flow gracefully from one panel to the next. The end product has been truly mesmerizing.

What's next for you?
M: Kokaachi has asked to collaborate on one of their future projects and I am looking forward to it. Also I am currently working on my next film script.
K: Many more films and stories in the pipeline!

Pick up your copy of 405 here.


Text Ritupriya Basu