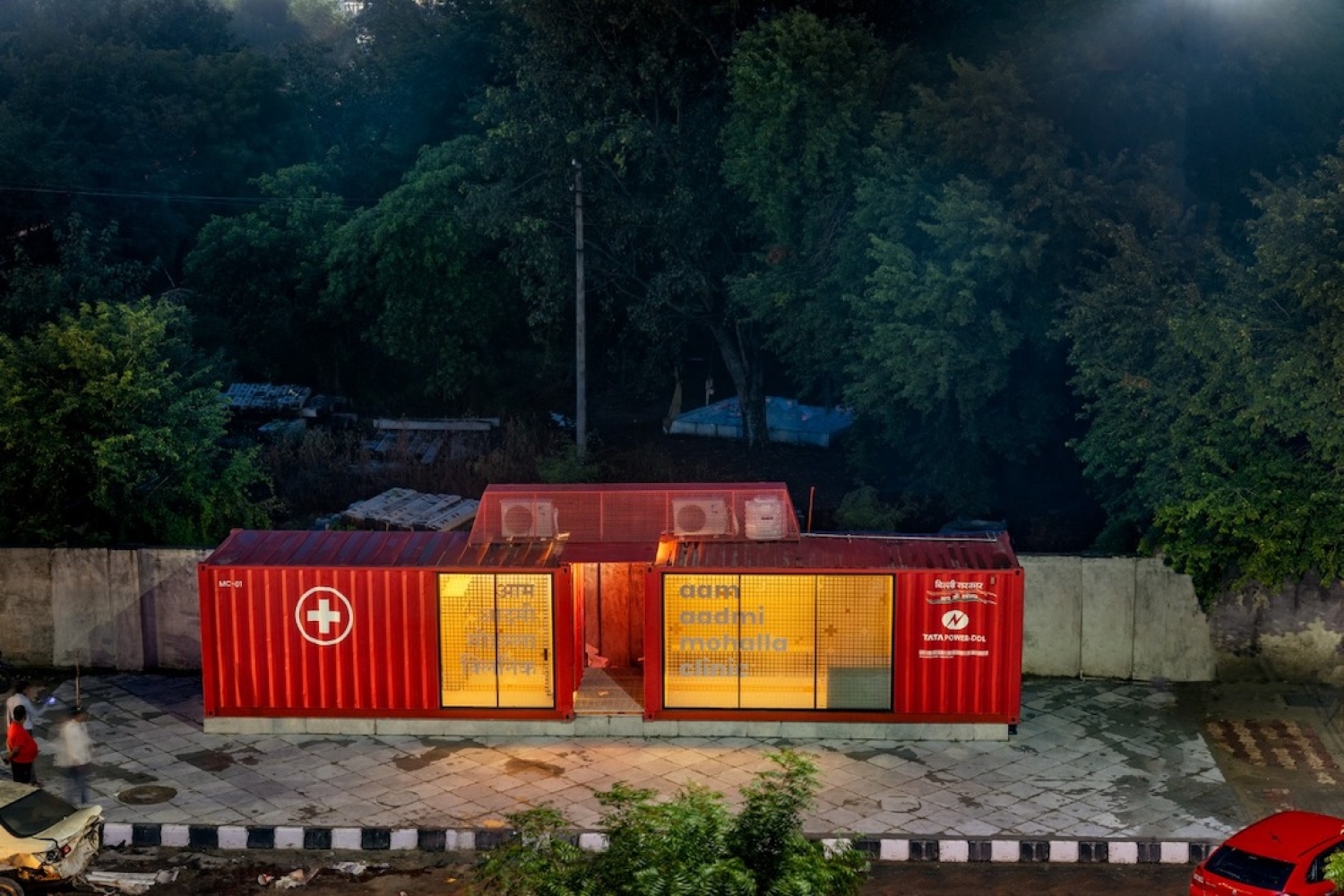 Architecture Discipline is a New Delhi-based, multi-disciplinary architectural practice by Akshat Bhatt, that began operations way back in 2007. Akshat's work spans varied terrains, from residential and retail interiors, to large-scale public and commercial assignments spread across India, highlighting the emergence of an architectural expression that is contemporary. His recent project, the Aam Aadmi Mohalla Clinics, was built out of upcycled shipping containers. This initiative has led to an important dialogue on affordable medical services in every neighbourhood of Delhi, redefining universal, primary healthcare.
The containers used were salvaged from various container yards in Delhi and Haryana, providing a compact, portable, and sleek primary healthcare solution. In the first phase of deployment, two clinics will be inaugurated in two urban settlements in Delhi — Shakur Basti and Rani Bagh. Each clinic is fully equipped to support routine health check-ups and comes preinstalled with basic necessary fittings. Their unique, compact size allows them to be easily transported to various locations and be installed with minimal on-site construction.
We spoke with Akshat to know more about his extensive journey in architecture, the project and design in the post-pandemic world.
Do you remember what first drew you to architectural design?
I was thirteen years old when I saw an architect's drawing board for the first time at my uncle's place. I was fascinated by everything on it, and not in a deep philosophical sense. At that age, it was a contraption that could move in all directions, with tools, tackles and really cool, coloured stationery. I was always interested in art and seeing all this stationery excited me. That is when I decided that I wanted to be an architect.
How did your time in the UK impact your discipline as an architect?
In the UK, I was exposed to architecture that triggered my imagination. Practitioners such as Norman Foster, Richard Rogers, and Daniel Libeskind, showed me that architecture could be edgy, bold and progressive, and that it could move beyond the run-of-the-mill, 3m x 3m boxes. It is this endeavour that I continue to pursue through my practice.
It was also in the UK that I had my first job at Penoyre & Prasad, and it was quite an experience. It was the year 2000, and a lot was happening: the Millennium Bridge, the Tate Modern and the British Library, for instance. I also worked with a small firm called Jeff Kahane. Jeff was known to be one of the best designers in London at the time. He was passionate about architecture in a way that every student wanted their boss to be. These experiences defined my conception of what practicing architecture was like and has had a lasting impact on the way I run my own practice today.
How did Architecture Discipline come about?
I started Architecture Discipline in 2007 because I couldn't find an equal opportunity architectural practice to work with in India. Having previously worked with some renowned architects and architectural firms within India and abroad, I had learnt a lot from exposure and experience.
What was the starting point for the Mohalla Clinic project for you? How did the whole idea of upcycling a ship container come about?
We have been experimenting with the use of shipping containers as a building material for a long time now, in typologies ranging from hotels to workspaces. Our own studio has an extension created out of a repurposed shipping container. This experience has made us fairly proficient in the art of converting repurposed shipping containers into high-quality, usable spaces.
Ever since the pandemic began, we have been exploring the potential of containers in creating healthcare facilities. We designed the Life Community Medical Facility (LifeCMF), a concept for a modular healthcare facility built out of shipping containers, which was presented at the London Design Biennale 2021. The Mohalla Clinics are a scaled-down version of LifeCMF, drawing on its central ideas of prefabrication, rapid deployability, and economic feasibility We approached the Government of Delhi with this proposal. The idea was accepted as part of the government's Mohalla Clinics programme and is set up with the support of TATA Power DDL.
Its most distinctive feature is that it uses discarded shipping containers to solve an important socio-economic problem — access to primary healthcare. These clinics can be entirely prefabricated with minimal on-site construction and can be rapidly deployed, taking only three-fifteen days, depending on container procurement. The design capitalizes on the structural strength of a discarded shipping container and works with it as a module, reducing the need for costly modifications or custom-built additions. In this manner, it redefines post-industrial waste as a medium for universal affordable healthcare.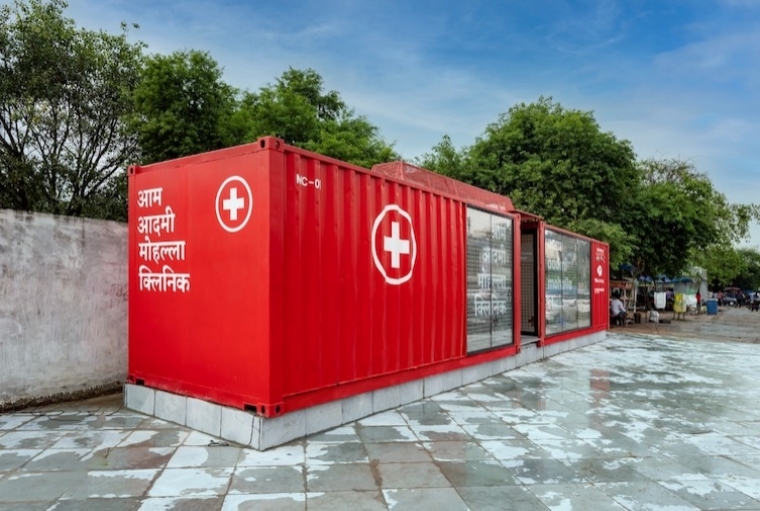 Can you tell us a little about the interiors?
Composed of two twenty-foot-long containers, these clinics consist of a reception, a waiting lounge, an examination room, and a pharmacy, which makes them suitable for routine health checks, testing, and vaccinations. A variation of the standard model has a reading room with a digital library on the upper-level, providing a quiet space for study in dense settlements where such facilities are limited.
The clinic is prefabricated and read-to-install with essential services, fixtures, and finishes. The interiors are aimed at creating a hygienic and comfortable environment for patients. The containers are thermally insulated and lined with Volatile Organic Compound-free birchwood for protection from external heat, and its interiors are temperature-controlled with air conditioning. Interior finishes are designed to be easy to maintain, including the anti-microbial vinyl flooring and medical-grade stainless steel countertops. The clinic's air-conditioning system is fitted with micro-filters to filter out pollutants. Server rack power strips and a 200L water tank are accommodated to ensure a seamless plug-and-play system and fulfil its intention of being easy to install in any area. Since the project uses repurposed shipping containers, as opposed to construction from scratch, the project costs were kept in check.
What do you think of design in India and where do you think design is headed next in the post-pandemic world?
I think this time has taught us to be more critical — we must be more appropriate in what we build and not just build for the sake of it. It has also made us realise how little we really need to coexist happily. Design is about reduction and optimisation. There is a strong need to revisit the essence of design and start removing all the unnecessary embellishments that result in waste and clutter. We need to champion the cause of the built environment, and we must do so in an appropriate manner. This is going to be the century of recuperation. So, let's not destroy space, forests, and consume more water. Treating our own waste, generating our own energy and reducing consumption is the miracle we need to save our planet.
What are you working on next?
We have quite a few exciting projects in the pipeline. We are working on hospitality projects like The Postcard Hotel at Turtle Bay, on the coasts of Kundapur, Karnataka — India's first beachside resort in a high-tide zone. Apart from this we are also working on the interiors of the members only club at The Oberoi, Gurugram called The Belvedere and the interiors of a Michelin-starred restaurant Amaranta at the same premises. There is also the Chairman's Office at The Leela Palace, Bengaluru.
We are also working on a few residential projects including The Trident Residences at New Delhi, a development of twenty-one apartments. We are experimenting with prefabricated concrete structural elements at a residence in Delhi and also trying out cutting edge technology and unconventional materials for a progressive home in Vagator, Goa.
Text Hansika Lohani Mehtani
Date 29-09-2021