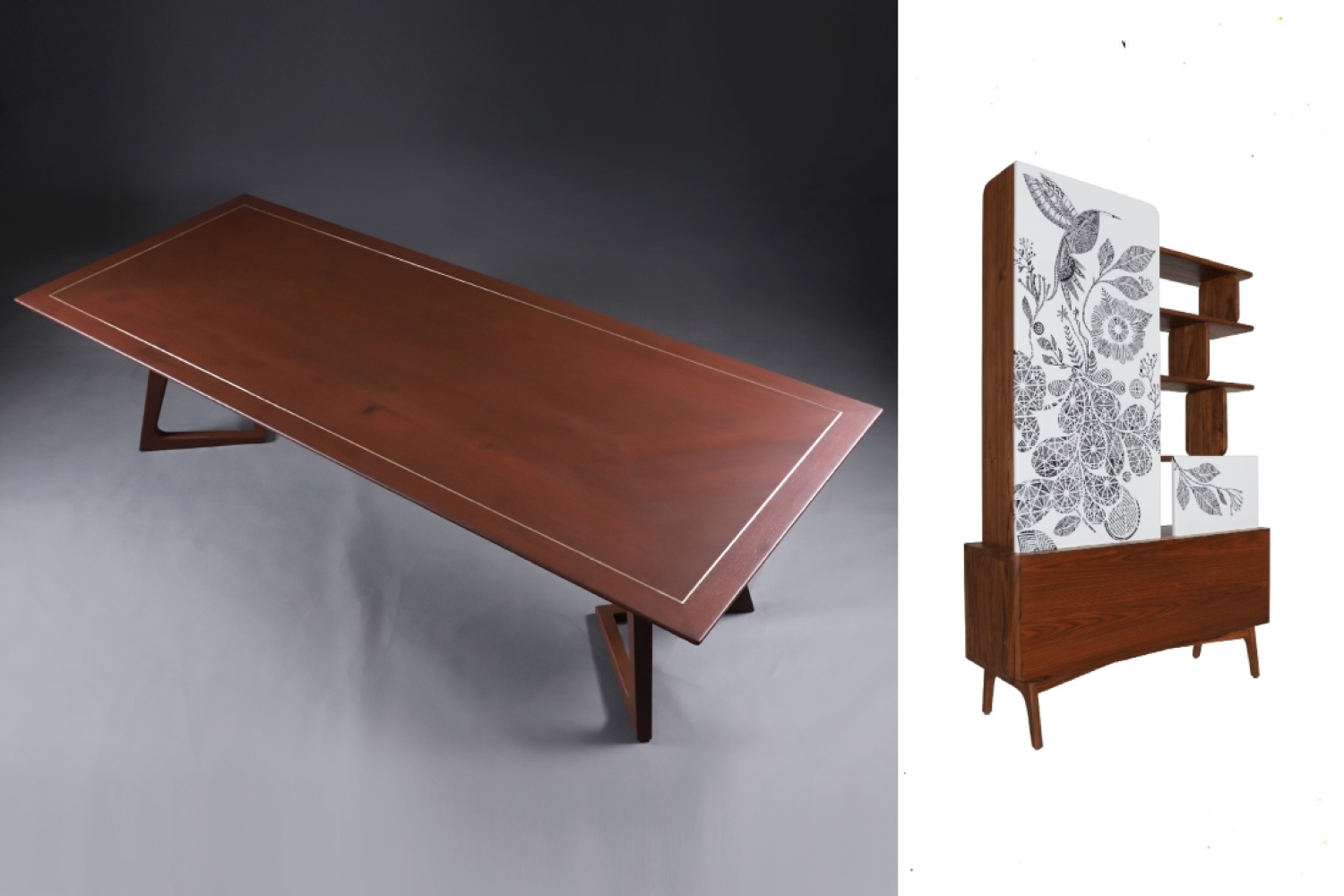 Anupriya Sahu was born and brought up in a town called Sagar in Madhya Pradesh. Art and design have always inspired and intrigued her. The creative streak might have emerged as she grew up in a house steeped in the arts — her mother was an artist, and father, a civil engineer. Academically she studied architecture and urban design as well. More about her furniture brand Alankaram, and journey, below.
Did you professionally study design?
I got my B. Arch degree from the Pillai College of Architecture. Post graduation, I pursued urban design at the master's level. During this period, I worked at various architectural firms, and furniture designing piqued my interest, especially woodwork. I started designing furniture and creating pieces showcasing local Indian teak. My husband, Dhwanit Parmar and I set up Alankaram in 2013. However, the lack of local craftsmen and artisans further inspired us to set up a furniture manufacturing unit, which we eventually did in 2015.
How would you describe your sensibility as a designer?
Design sensibilities are often related to our personality. However, design is a personal choice and should reflect the occupants' personalities. As a result, my creations amalgamate the client's vision and my design sensibilities rooted in tradition, with a touch of 'Indian-ness'. These products are an ode to our heritage and culture, yet imbibe a contemporary luxe element. These are conceptualised keeping in mind functionality and attention to detail, especially precise joinery.
I love fusion designs and blend tradition with modern aesthetics. My design style redefines luxury for the contemporary consumer by imbibing traditional design elements. All of this is enabled by authenticating our provincial roots with global design cultures.
How have you incorporated the idea of sustainability into your work, and how challenging is it to keep up with it?
All of the products at Alankaram are made from sustainable, responsibly-sourced materials and have a feel-good vibe, which induces positive energy into the house. Moreover, they embrace an intent and purpose — making the furniture strong, durable and honest to materiality. My preferred materials are Indian Teak and White Oak wood. Once you believe in sustainability principles, challenges such as sourcing local materials, reducing carbon footprint, et cetera, become stepping stones.
Is there a story behind the name, Alankaram?
Alankaram, in Sanskrit, means 'the art of decoration or ornamentation'. The studio customises indigenous, minimalistic designs with precise joinery details, combining the strength of solid wood with a modern range of upholstery. Incorporating traditional design elements into our products by authenticating provincial roots with global design influences, Alankaram aims to redefine luxury for modern lifestyles.
What are your thoughts on the debate of functionality versus aesthetics of a design?
Good design should merge aesthetics and functionality. We have developed our furniture design range keeping in mind the functionality and requirements of the end-user. Our products are flexible with upholstery and wood finishes. The customisations in the existing designs are executed as per the client's requirements. It is because of our design skills and aesthetics that architects, designers and clients trust us with work ethics and flexibility on bespoke services.
What are you working on currently?
We are currently working on a new collection called Swaagatam. This collection is all about creating inviting and welcoming furniture, while being true to our core design principles of Aesthetics, Utility and Strength.
Text Hansika Lohani
Date 22-11-2022