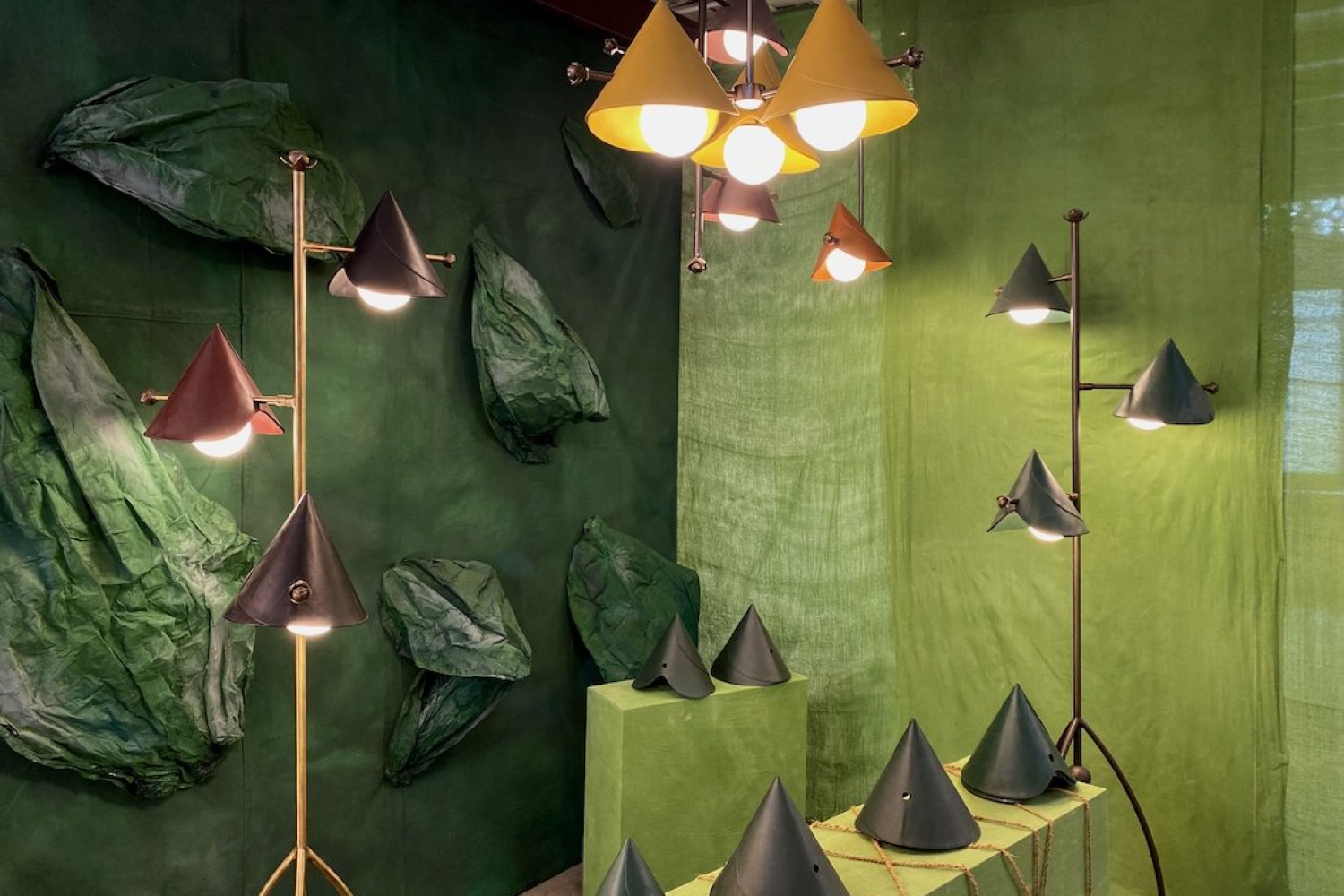 Principal architect and lighting designer of his eponymous practice, Arjun Rathi started his studio back in 2012. However, while in the midst of his first project, it got cancelled. Moving forward, he designed a fabricated lamp from an upcycled Ambassador headlight, which eventually led him to design his very first custom light installation. Thus his studio evolved into a customised lighting design studio and their lighting experiments developed more complexity and became bigger. Working at custom scale across different markets, with client bases and designers across the country, helped them develop several retail collections, catered to the Indian style of living. Cut to the present day, Arjun recently unveiled the Lighting Gallery to showcase his designs, created over the past few years. The gallery also gives a peek into the development process of the lighting designs and products. The Lighting Gallery is situated right next to his Rural Modern Glass Studio, India's first art-glass studio exploring hand-blown glass across glass art, home accessories, objects, and tableware, in Mumbai.
We're in conversation with him as he talks to us about some of his biggest breakthroughs and more.
Tell us about some of your biggest breakthroughs.
Every successful project, early-on, helped me get a better understanding of the production processes and materials. Our first major breakthrough in the customised lighting space came in 2017, when we pitched and were awarded the commission to design the majority of the decorative lighting for the new World Towers building in Mumbai. The pre-function area, over one hundred feet long, was designed using thirty-three thousand lead glass crystals in a fluid DNA shape, and the banquet area installations consisted of over eight thousand hand-pressed glass modules, which became a wave format. The project gave us a lot of confidence and helped establish processes for the studio on how to deal with large scale works. Around the same year, we had designed our Shikhara Pendant Collection, which explored blown glass. My time in Firozabad executing the World Towers project gave me further confidence to explore the material and develop the Shikhara Hanging Light Collection, which became our sig- nature product in the coming years.
Following the World Towers project, we also received many opportunities to explore large scale instal- lations. Most recently, in December of 2020, we handed over one of India's largest lighting installation, inspired by the Gulmohar Trees and comprising of over two hundred hand blown glass flowers and elements, for the Almond Banquets in Kolkata, and executed a customised edition of the Shikhara installation, for a private residence in Bangalore. The latter was forty-four feet tall, making it the tallest residential chandelier in the country.
What role does sustainability play in your blueprint?
Our products generally explore a variety of materials and production processes, many times we combine handmade crafts from different parts of the country with industrially-produced components. As a studio, we work as much as possible with local vendors and have upskilled the craft and fabrication community to cater to our lighting design requirements. Sustainability for us has always been to upskill and support the craft and artisan communities we work with, and keeping the carbon footprint of our products to a minimum.
What is good design and what role should it play in our world?
As a self-taught lighting designer, I applied the methodical approach of architecture, with ideals influenced by modernist masters like Alto, Corbusier, and Mies, to develop my lighting design process. I had the idea that lighting and form could stimulate emotion, and explored a symbiotic dialogue between the Indian factory and the Indian craftsmen to define our production process. I wanted to create magical stories through the play of colour, shadows and darkness, which form the fundamentals of Light.
Finally, what's keeping you busy right now?
We recently opened a store in Kolkata, to add to our store presence in Hyderabad and Bangalore. These cities have become prime markets for us. We are currently engaged in many exciting projects in Hyderabad, one of them being an installation of three glass peacocks, the largest being twenty feet in length with over four hundred hand-blown glass pieces. We are also exploring the online retail space extensively. We are launching on First Dibs this month, which will help us with some international presence.

This article is an all exclusive from our August EZ. To read more such articles, follow the link here.

Text Unnati Saini
Date 02-09-2022