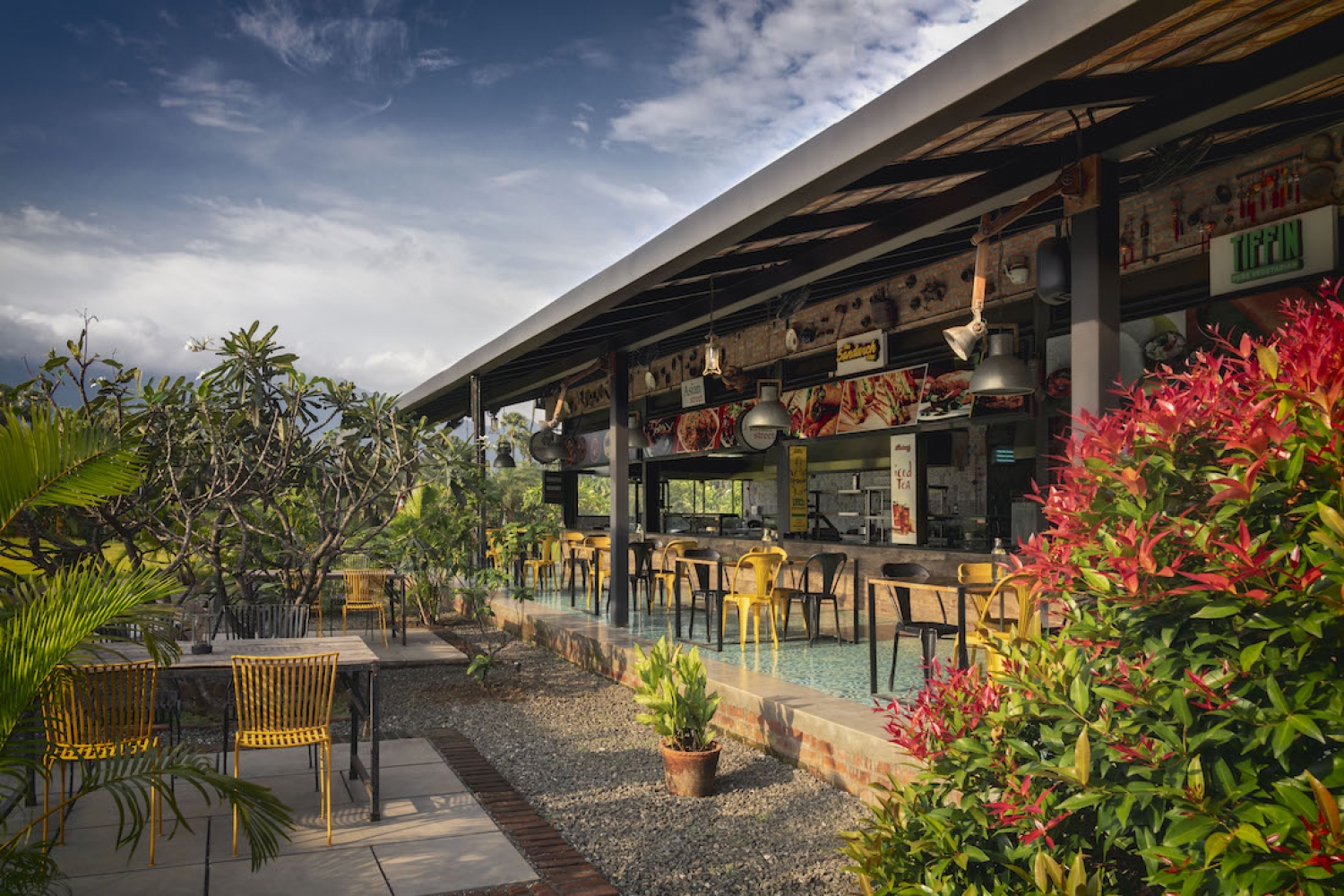 Growing up in Kerala, closely connected to nature and community, while observing how the man-made environment imitated the natural ethos, architect Oommen Thomas found himself deeply contemplating all that it takes to construct environments. He firmly believes that architecture forms the lens for not only viewing, but also shaping culture. This is the foundation on which his firm, Aviot Architects stands. "Everything we consume is design and we can find our inspiration around us," says the up and coming architect, who takes us through his recent project, Nine Doors, a food-court set against the most scenic backdrop in Walayar, Kerala.
The Conception
I designed this project for my friend and an entrepreneur. He wanted a restaurant that visually engaged the passers-by, along with diverse cuisines in a food-court model, convenient for travellers as they would become the main patrons of the restaurant. Set against the mountains, the site has breath-taking, picturesque views and the design strategy immediately veered towards incorporating the surrounding landscape, both immediate and distant, into the project.
The Approach
My approach was to keep it very simple, make many iterations, understand our client's needs closely and follow a slow process, while trying to pay more attention to details. Architecture, according to me, is living history. So it is not about following the trends — just keeping it humble.
The Execution
The profile of the building borrows from the mountains against which it is silhouetted, sculpturally complementing and weaving a profound connection with the landscape. The blue arched doorways, recovered from a century-old mansion, adds a whimsical touch to the raw materiality of brick, instrumental in eliciting a powerful, aesthetic presence. The solidity of the building is counterbalanced by a cantilevered glass cube, adding lightness to the structure. The dynamic highway-facing façade, with its distinct material palette, evokes a sense of curiosity in travellers, tempting them to stop and look further. At the core of the building, the landscaped courtyard hosts dining spaces that are made vibrant in the evenings with live music routines. The courtyard emanates a feel of extending into the distance, blurring the edges of the site and stitching together a continuous view of the distant mountains.

This article is an all exclusive from our October EZ. To read more such articles follow the link here.
Text Unnati Saini
Photography Fabien Charuau