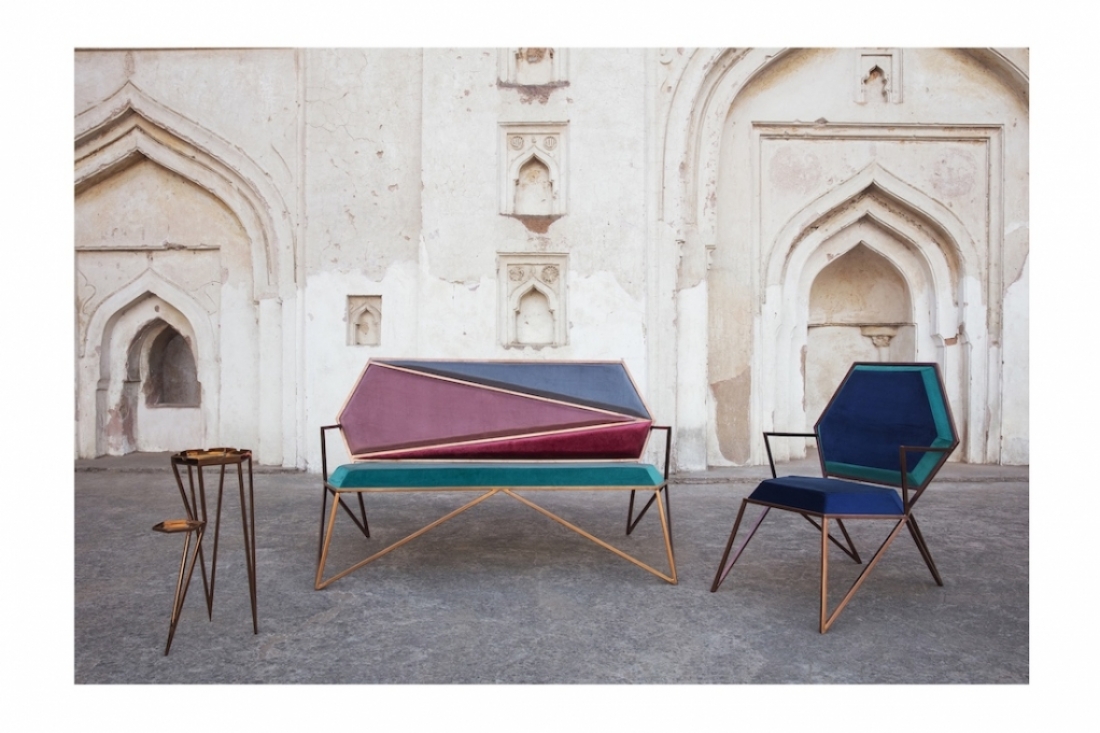 Borderline Studio
Anica Kochhar and Priyanka Singh
Borderline Studio launched it's debut collection in India Design 2018, namely The Martian Get Together. One glimpse at the collection and the imposing geometric forms and sharp edges strike the eye with little delay. What makes The Martian Get Together so noteworthy is the fact that the studio has managed to introduce it's sensibilities with a minimal range of products.
Though what is their vision? What is it that makes these pieces of furniture so covetable? Is it just the aesthetic or is there a greater, a more indispensable attribute to these pieces? Turns out, their unique selling point reaches far beyond merely an eccentric edgy vibe.
Childhood friends and now business partners, the bond that Anica and Priyanka have with art and with each other goes way back. They attended the same boarding school where they bonded over art and all things creative. As their lives went on, Anica went to Pratt Institute and Priyanka to Monash University to study Architecture and Visual Communication respectively.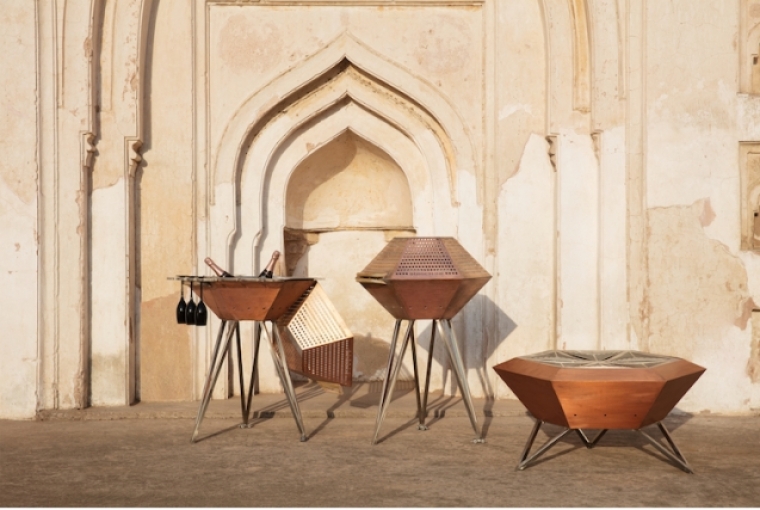 While working in different parts of the world, their worlds collided last year in New York, where after attending a series of art fairs, they realised that their design sensibilities meshed effortlessly and from there, talks began to launch Borderline Studio. 'We felt we really hit it off in terms of our design aesthetic and then we decided why not start something of our own and see how it does?' Anica further reveals 'We didn't want to limit ourselves to a product such as furniture so we decided to call it Borderline Studio.'
Their debut project, The Martian Get Together and their future products to be launched in 2018 draw inspiration from space missions to Mars. While their very first product embodies the theme, it also introduces a vital element of the brand- multifunctionality. 'Our first product is an angeethi called the mothership which resembles a spaceship, the angles, the shape and everything about it embodies a futuristic aesthetic. We have used Indian materials like copper to make it sustainable across seasons. So even though you can only use it as an angeethi in the winter months, in the Summer months it transforms into a party object, where you can use it as a champagne cellar to store champagne and hang your wine glasses around it and in the months in between, it acts as a barbecue.' Their products combine craft with a modern vision blending the past with the future while ensuring that each product serves a function and more often than not, more than a single function. 'We have another furniture piece which becomes a coffee table, a communal barbecue and a fire pit. There is also an ashtray which can also be used as planter stand and a side table.' Anica reveals. Multifunctionality is not just a vital element but a crucial aspect of their unique selling point.
They are also extremely staunch about manufacturing in India and take great pride in Indian craftsmanship. 'We want to scream that we are from India and we want to juxtapose the the future of India with the past.' The photoshoot of their first collection took place in front of a tomb in Mehrauli which formed a blend of the old and the new, as pieces reverberating a futuristic vibe dazzled in front of India's heritage. They further let me in on why manufacturing in India is such a big concern for them. 'I think it is time that we show the world that we can make very well finished products and also we can place ourselves on the map as a country which can come up with their own aesthetic as well as imbibe unmatched craftsmanship. I think we are very very rich as a people and we can rely on ourselves. So the product is conceptualised in India, it is manufactured in India, it has all taken place here.' Anica tells me. She holds a strong conviction that Indian craftsmanship is no less than Italian craftsmanship.
Their future projects match the ambition of their fearless ideologies to blend futuristic with historical. Big plans seem to be in the books for Borderline. A number of useful home accessories and a multifunctional installation is what the close future holds for them, while the desire to exhibit in the world's most niche concept stores form their long term aspirations. They have already set forth work in the former. The range of home accessories would follow the space theme, while embodying functionality with pride. The second project, which I got very little input on since it's still a work in progress, features an installation for a hotel which is a partition wall which also transforms into a screen to hold planters. It again, inevitably, blends art with functionality immortalising one of Borderline's core values.

Anica Kochhar and Priyanka Singh