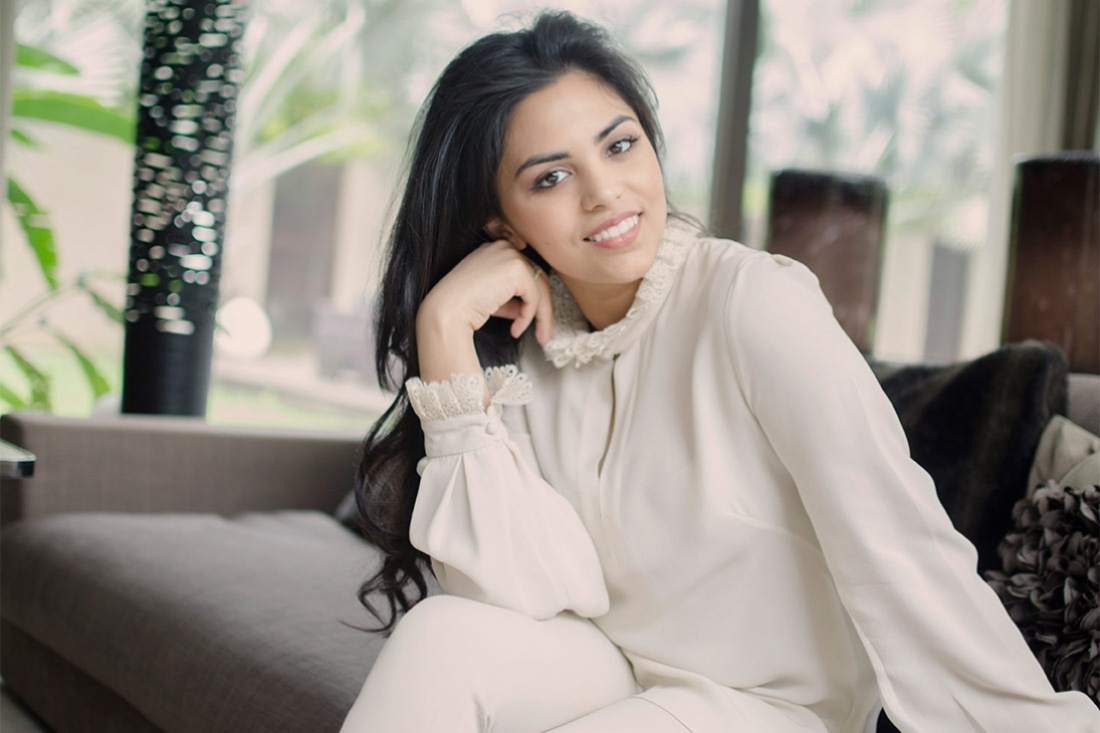 Like most Indian alumnus of Ivy League universities, Deepanjali Dalmia returned home from Columbia as an entrepreneur with a vision; to make lives of some Indian women better, cleaner and healthier. Her business idea was to fill the huge gap that girls face when it comes to making healthy personal care choices. After over two years of prototyping and meticulous development, Heyday launched a biodegradable and organic sanitary napkin, the first of its kind in India.
We take a look at the thoughtful approach on the track to a successful business as the young enterpriser describes to me what fuels her passion to make a difference.

What led you to Heyday?
I had this burning urge to add value and help people around me with an innovation of any kind. I decided to channel my energies in the right direction when I quit my job at EY in New York with a vague dream to create a product for women. I returned to India and conducted an industry wise preliminary research to understand potential markets that interested me. Personal hygiene simply struck the right chord when I found out that an alarming 87% women do not use sanitary napkins and even the small percentage of women who are fortunate enough to use pads are completely unaware that their napkins are carcinogenic and harmful for their bodies and the environment. A few years of research and a lot of building and unbuilding later, Heyday was born- a biodegradable and organic sanitary napkin made from plant based fibres for the Indian woman.

Tell us about the process of product development.
The main raw materials used in the napkin production are corn and bamboo fibres. The softness of the corn fibre combined with the absorption capacity of bamboo, and antibacterial properties are used in seven layers of top sheet. We steered away from cotton because it's production accounts for 10-15% of the world's pesticides, more than any other crop. After smashing and cutting, the pulp of the plant fibres is made and cellulose is extracted. A non-woven technology is used to make the pads under high water pressure flow and then a stepwise heat treatment machine is used to make the final pads. Our plants are situated in China and Finland as we could not find chemical free soil in India wherever we tested. Each napkin has its individual biodegradable cover made from corn starch and bioactive lactide. Then packaged in paper monocartons in India, each napkin is tested in NABL certified laboratories before hitting the shelves.
India's first biodegradable and organic sanitary napkin
What challenges did you face in the process?
I think the main challenge was to introduce the product in retail chains and make Heyday available to the end consumer. Having priced the napkins very low to make them affordable to the Indian metropolitan woman, Heyday barely earns a buck on each sale but with volume gains we aim to grow exponentially.

Do you see Indian women adapting to organic versions and how?
Yes, absolutely. I feel there is a growing awareness about the quality of products people are using in their everyday lives. Organic authentically means that no chemicals are used in the production of the raw materials in a product. Consumers are waking up to the idea of knowing what their bodies are being exposed to. If there is a switch towards organic eggs and pastas then why not organic sanitary napkins? How can women allow the most sensitive part of their bodies to be exposed to harmful chemicals for elongated periods of time? The response for Heyday has been overwhelmingly good in the retail stores as a lot of women suffering from rashes, allergies, skin infections, irritations and UTIs wanted to make an educated switch to better personal hygiene options.

How will the product reach remote areas?
As of now, we wanted to focus on the women who are actually using pads and are completely unaware of its effects on their bodies. In rural areas, the main challenge is to educate and then empower women in order for them to even use sanitary napkins. We at Heyday conduct a lot of high school activations wherein we educate the youth on menstruation and personal hygiene options. Hopefully in the coming years, we can reach more and more women across the country.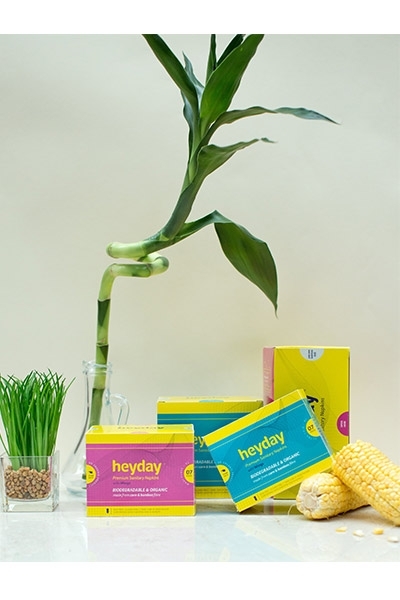 "I strongly believe that we have two homes: our bodies and the environment, we must take care of both."
Are there more products in the making?
Insider scoop: our next product is a biodegradable and organic baby diaper for infants to not be exposed to plastics on a daily basis.

More about the product here.
Text Garima Gupta