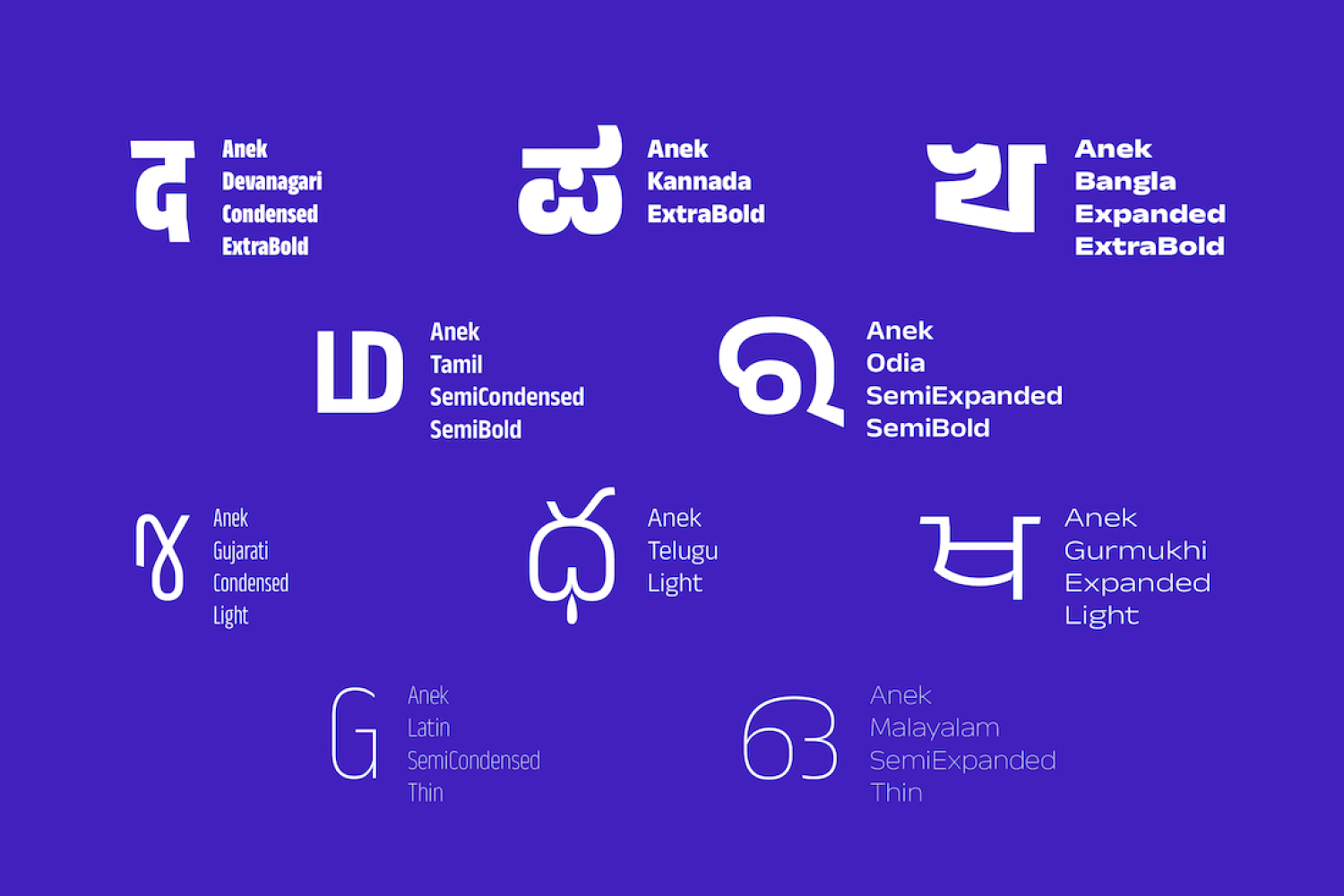 Co-founder of the type-design studio Ek Type, Sarang Kulkarni, was sure from the get go he wanted to pursue the arts but his foray towards type design happened much later in life. It was only during college that he was blessed with experienced mentors like Prof. Santosh Kshirsagar who led him towards typography. He was subsequently intro- duced to professor R K Joshi and was fortunate enough to work with him on a couple of type design projects in Gurmukhi and Devanagari scripts. In 2005, Sarang started WhiteCrow– a design studio focused on lettering, calligraphy, custom type-design and branding. But it wasn't until 2009 that he met the other co-founders Girish Dalvi and Noopur Datye and started actively designing and selling multi-script fonts as Ek Type. The Ek in their brand name represents the collaborative nature of their studio. Sarang tells us further about the studio's practice and more.
THE PRACTICE
For any pan-India product or service, communication in regional languages is key to reaching wider audiences. And availability of fonts in regional scripts is important to facilitate this. Statistics also show that with the internet and smartphones becoming more accessible, there is a massive rise in the Indian audience consuming regional content on the web as compared to English. Five Indian languages make it to the list of twenty most spoken lan- guages in the world. Compared to the number of users, the availability of good quality typefaces in Indian scripts is a lot less. We are trying to bridge this gap. We feel it's important to keep our scripts updated with the latest changes and updates in the technology.
The sheer diversity and complexity of writing sys- tems in India is both inspiring and challenging. Each of our scripts is visually distinct from each other in terms of letter shapes, regional preferences, and technical requirements. In order to give equal importance to each of the different scripts, it is important to collaborate with designers that know and understand these nuances. Our team consists of designers and experts, not just from across India but also from other South Asian countries as well. Collaboration is fundamental for most of our projects.
ANEK
We started this project back in April 2020. Anek is a mega multi-script variable font family that supports ten scripts (Bangla, Devanagari, Gujarati, Gurmukhi, Kannada, Latin, Malayalam, Odia, Tamil, and Telugu), each with eight weights (Thin, ExtraLight, Light, Regular, Medium, SemiBold, Bold, and ExtraBold) and five widths (Condensed, Semi-Condensed, Regular, Semi-expanded, and Expanded). It is an award winning open source project and is available on Google fonts. This project was an exercise in multiplicity. It is not just a family of multiple weights, widths and scripts. But it reflects the multiple voices, ideas and perspectives of twelve designers who have worked on it. The challenge was to design a type family with common visual fea- tures using a democratic design approach. Each designer worked independently on their respective scripts and collaboratively on the type family as a whole. As a result, the design of each script borrows from its own typographic culture and reflects the perspectives of their designers. Yet they cohabit the page in visual harmony.
This type family was released over a year ago. Over the past year it has received several awards and has seen extensive usage across India. The latest multi-script use case is the ongoing IPL series! Contributors of this project include Maithili Shingre, Yesha Goshar, Kailash Malviya, Aadarsh Rajan, Sulekha Rajkumar, Vaishnavi Murthy, Omkar Bhoir, Mrunmayee Ghaisas, Mahesh Sahu, Sarang Kulkarni, Noopur Datye and Girish Dalvi.
THE FUTURE
Quite a few single and multi-script projects are in works right now. We are working on a text type family called Katha, another display family called Naatak to name a few. Apart from designing typefaces, we would like to focus on creating awareness about typography in Indian scripts– publishing calligraphy manuals and books, taking workshops in design schools and conferences and teaching introductory courses for type design.

This article is an all exclusive from our May-June EZ. To read more such articles, follow the link here.

Words Unnati Saini
Date 31-05-2023