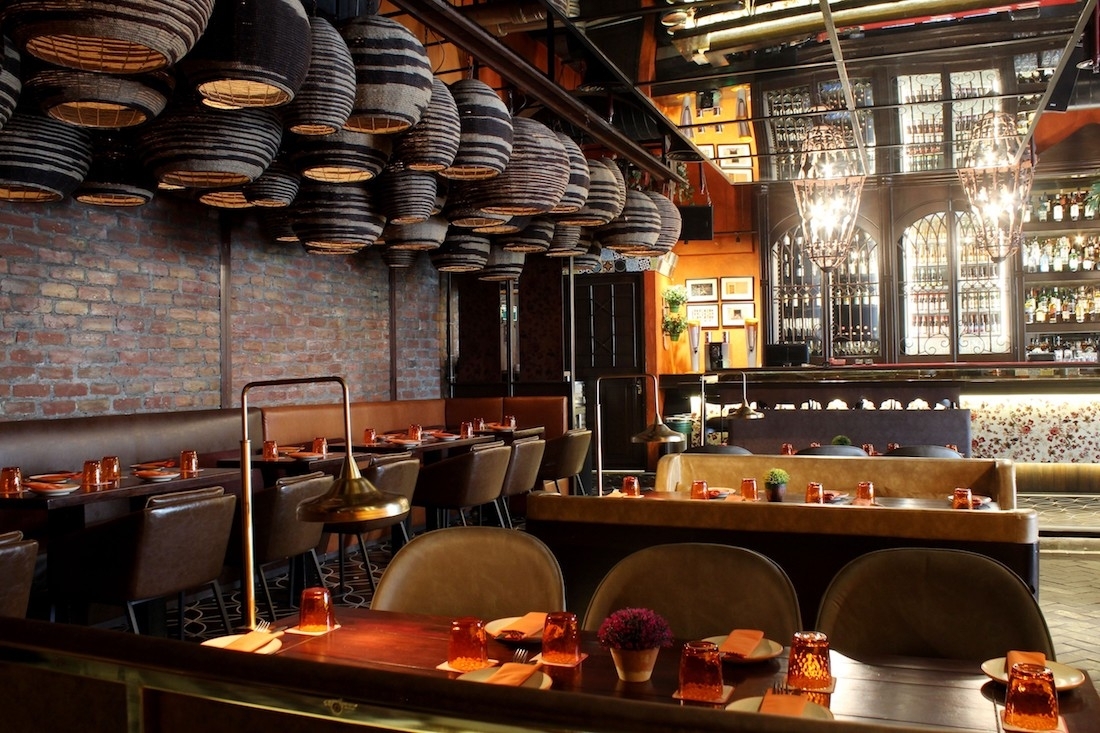 Saheba Singh
This Is It Designs
Today, Saheba Singh is a well-known name in the field of Interior Design. She is the design genius behind some of the most popular places in India like Masala Library (Delhi), Social (Delhi), Tamasha (Mumbai), Smokehouse Deli (Delhi), Playboy (Pune), Farzi Cafe (Bangalore) and Elemenopi (Gurugram). She is now all set to add the newly launched, Asia's longest bar - Lord of the Drinks (Kamla Mills, Mumbai), to her design repertoire. In a conversation with us, she tells us about her journey, her personal sense of design and her views about the interior design industry of India.
Saheba Singh was driven to pursue Interior Design as a career since she was always intrigued by aesthetics of living spaces and was exposed to quality design since childhood. As she grew up, she happened to realise that she had naturally inherited the dexterity and art to beautify spaces and in 2004, she launched her Interior Design firm called This Is It Designs. In the span of last, 14 years, her company has forayed into diverse disciplines, from hospitality to venturing into multiple residential projects, corporate undertakings, plush boutiques and retail stores. Each sector had their own set of challenges as well as victories but the exploration of multiple industries has given her a holistic experience, which has added greater value to her work.
Her great admiration for Zaha Hadid has also affected an inspired her work in many ways. She is inspired not just by the work that Hadid did, but by the strong woman she was and what all she accomplished in an era when it was relatively tougher for women to make it. Saheba believes that no one has addressed the curved lines and angles in architecture, the way Hadid has. She also admires Ayaz Basrai and Super Potatoes. Ayaz - for the crazy genius he is and for the eccentricity he brings to design by virtue of the array of unusual things he is interested in. Super Potatoes - For how they manage to reinvent themselves constantly.
When asked about her personal sense of design, Singh tells us that she loves all things vintage, all things that evoke a sense of nostalgia and are earthy chic. She is not big on colour so she likes a neutral palette and tends to lean towards taupes, blacks, greys and whites. More importantly, for her it is essential for a space to smell great always, which is why her rooms and office spaces always have incense or oils burning. She thinks it adds a certain something to a space. That and if possible, greens outside big windows. For her, an integral aspect of designing a new place is to design a space that will do justice to the concept and the demographics. She also likes to design a signature element for the space- usually a customised light installation.
Further, she lets us in on her creative process behind designing a space. She allows the beginning of design to be organic and goes a little crazy sketching on paper. Then she starts refining the lines and builds in the services, logistics and all the other necessary stuff by using mood boards, 3D's and finally an encyclopaedia size book of GFC drawings. Her company loves to improvise while the work is happening, when time, budgets and clients allow it! Most importantly, Saheba promotes a perfect mix of both practicality and aesthetic. One can be more overpowering than the other - but that is relative again to the concept and the demographics.
Singh further tells us that she feels the design industry has been fighting a silent war for a very long time and more often than not, their passion and commitment towards work is taken for granted. "It is our mistake", she says, "that we talk about it internally but don't voice our views". As a result, most people don't even realise how disrespectful it is to say/do some things. She has, on various occasions, faced situations that have disturbed her immensely and when she thinks back, she wishes she had addressed them, instead of taking a step back. There is a time to take the high road and a time to hold your ground. "I think we as designers, don't hold our ground", she adds. She wishes that they can create platforms and have open dialogues about the same. In fact, She is now venturing into conducting workshops with students in colleges and talk about how not to lose the passion for your work - yet - retain your sanity and not let people walk all over you. There is a fine line there!
This Is It Designs is now focusing on luxury residences and Hotel design. They are finishing their first five star hotel project in Indore - The Park. The handover for that is end of the year. They are doing two more hotels - One in Delhi and one in Siliguri. The one in Delhi is a boutique hotel and the one in Siliguri is an art hotel that will engage local artists, musicians and talent. They are also doing a couple of farmhouses and apartments in and around Delhi. Other than that - they have already started taking the brand Global. They are starting a Wildlife Lodge in Nairobi in September along with a restaurant for a different client in Nairobi as well. Their restaurant in New York will be at a handover stage by the end of next month and they are currently discussing a bar project with someone in New York as well. Their studio in London will be live in another month or so, so they are hoping to tap the residential design market there as well. Finally, work on their e-commerce venture and app has started already. Saheba is also curating a line of furniture inspired by Indian textiles and handicrafts which should hit the floor in another 4-6 months.

Text Nidhi Verma