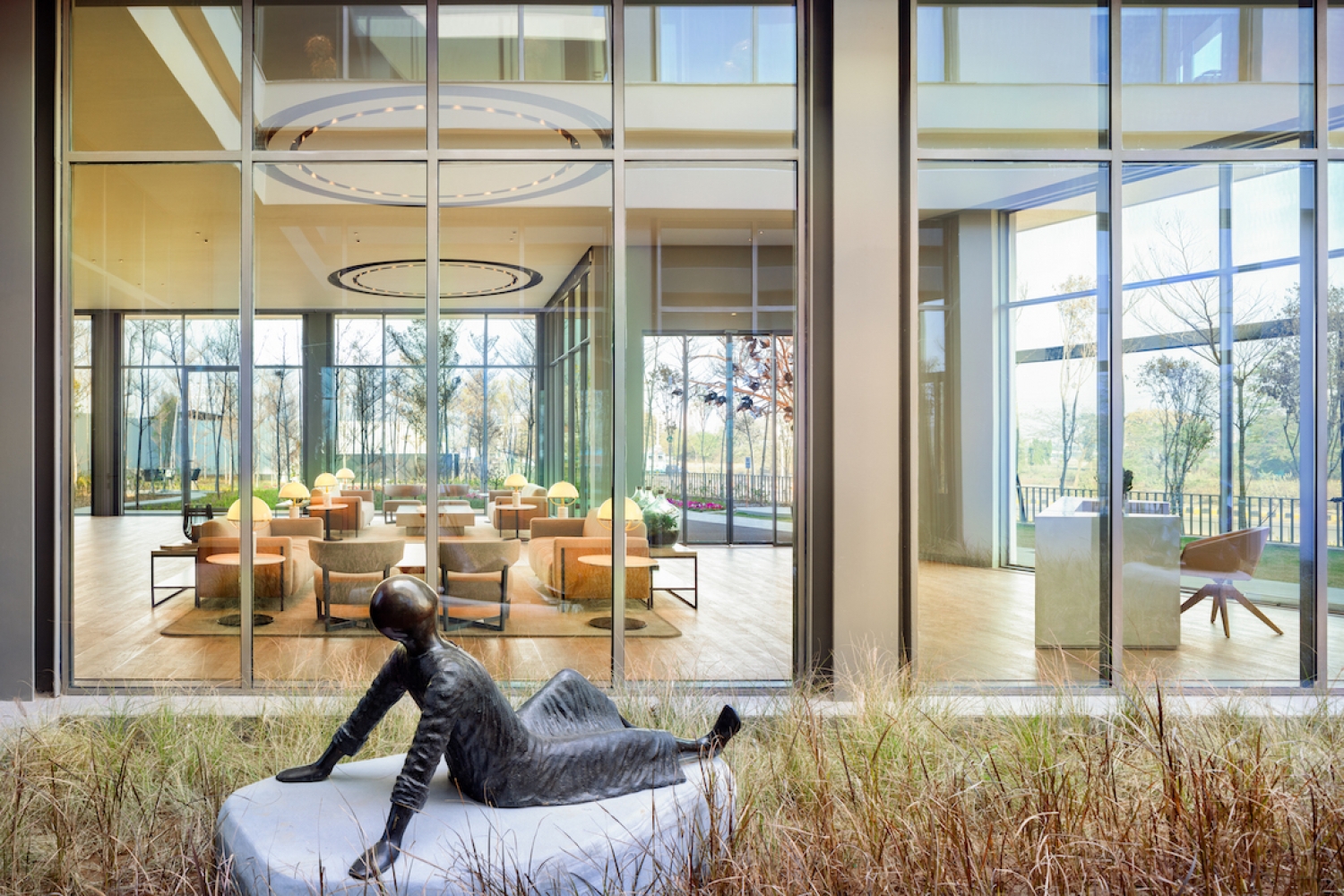 © Noughts and Crosses LLP
Rachna Agarwal, Founder and Design Ideator of Studio IAAD, was always interested in making experiential spaces more environmentally conscious, accessible and engaging. It was with this vision to create immaculate and memorable spatial experiences that she started Studio IAAD in 2007. An acronym for 'It's All About Design', the boutique design studio has been recognised as a pioneer in the discipline. Today, their illustrious practice includes corporate offices for leading business houses, expansive resorts, hospitality spaces, educational institutes, high-end retail stores, housing developments, showcase apartments, independent villas and a vibrant array of multiplexes. We're in conversation with Rachna who enlightens us more about their work and projects.
How would you say your practice has evolved over the years?
Our practice is a work in progress — and we are always open to new ideas, innovation and change. Like the rest of the world, our architectural and design practice has also shifted in material palettes, ideologies and vocabulary. For instance, workspaces have eschewed restrictive cubicles for flexible spaces and collaborative environments that enable employees to connect. Instead, the focus is on optimally designed space to nourish, energise and enrich one's living experience.
However, some things always remain constant, like client collaboration always drives my design approach. I respect their aspirations and merge them ubiquitously into the construct and narrative of any space. As a result, every project is executed with precision and an eye for detail, amalgamating strong aesthetics, inventive material utilisation and the inclusion of sustainable practices at its core through a responsible and biophilic design approach.
© Noughts and Crosses LLP
Tell us about some of your biggest breakthroughs?
Every new project brings a unique challenge to any design practice, which can be leveraged as an opportunity. Overcoming the challenges for two of these projects was our biggest breakthrough. Back in 2009, the Crayons project was a big challenge — yet, we treated it as an exemplar of recyclability and sustainability. We transformed a dilapidating brick building into an office space for an advertising agency that would lift the work environment and inspire creative thought. Apart from the dead load, the existing roof could not take any extra load, which aided us in achieving a minimalist look. We stripped the shed of its non-structural elements on the northern side and replaced it with full-length transparent glass glazing.
Another breakthrough project has been the North Goa residence, Cove, with three distinct clients at its nucleus, ensuring that each end-user felt tethered to the overall design narrative. To offer seamless views of the waterfront, we lifted the site's level by six feet and levelled it with the arterial road. The architectural intervention is grounded, resulting in a layered yet simple articulation of the site, its climatological parameters, and the surrounding context.
What role does sustainability play in your blueprint?
Sustainability permeates every aspect of our practice, with our six core design philosophies, which entail eco-friendly methodologies. We imbibe elements of nature into the built environment to reduce stress, anxiety and ill-health whilst increasing productivity, creativity and wellbeing. We follow energy-efficient practices. We consciously use renewable and natural materials to lower our carbon footprint and employ methods such as recycling, upcycling and repurposing and planning for healthy environments, ensuring air quality, heating, ventilation, lighting, and acoustics.
© Noughts and Crosses LLP
What is good design and what role should design play in our world?
Good design begins with an idea and materialises into an aesthetically pleasing, functional, sustainable, and accessible environment. Design should have a soul — a conscience. For example, it can focus on upcycling furniture, buying local and actively seeking energy-efficient materials. Originality will be more important than ever in architecture and design, and craftsmanship will become even more prized. A holistic approach that enables innovation to develop fully integrated design solutions is the way forward.
Finally, what's keeping you busy right now?
We recently did exhibits for JB Glass and Hands Carpet at India Design. Alongside, work is nearing completion for a prestigious hotel project in New Delhi. The second phase for Heritage Xperiential Learning School is also underway.
Text Unnati Saini
Date 26-05-2022