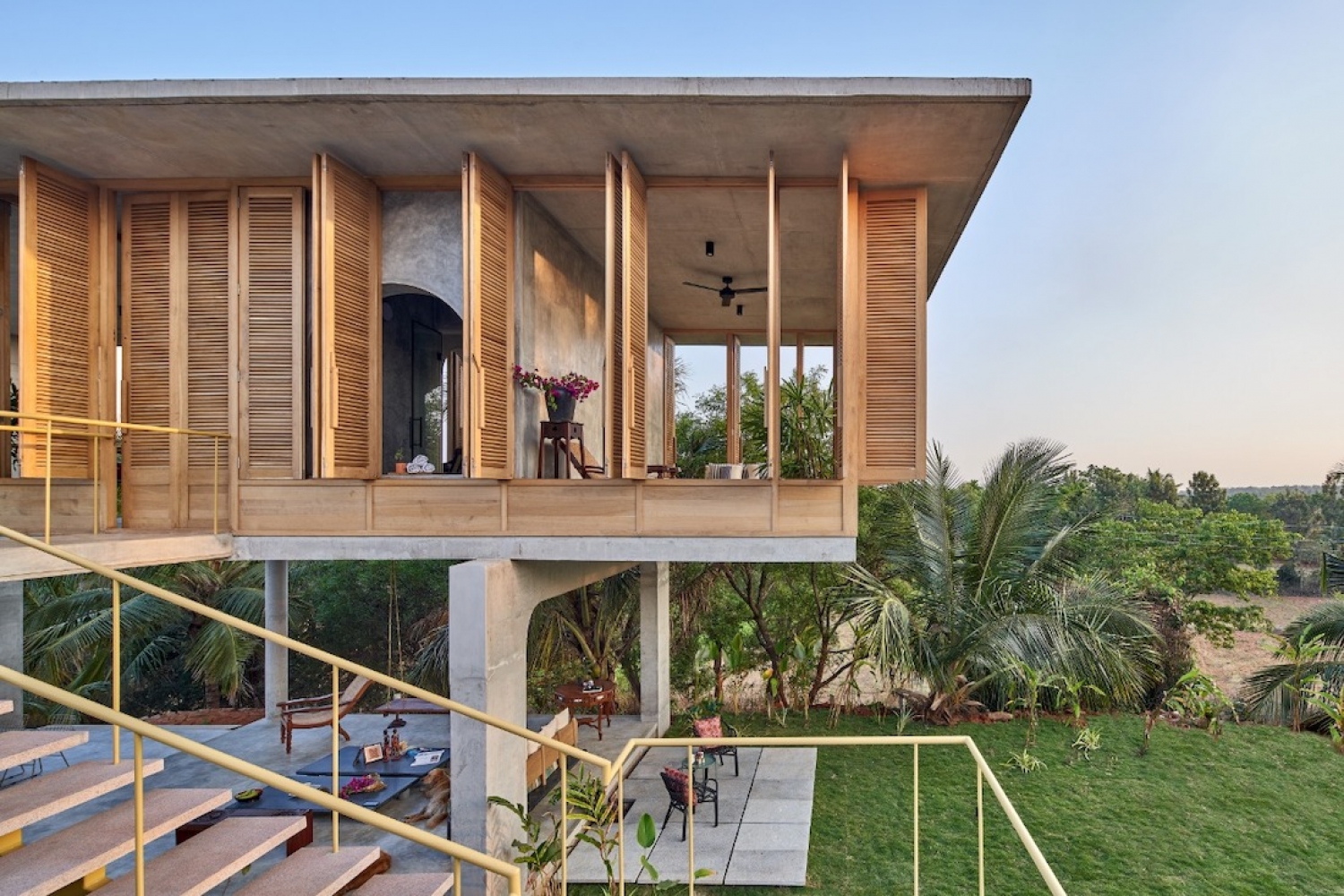 Ksaraah Taliesyn © Harshan Thomson
South Bangalore was home to Shalini Chandrashekar while growing up. For a greater part of her life, Shalini had an innate creative bent— an inclination for arts and crafts. What started with designing her own room and home, fuelled her passion and has translated into a living today. Design's omnipresence in every facet of our lives is something that has intrigued Shalini always, leading her towards architecture. 'It is a hybrid of artistic nuances and the science of engineering, making it a discipline that weaves together a way of life for all the people who inhabit a space. Delving into architecture has just been an extension of my inclinations towards the art of creation,' she tells us.
Her architectural studio, called
Taliesyn
, is driven by a desire to give back to the community. We got in touch to know more.

What does 'Taliesyn' mean and what pushed you to start your own firm?
The name of our studio, Taliesyn, takes its inspiration from the Architectural School Taliesin, founded and established by the veteran Architect Frank Lloyd Wright. Taliesin is a home, studio and school built on an eight hundred-acre agricultural estate in Wisconsin River valley. Inspired by the virtuoso's esteemed design ethos, we found our roots grounded in the firm's name — a place where our ideas and aspirations entwine, allowing us to associate with the nature of work that we resonate with, in the truest light!
Taliesyn's design identity represents the rooted and sensorial ethos the firm curates while propelling appropriate design solutions to the forefront. My inclination towards understanding the contextual and vernacular grammar of a space has catapulted the process of founding a dedicated atelier under the overarching umbrella of Taliesyn. I assumed the role of a co-founder at Taliesyn in the year 2010. Before I came on board as an Associate Designer at Taliesyn, I honed my design skills through professional collaborations with esteemed studios such as Vinnu Ponnappa Architects and D+A Architects, Bangalore.
Ksaraah Taliesyn © Harshan Thomson
What is your design philosophy?
Taliesyn as a practice was started very organically back in 2010. Our co-founder, Ar. G.S. Mahaboob Basha and I, delved into independent professional practice while collaborating on a design opportunity from a mutual acquaintance. While being colleagues and collecting invaluable architectural wisdom under the umbrella of a renowned creative professional, we realised our design ideologies resonated with each other and decided to unite on the opportunity at hand.
When we initiated Taliesyn, our design vision was simple: to conceptualise Architectural and Design solutions that inherently fulfil the sole intention of creating meaningful and appropriate spatial interventions, deeply rooted in the landscape while responding to the vernacular paradigm of the site and the materiality. Over the last decade, we have continuously striven to abide by this vision and have attempted to curate eco-friendly built environments with each of our projects. For us at Taliesyn, our design impetus is grounded by the notion of crafting spaces that are sensorial and effective in the niche of user experience. Our body of work has been an amalgamation of residential, commercial, hospitality, recreational and institutional projects, but what remains as the common denominator is the blending of contemporary nuances with traditional roots, sacred to the spaces with which we engage.
You take a sustainable/eco-conscious approach with every project, empowering local indigenous artisans and craftsmen as you work. How do you achieve that? Let's talk in context of Ksaraah.
At
Taliesyn
, we celebrate traditional Indian craftsmanship! My design practice is ameliorated by my active efforts directed towards researching local crafts and indigenous techniques of design; a process that entails working closely with artisans and craftsmen, bringing their artisanal creations to the limelight while shaping it to complement the demeanour of the space.
Ksaraah
creates a sanctum of rejuvenation away from the urban bustle. It is designed to transform continually; nature is the protagonist. The design intervention was consciously limited in terms of changing the landscape or the natural occurrences within the site, to ensure that the processes of
Shrishti
(creation),
Stithi
(sustenance), and
Samhara
(dissolution) continue without any interruption. Most of the furnishing elements at
Ksaraah
are antiques procured from nearby places or have been created on-site by procuring raw materials from local quarries. The materials were chosen to last long. Stones were sourced locally from nearby quarries; waste stones were recycled into furniture. In the interiors, the
Khadi
bedding and toiletries are all naturally sourced. Soft furnishings are a celebration of traditional Indian craftsmanship, such as the kansacrockery. Other furnishings like swing, armchair, mirror frames, side tables, et cetera, were directly sourced from Karaikudi, Tamil Nadu.
Ksaraah Taliesyn © Harshan Thomson
What role, according to you, does architecture play in society as a whole?
I believe contemporary Indian Architecture can be more sensitive towards its context — the prevalent climatic and socio-cultural background of a place needs utmost attention while curating spatial experiences. Today, western influences have inspired fanciful architecture that most of the time seems alien to its location. Being true to our roots and crafting an interplay of vernacular materiality and responsive built volumes has become crucial. Amidst the prevalent technocratic paradigm, where we have resourcefully restructured all aspects of earthly life, environmentally responsive architecture that holistically engages the senses and lets us express our affinity towards nature might become a game-changer in the near future.
Lastly, what's keeping you busy right now?
A lot of things — we are currently doing many exciting projects. We are looking forward to working from our brand-new studio and collaborating with numerous local artists and craftsmen. Farming is another activity that keeps me involved and busy!
Text Hansika Lohani Mehtani
Date 25-08-2021
Ksaraah Taliesyn © Harshan Thomson (