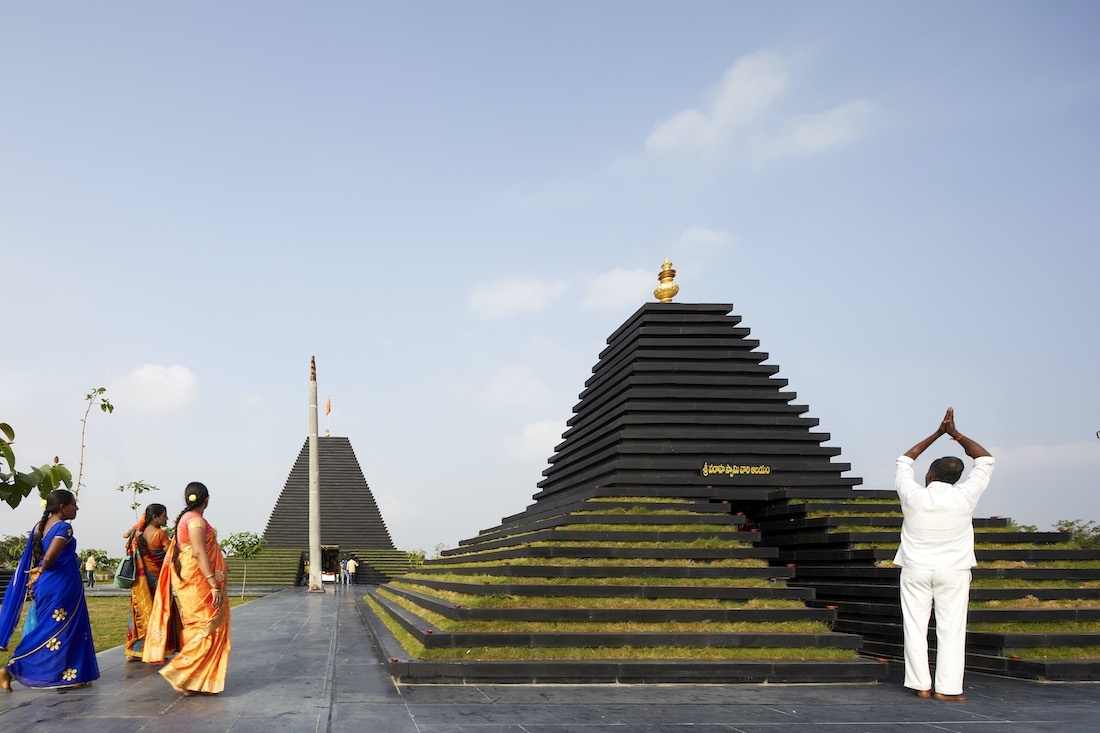 Photography: Edmund Sumner
The contemporary reality of the religious town of Nandyal, in the Kurnool district of Andhra Pradesh, was bleak up until recently. Known for its cotton and chilli farming, the population of the Bilakalaguduru village had been caught in the clutches of terrain that had dried up their natural canal. Providing a distinct solution to their ecological predicament while also respecting their socio-cultural context, Anushree Jindal of JSW stepped in and appointed Mumbai based architect Sameep Padora's firm sP+A, a firm well known for having designed a temple for the Lord Venkateshwara devotees, with a succinct strategy that would aid in the process of groundwater replenishment.
Building further on a 10th century temple for the same deity located in Tirupati, the modern-day version of the temple includes two shrines dedicated to Balaji and Varahaswamy along with Pushkarini, a water tank. The space further incorporates the priests' quarters, washrooms for the public and a kitchen for assembling offerings. The vision, at large, included keeping traditional Indian archetypes alive but simultaneously abstracting from them which can be seen with the salient ziggurat style.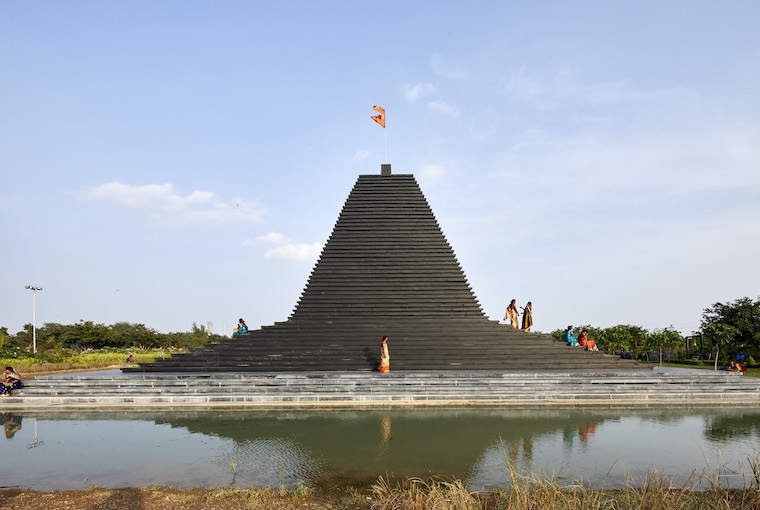 Photography: Edmund Sumner
Inspired by the exigency for ecological restoration, sP+A's strategy involved diverting the water flow from nearby limestone quarries to a low-lying recharge pit or kund; to create a water base planted with vegetation to help clean it naturally. Fashioned in a manner, wherein a flight of stairs leads down to the waterbody to emulate the structure of a traditional ghat, was a bid to keep alive India's architectural heritage as seen in the ghats in the ancient city of Benaras. The intention was to devise a similar ethos in terms of various spiritual and social interactions.
Sitting on plush exteriors, one of the most striking features about the temple that sets it apart are the black limestone slabs corbelled to form its main body. The indigenous slabs sourced locally not only add to the economy of the area but have been joined together in a manner wherein they incorporate soil and plants in the lower half of the temple body to act as a buffer against heat in the interior area. The stone further seamlessly melds into the ghat stairs to access the self sufficient water body.
Photography: Edmund Sumner
Talking about some of the major challenges faced by the team, architect Sameep Padora adds, "They were also due to us adding layers to the client brief we received from Ms. Anushree Jindal. There were a couple of challenges, which included for instance how do you do a temple, working with its image in tradition but yet making it in a way that it is of its time. Also how do you add layers of program so the building can give back to its physical context, which for us was through weaving the water recharge kunds into the temple precinct".
While a temple may be seen as a site of devotion and worship; the architecture firm's design has redefined the idea, transforming it as a space that reacts to the environmental challenges and tribulations and overcomes them successfully, leading perhaps to prayer being more powerful.

To read more from our all new Platform Bookazine, grab your copy here.

Text Unnati Saini