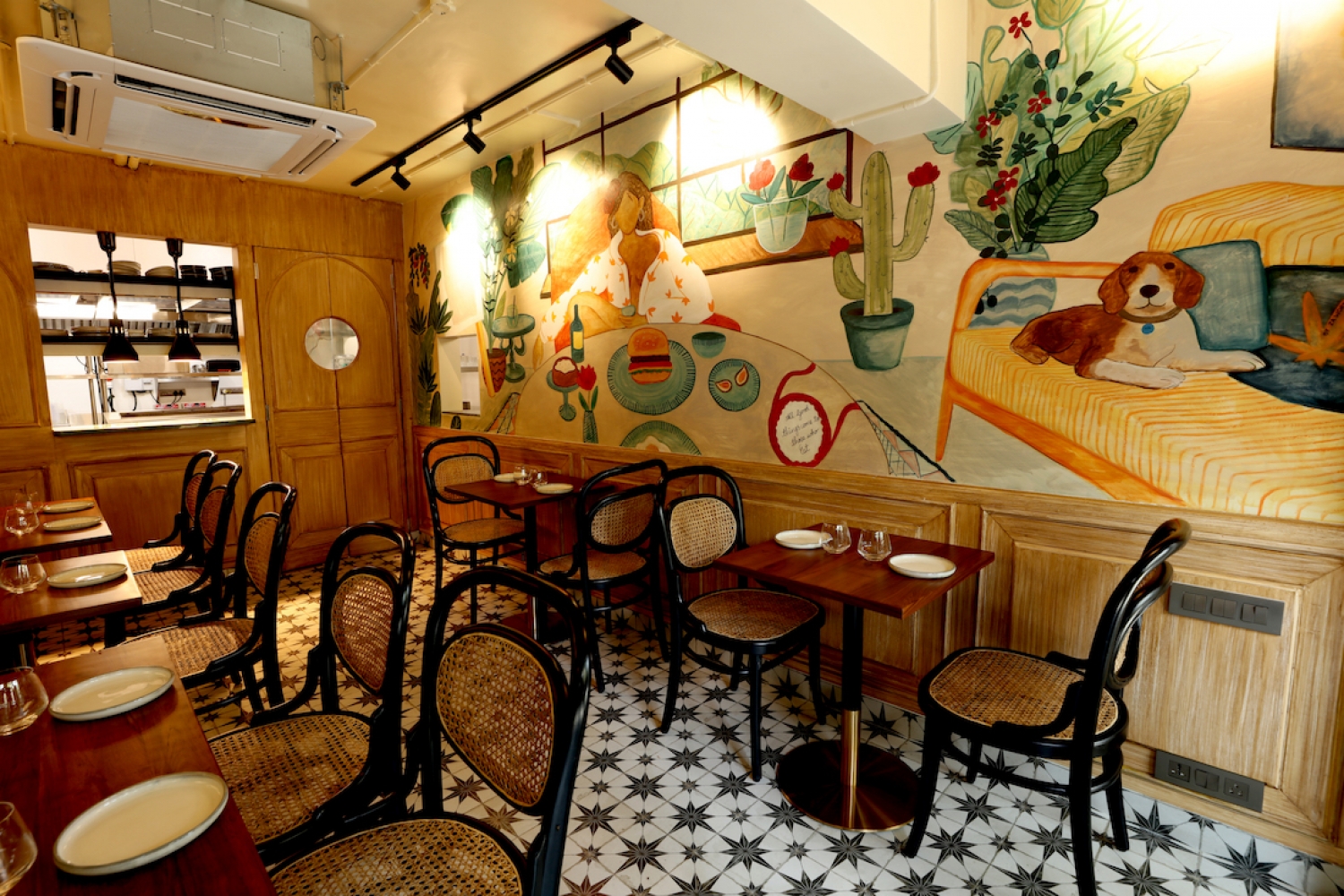 Owner of the design practice ZA Works, Zahabiya Gabajiwala spent her childhood surrounded by paints. Inspired by her art loving mother, Zahabiya cultivated a penchant for the arts early on in life. She pursued her passion further with a degree in Commercial Arts from Rachna Sansad College Of Applied Art and Craft, Mumbai, specialising in set design. Before diving into customised furniture and art projects, she explored multiple areas, finally venturing towards set design and working under esteemed art directors.
Having inherited entrepreneurial skills from her father, a businessman, Zahabiya decided to take the plunge and set up her own furniture design practice. Limited resources triggered her creativity further, helped her recognise new possibilities and find a niche in the field. As a result, she switched to a service-based setup specialising in murals, art installations, decals, branding design, packaging design, furniture customisation and canvas paintings.
We're in conversation with Zahabiya, who tells us more about her practice and process.
What does your practice stand for?
In 2016, I established my design atelier ZA Works Design, through which I aim to breathe life into surfaces and manifest spaces that communicate a narrative. At ZA Works, we develop conceptual design strategies in response to the client brief, while exercising freedom of artistic expression. It is a platform to encourage and foster newer talent through collaboration and engagement.
Take us through your creative process.
Art cannot exist without inspiration. My inspiration mostly comes from nature. I then collect references for visual stimulation, which helps me explain ideas to the client systematically. The most exciting part is creating sketches and digital versions of the designs. Once the design is approved, we decide on the colour scheme to create impact, mood and depth. Post this, we do a digital prototype to see if the masterpiece is executable in the practical world. Finally, we bring the art piece to life.
Would you say you've managed to find your voice as an artist? How would you define it?
In my opinion, your artistic voice is simply a part of you — it is unique, and is a work in progress. The way we hone and nurture this voice over time matters. I believe in creating art that's eye-pleasing and therapeutic. Also art that evokes the senses. Using a multi-disciplinary media approach, I bring to life creative pieces that are interesting, distinctive, worthy of discourse. I like translating mood into abstract yet approachable pieces of art.
What is motivating you and your work in the present moment?
While nature is my muse, many modern artists also inspire my work. I like to challenge myself by taking up projects that I have never done before and bringing something unique to the table.
Finally, what's coming up next in the new year?
I am all pumped for 2022 as we plan to collaborate with new, unconventional artists. My practice caters to aspiring, talented artists who want their voices heard. I'm creating a platform to recognise these creative professionals and financially uplift them as they embark on their journey. On the work front, we are also working on many more stunning murals and art installations that will transform surfaces and create delightful and engaging spaces!
Text Unnati Saini
Date 14-01-2022