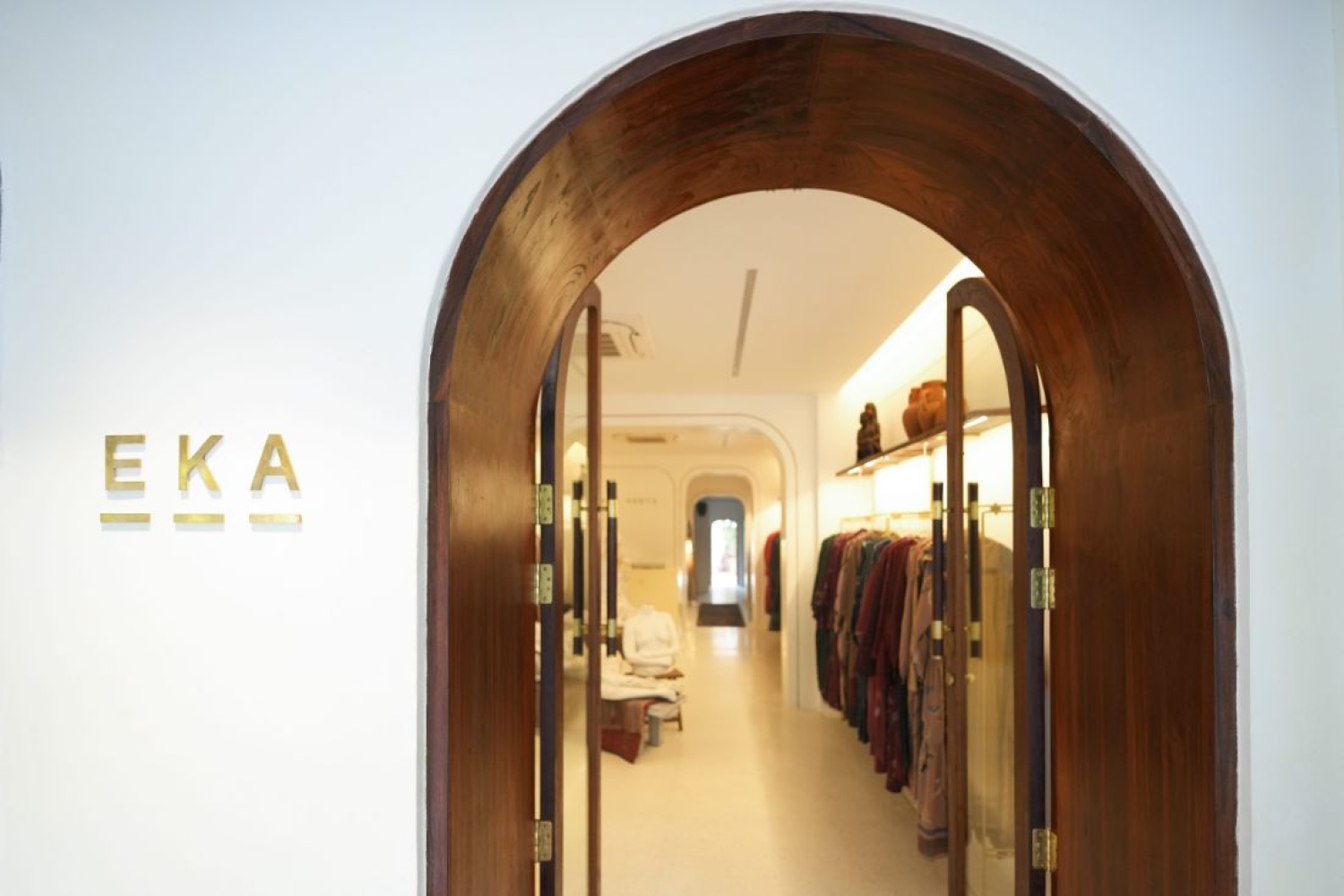 Eka is a textile-led contemporary design studio by designer Rina Singh, who has been creating timeless and sustainable garments for over a decade. The brand is now ready to launch its first flagship store in Delhi, in the serene and artistic neighborhood of Lodhi colony. The store is designed to reflect the brand's core values of simplicity, craftsmanship, and ecological sensitivity, and to showcase the story behind each garment. We spoke to Rina, the brainchild behind Eka, about her journey in the industry, her inspirations and aspirations, and her vision for the future of the brand.

How has your journey in fashion been so far?
The journey is ongoing...although the last decade has posed some challenges and also created some opportunities. As a creative head and the brand founder, I take a lot of decisions intuitively. For a brand like Eka, we need to re-imagine our universe every few years, to re-evaluate our strategy and be relevant to the consumer, and be consistent in deliverance of core principles of sustainability, craft and textile focus and keep our language fresh. I feel this is a fresh beginning after culminating all lessons from the past decade.

I started from retailing and strengthening my market channels internationally before foraying into domestic retail and presenting at the fashion weeks. In India, we retailed through speciality multi brand stores, that helped us connect with the consumers. Also with the launch of our website a few years ago, we realised the customers will definitely benefit with the launch of a brick and mortar store, and will tie the ends of Eka's big universe of multiple offerings.

Who is behind the design of the store? And what were the conversations you had with them about the space?
Dharmesh Jadeja from DuStudio. I approached Dharmesh as we are old colleagues, and have interacted on several occasions at IIM Ahmedabad and later at an interdisciplinary project with Ikai Asai. He is based out of Pondicherry and is very sound in his knowledge of natural sustainable materials and old traditional methods and materials of architecture.
Our values and philosophy match for his core values for Dustudio and mine for Eka. We both wanted to reuse old techniques and materials. I had a picture of what I wanted the space to look like. At one such meeting, he offered to help me put it together. Knowing he is not based in Delhi I had my doubts. But we aligned and did a lot of transporting of men, material and mechanics and it worked. Sandeep, my husband and business partner, is excellent at resourcing and has played a major role in getting the teams together at work.
Tell us about the theme of the store.
In our homes, in old mansions in villages, there's always a room with many windows that would recirculate air and acts like an airconditioned room, it was called 'the mahal'. The most decorated room, it was only open to the esteemed inhabitants of the guests, or my mother and other women of the house would sit there in summer afternoons. It used to have the limestone walls and marbled floor, mostly white, with glass windows to look out. There's a memory of that place in the rendering of the interior that I recreated. A room from an old architectural structure, recreated in the middle of a New Delhi market designed with postcolonial aesthetic.

Can you tell us a little about the collection on display at the new store?
We are launching Autumn Winter 23 called - 'Ladakh'. We work extensively with woven textiles in wool. Although winters across the world and particularly in India are only restricted to two months, we do enjoy working with Woollen textiles.
We have worked with rich jewel-toned colours in textured wool, in twill and herringbone weaves, adding chambray and melange effect to colours, playing with layers and subtle embroidery details, along with woven stripes and big and small checks. The mountains and the valleys; the rivers and the streams; the wind and the sky; the never ending roads and cluster of monasteries atop mountains; the lights burning in the stupas through the drives and lights blinking through the night in far off villages. The vastness of Ladakh brings out an element of provenance in the collections. The connection with the elements of nature, exudes a free spirit of being and surrender.

Can you introduce us more intimately to your own design vision and how it reflects through your new store?
I have always been drawn to nature and natural habitats. India as a country has such a rich reservoir of natural resources. The ecosystem in old cultures is still woven around this.I have lived and have worked and am inspired by indigenous cultures, the lifestyle, the clothing, food, architecture, music and literature. The dexterity of skills in making textiles or architecture since ancient times is unmatched to anything else in the world. Coming from a family of agriculturists, my roots have strongly guided my experiences and I direct my work to speak an authentic language of origin.

How would you describe the fashion of now?
I think now there are many versions and visions for fashion. There's a lot of young fashion and a lot of traditional clothing and textiles woven back into fashion. There's a lot of wester influences, a lot of hybrid homegrown brands and there's a lot of modern and new age concepts of fluid and shapeless fashion as well incorporated in one timeline. So this adds a lot of variety for everyone. We've always spoken of the slow, mindful and timeless concept of fashion and that still upholds its place in the changing times.

Words Hansika Lohani
Date 27.10.2023