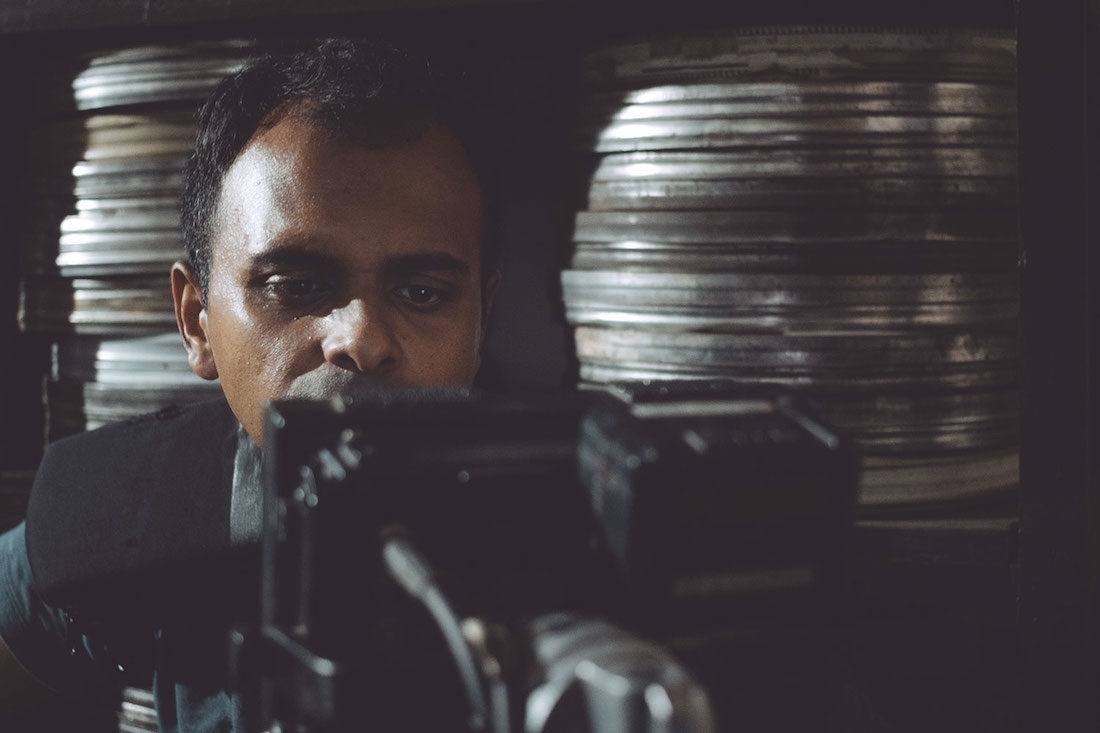 Behind the Moving Lens
Kartik Vijay
Good cinematography produces unforgettable images that move, inspire and stir our emotions. It speaks in every language. The artistry captures our heart and can bring us to tears, take us to places unimaginable, make us believe in the characters and aid in making the film a visual treat. So, it's important to acknowledge that a cinematographer has a lot of influence over a film and contributes greatly in making a film good, bad or mediocre.
We connected with cinematographer Kartik Vijay, whose filmography is so interestingly eclectic — ranging from Yeh Ballet and Matru ki Bijlee ka Mandola, to Manto and Oye Lucky! Lucky Oye!, amongst others films — that we were extremely intrigued to know more about his process and choices. In an in-depth and insightful interview, he deconstructs his practice and choices for us.
You were born in a family surrounded by music, so the arts were very much a part of your growing up years. When did you realise that behind the camera is where you want to be?
I come from a family of accomplished musicians, and Carnatic music had a huge influence on me as I was growing up. I never actually wanted to be a cinematographer till I was 24. I graduated from Sir JJ Institute of Applied Art and was working in a leading advertising agency as an art director. In the course of my job, I was introduced to the world of cinema. My then boss, and now close friend and mentor, Agnello 'Aggie' Dias, is the one who's solely responsible for pushing me into the world of cinematography. God knows what made him pick me out and show me the way, but I'm extremely glad that he did. He started taking me to his shoots and introduced me to some of the filmmakers he used to work with. It was during this time that I realised that I could probably become a cinematographer someday.
What is your earliest memory of being blown away or intrigued by the cinematography of a film?
There were two films that had a profound impact on me in my formative years. While I was working at Leo Burnett, I was introduced to the films of Satyajit Ray. The first one I watched was Charulata. I was mesmerised by the film and ended up watching most of Subrata Mitra's work after that. The other film was Cinema Paradiso by Giuseppe Tornatore. Everything about the film was brilliant. Apart from these two masterpieces, I'm sure that there have been many more films that have gone and buried themselves somewhere in my subconscious.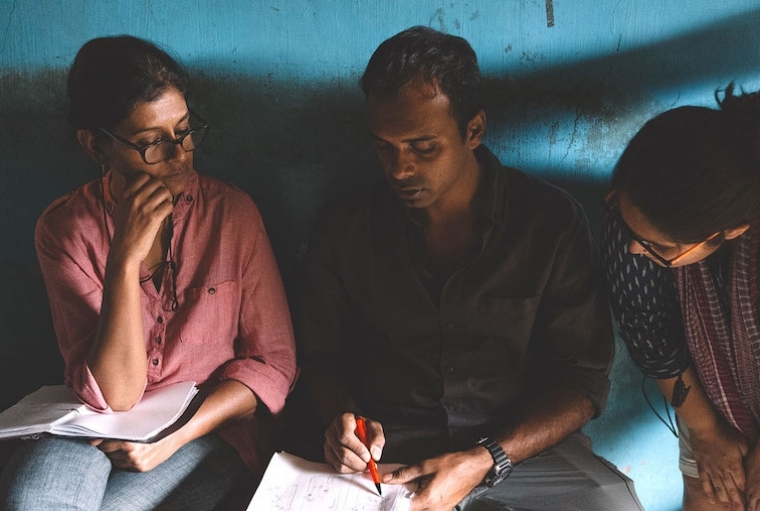 Pictured here with Nandita Das
Your filmography is very eclectic — do you choose projects on the basis of the script, fundamentally, or on the collaborators, or on the opportunity to do things you haven't done before?
The first two things, actually. For me, it's really, really important that I connect with the story and the director making it. If both of these are in place, you can always find opportunities within these films to do something that you haven't done before. As a person, I'm quite emotional and invest a lot into every film that I work on, and I believe that the person who I'm going to be collaborating with for the next one year or more needs to be as much, if not more, invested in the film as I am. Only then will the experience be as satisfying and fulfilling in the end.
It takes time to find your voice and/or to understand what kind of narrative works for you — when did that happen for you?
While I was in the U.S. studying cinematography, my mentor John Bailey had taught me that there are two schools of thought — one that says that cinematography is key and above everything else, and the other that says that the script and the director always come first, and all cinematography should do is complement these and propel the story forward. I belong to the latter school of thought and have always tried to maintain that. Another important thing that I learnt and realised while I was there was that, if there's anything in a script or story that connects with you in some way or the other, and shows you a glimpse of your own life somehow, then it's bound to work. In my professional life, this probably started when I did Oye Lucky! Lucky Oye! with Dibakar Banerjee, and thankfully, I've felt that connection with all the films that I've done subsequently.
You have worked with a host of extremely talented filmmakers and debutant filmmakers alike — what was it about Yeh Ballet that intrigued you to be part of the project?
Honestly, it was Sooni (Taraporevala). I've been a big fan of her photography ever since I saw her book on Parsis. Also, the films that she's written and been part of are all fabulous. For me, usually, it's the script first and then the director, but in this case, it was clearly Sooni first and then the script. I think I had already decided in my head that I would work with her after speaking to her for the first time. Then, of course, I fell in love with the script of Yeh Ballet. The story of two underprivileged boys learning ballet and going to the U.S. to study is so inspirational. The film was also about music and dance, and while I can't dance to save my life, music has always been a big part of my life, and here I was getting a chance to explore it in detail.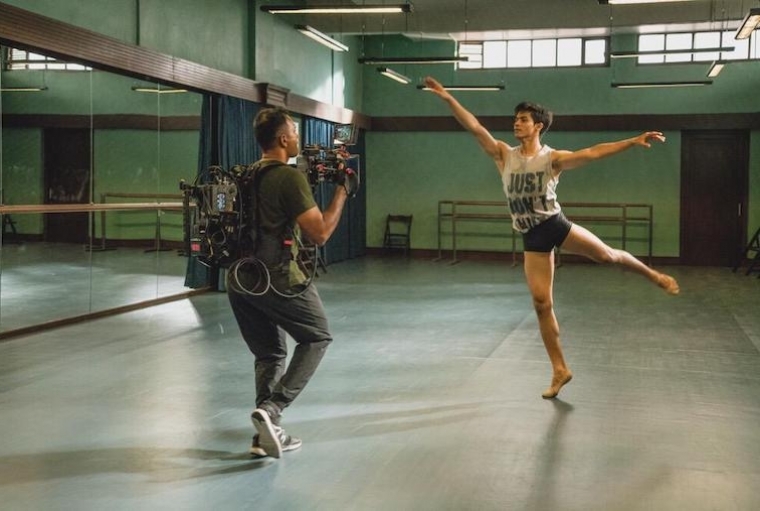 Photography: Supriya Kantak ; With Manish at the studio for Yeh Ballet
For Manto you had to recreate the 40s and 50s. What were some of your reference points and what kind of research did you do?
Frankly, I didn't know who Manto was till I read the script and spoke to Nandita. I remember speaking to Aggie and Shivendra Dungarpur about it and they told me that I should read his work. When I did, it allowed me to peek into his world, into his head, into what he was thinking. It's really amazing how progressive his writing was even in those times. In fact, they're still relevant today. Also, because Nandita was in touch with the family in Lahore, she knew so much about who the man really was, which was really helpful. I looked at old pictures of Bombay and Lahore, both pre-Partition and post-Partition. My film references included Steven Spielberg's Empire of the Sun and László Nemes's Son of Saul amongst many others, while my photography references included works of Sergio Larrain and Paolo Pellegrin. As far as art references were concerned, I leaned on Edgar Degas's monotypes, mainly The Fireside.
Working with the great Vishal Bhardwaj must have been a very enriching experience — what were some of the key points that have stayed with you from your interactions with him?
Vishal is a cinematographer's director because he's constantly by the camera and gives you complete liberty to control the visual image, which for a cinematographer means that he trusts you completely. When something like this happens on your film, there's nothing else that could make you feel better. Another enriching experience was watching how he interacts with his actors. We had accomplished actors in that film, and to see how he got the best out of each one of them was a huge learning experience.

Apart from being a great director, Vishal is also a musical genius, and I'm just in awe of his sheer understanding of music. One of the most amazing things during the making of Matru ki Bijlee ka Mandola was that he let me sit in the studio while he was recording and creating the tracks for the film.
Can you tell us a little about your international projects and what was the most exciting and challenging aspect of The Garden of Evening Mists?
My international projects include The Garden of Evening Mists, a Malaysian film directed by Tom Lin, a Taiwanese film called The Soul, directed by Wei-Hao Cheng, a British/American docu-drama titled My Name's Andrea, directed by Pratibha Parmar and Moon Molson's The Bravest, The Boldest. One of the most challenging and exciting aspects of The Garden of Evening Mists was the fact that I was the only Indian on the film set. Also, almost everyone who was working on the film was working with me for the first time, except for the line producer and the key grip. Moreover, it was my first international feature film. Thankfully, I found a great director in Tom, and had amazing actors like Hiroshi Abe, Sylvia Chang, Sin-je Lee, John Hannah, David Oakes and Julian Sands, great producers and a fabulous crew to collaborate with, all of whom were equally passionate about the film. What more can one ask for?
Pictured here with Tom Lin
If a young film enthusiast asked you to share the most important learnings you have discovered at work, what would they be?
1. Every day is a good day to shoot. I stole this from Mark Ping-Bing Lee. While we were shooting The Garden of Evening Mists, Tom told me that this is what he believes in. It changed the way I look at things now.
2. Nothing is more important than the script and the director. If the story requires that a scene be shot badly, then it should be shot badly. Listen to what the script and the director have to say. You can have creative differences and a strong point of view, but the former two always come first.
3. Never stop learning. You can learn from everything and from everyone.
4. ENJOY! It's very, very important. I've learnt it the hard way. Believe me when I say that.
We are all adapting and making sense of the current pandemic. What does change look like in your industry and what changes need to be made?
Well, our industry is going to face a big change, especially since we all work in close proximity to one another when we shoot. We'll now have to maintain social distancing on set, which is going to be very, very difficult to do, but we'll all have to learn to do it. A change in scene that usually takes 10 minutes will now take at least half an hour. All this will add days to the schedule and eventually end up escalating production costs. Hopefully, we'll all come to terms with it soon and find a middle path, which will allow us to produce great work and stay safe at the same time. The optimist in me firmly believes that something good will come out of this crisis. We'll just have to wait and watch what that is.

Text Shruti Kapur Malhotra