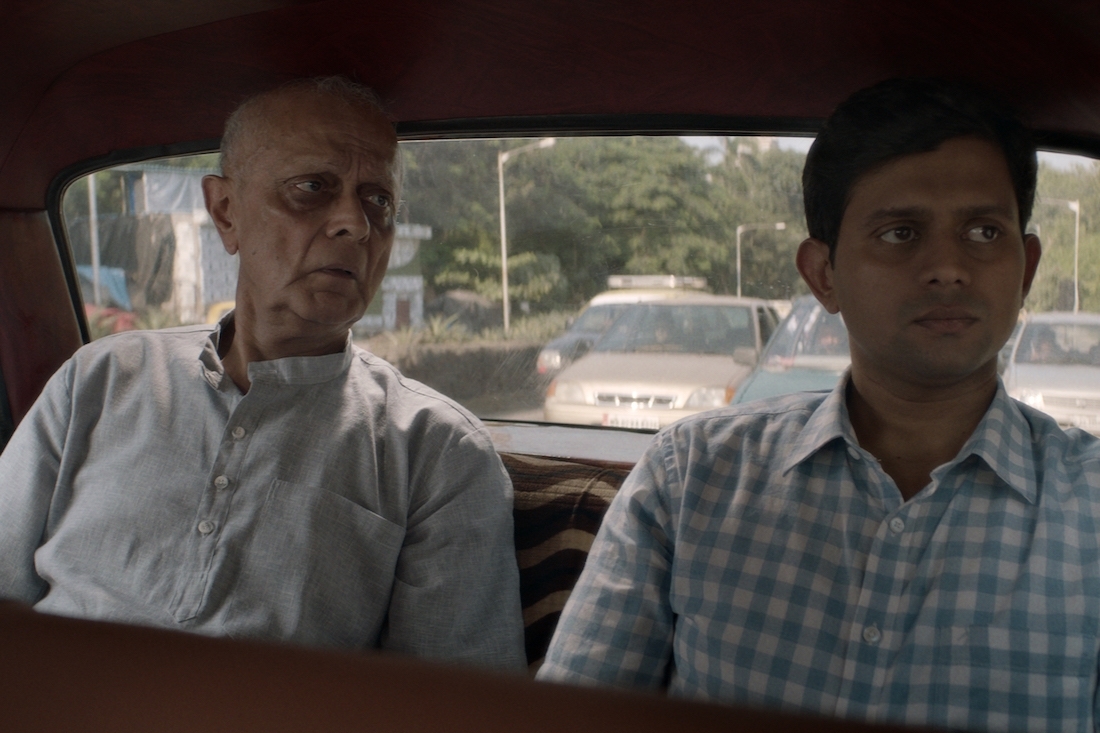 Chaitanya, you were building a DVD library at home using money earned from writing Balaji Television soaps, cut to today, 16 years later you are two films old, one that won a National Award and the other was backed by an Oscar-winning director [Alfonso Cuaron]. How would you summarise your journey so far? How do you look back at the past?
Obviously, I feel very grateful and lucky for the journey I've had, purely because of the people I've encountered in my life who have shaped it and changed it in a big way. It's made me realize that even if ninety percent of the people do not believe you, or care for your expression or your work, you only need like one or two good people who have that faith and who empower you to go ahead and take certain battles on. So, I feel I have been very lucky to have met Vivek Gomber at a very young age, who made my first film Court happen, and I feel again, very lucky, to have met a master like Alfonso, and even some other mentors who are not from the world of film. But I feel that I am a product of their influence and their company and their wisdom, in that sense. This could have gone in so many directions, but I've been able to make two films, and both have been accepted, more or less, by people and I couldn't complain.

How would you describe The Disciple?
C: It's very hard for me to describe The Disciple in words because for me it's a sensory experience and akin to watching a whole life unfold in front of you. But if I had to describe it I would say that it's a universal story about dreams and aspirations. It is asking questions about your place in the world, about your purpose in life, and finding a balance in interacting with the real world that is constantly changing and challenging you.

Aditya: For me it's almost everything that Chaitanya said. And to add to it, I would also say that I see it as a journey of every artist who wants to say classicist and follow the tradition as much as possible, follow the instructions of his guru, his maestro to the letter and spirit, but who is also in a dilemma. You see the outside world getting more glamorous, and there's a constant struggle because you want a taste of that glamour but you want to stay classicist as well. So, it's about this whole dilemma and the internal struggle that the character Sharad goes through.
The response to your film has been amazing from the get-go, right from when it premiered at the Venice Film Festival. Then there was the New York Film Festival. I mean filmmakers usually have to wait for years before they are called to such prestigious festivals. All this just goes to say how the international audience and critics both have resonated with a film that is set in the backdrop of Indian classical music. What do you think the reason was?
C: You know, I always feel that you can't make a film for a certain festival or even just festivals in general, because it's very hard to anticipate what will work, what people will like and what people will not. If there was a formula, every film would be a success. So, for me the approach is, do the best that you can. Tell stories that you believe in and you have conviction in. And then hope that it finds a place in the world. But yes, having said that we have been incredibly lucky to get acceptance and to be invited to these festivals. And yes, I will say that we did work with international standards in mind, you know, we did work with an approach where we were like, no matter where in the world or where cinema lovers saw this film, they should find it of a certain caliber, and made with a certain rigor and a certain amount of care. We always kept chiming and being inspired by the best of cinema that we watch from around the world. So maybe, somewhere that had a little part to play. But more than that I would say it's probably the universality of the story and the authenticity of Sharad's journey that might have resonated—It's only my guess—with audiences around the world.

I read somewhere that your audition process was exhaustive – you wanted Marathi speaking musicians for your cast. Where did you first meet Aditya? And Aditya, where did you first learn about the film?
C: We knew that the film is going to be in Marathi because Marathi just lends a distinct texture and flavour to the story and to the world of Indian Classical Music, and Mumbai and Pune have had such a thriving subculture and circuit of lovers of Indian Classical Music. I actually knew about Aditya, because I had been stalking Indian Classical musicians of his generation on social media and watching their videos on YouTube, and also attending their concerts secretly. And Aditya is one of the bright young stars of Indian Classical Music. He is accomplished enough for me to have known him. And yet it was not an easy choice to make because he was in a different phase in his life - I hope you don't mind me saying this Aditya. When we met him he was 15 or 20kgs heavier than we would have liked the character to be. And then again, the character had to gain a lot of weight again. We met Aditya and we could make out that he had the impulse for acting and that he's a great actor, and that his music is great. But it was still a very long commitment and a very serious commitment for him to make and we didn't know if he would be up for it or if he'd be able to do it. But he took the challenge up, he signed up for it and gave more than his hundred percent and exceeded all our expectations. And the results are there for all to see.

A: For me it was a funny story, because when I got to know from Yogendra, who is the casting director of the film, when he contacted me, I was working in my office and I thought it was a prank call. Because a lot of my musician friends do play a lot of pranks on each other, so that's why I did not even pay serious attention to it. Then after a week when he again called me to the office and said we want to meet you and stuff like that, then I thought oh okay, this is something serious. But I still couldn't believe it because, at first, I thought there was some film happening and they just wanted me to sing for it, like a playback. But then when I was there, they said that we are casting for this role and I was taken aback actually. But later on, it was in May 2018 I think when I met Chaitanya, and it was very generous and kind of him, because even in the first interaction he made me feel like his friend. So that was a different connect that happened in the first meeting, and I felt like I could directly trust him with all of my time and those one or two years of my life. And that's how actually the journey started.
Was it nerve wrecking to be on set, Aditya? Can you recall your first day for us.
Oh yeah, it was. Every day was a different challenge because for me I was doing everything for the first time. I didn't even know what to expect so I was blank rather than nervous. But thanks to Chaitanya, like I said earlier, we did a lot of rehearsals and he did a lot of acting workshops with me where he was telling me what to expect or what is expected out of me, and what kind of mindset I should spend my time in, so that's what helped me. And both Vivek and Chaitanya were very kind and generous to give me that time. Even on sets I used to be secluded in my vanity and I was given that time to stay in character, which is very important.

The city of Mumbai is almost a character in the film. What influenced that decision when you were writing the film, Chaitanya?
I've always found Mumbai to be a very fascinating city. Even though I am a Mumbaikar, I am an insider and I have been born and raised in this city, it's a city that still continues to surprise me. Again, like I said, a lot of my research around Indian Classical Music was based in Mumbai and was based on conversations I had with musicians in Mumbai. And Mumbai is special in that way that it does play on your psyche. It's a very welcoming and a very open city, and it can also be a very challenging city to survive in, and a very expensive city to survive in. There is no one Mumbai, every Mumbai is different. For every person the city can be what they want it to be, and there are so many little bubbles that exist, little cocoons that exist - insular in so many ways, and yet interdependent on each other. I agree that the character of Mumbai is an important one in The Disciple, because it starts off as a city full of possibilities, a city that is open to everything Sharad has in mind and what he wants to achieve. And then slowly the city turns into something that is more tyrannical in nature and starts closing in on his psyche. The city changes parallel to the changes that are happening in Sharad's mind and in the world that he's trying to navigate.
What do you want the audience to take away from the film?
I think that the beauty is in trusting the audience and their intuition to interpret the film in their own way and to have their own takeaway from it, because film is such a personal thing - not just for the makers but also for the viewers. Everybody watches films with their own baggage, their own lens, their own conditioning, their own expectations. But yeah, I would be happy if the film connects to people on an emotional, visceral, existential level and that it speaks to them in a very humane and universal way, which is not at all esoteric or abstract or intimidating, which are the notions a lot of lay people have associated with something like say, Indian Classical Music, or even arthouse cinema. I hope that there a certain simplicity with which the film is communicated to the viewer.

An extraordinary thing about artists is that they are always consciously an unconsciously influenced by their times. How do you think the last year and this pandemic changed you?
A: This pandemic has been a game changer for everyone. I think for me there has been so much of time to reflect back in and that's what the film also is trying to suggest here. You have more time to do your practice. I have more time now to teach, I extensively teach music to a lot of students as well. So, there is a lot of time where you can reflect back on yourself which earlier you were just busy performing one after the other and you didn't have time to spend on your art of honing your skills. So the silver lining to this whole year and the pandemic has been that you have more time now to spend on yourself and on your thoughts.

C: I don't think I can complain about all the bad things that have been happening in the pandemic because that's all of us. If anything, I think that we got lucky that we finished filming before the pandemic and it's being released during the pandemic. But yeah the pandemic and the lockdown definitely did rob me of some motivation. Like Aditya said it made me reflect and go inwards and prioritise and also realise how many things we take for granted and how many privileges we enjoy, and how important it is to adapt in life. But it has definitely affected my productivity because I could not go out or observe the real world. I could not do any inner research or have any real in-person interactions. And also, it just made me stop in my tracks and see how the world is going to shape up after this, and what is going to be the new ethos that we need to reflect on and that we need to capture. And I think I'm still there, in that state of mind.

Text Hansika Lohani Mehtani
30.04.2021