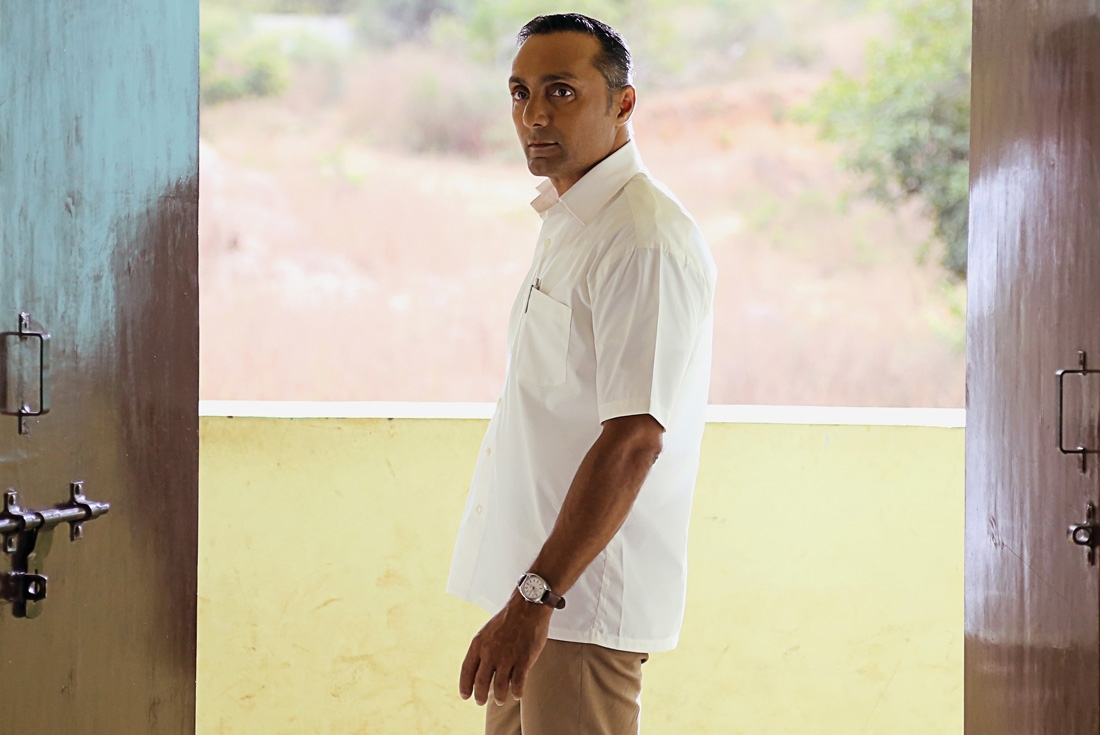 On a New High

One of the most prolific actors of Indian Cinema, Rahul Bose was, is and will probably always remain the face that changed the landscape of Art house cinema in our times. From his very first film English, August, his career as an actor impressed audiences and filmmakers alike. Since then he has worked in some prolific films such as Mr & Mrs Iyer, Chameli, Before the Rains, The Japanese Wife, Midnight's Children, and experimented with different genres in Jhankar Beats, Pyaar Ke Side Effects and Dil Dharakne Do to name just a few. Even though his acting career has been way more active than his directorial ventures, directing is far more exciting for him. 'It has always been clear to me that I love directing more than acting; however, I enjoy acting as well. If there was only acting in the world then I would be an ecstatic human being, but in directing I have found a greater ecstasy.'

His first film as a director was the very edgy, untried Everyone Says I am Fine. It took him all of 33 days to raise the money to make the film. Ever since, he has immersed himself in acting, until in 2014 he found himself in a space where he was not getting the work that resonated with him. 'I had the vacancy in my acting career that made me question what next?' And so he began writing. And before he knew it, he was offered the role of Dr. R.S. Praveen, an IPS officer for Poorna. He found himself so drawn to the character and the film that he decided to not only produce it under Rahul Bose Productions but direct it as well, and that sheer passion for the subject got him back on the director's seat after 15 years. 'I only want to direct when I have something to say. I did not want to direct Poorna. But when you have a child of your own, ownership is easy…when you get an adopted child, it takes about a month and then you are already the father. I had been living with Poorna for six months prior to directing it, so it was already my child in more than one way. I was so enraptured by it at many levels.'

In his own words, Rahul tells us more about the film, the process, his thoughts on the film industry and his very humbling foundation.

Poorna, the Film, the process, the challenges
Poorna is a biopic of the youngest girl in history to climb Mount Everest, Poorna Malavath. It is an astonishing tale; Poorna was 13 when she climbed the Everest two years ago. This film takes you from her small hut in Telengana to Bhongir Fort outside Hyderabad, to Darjeeling and Sikkim, to Nepal, and then to the top of Everest.
Once I took the mantle as director, I looked at the film completely differently. I took the whole script in Telegu and strained it through a Hindi sieve and there were some bits of Telegu that stayed in the script and I have kept them. They are there like a chhauk in a daal, it's the last flavour. We filmed from December 1st to Jan 31st. we started in her tribal village in Pakhala, in the hut where she grew up.
Poorna | Behind the Scenes
We moved to a tribal school in Ghungeer, which is outside Hyderabad, then we shot the governmental bits in Hyderabad, then we went to Darjeeling to shoot her entire training phase at the Himalayan Institute. Then we went to Sikkim and shot stuff that we could merge with never before seen footage of the 2014 Everest climb, which was shared with me by a team member who climbed Everest that year and whom I coincidentally knew. In Sikkim we shot high up in the mountains, thigh deep in snow every day. It was so difficult. Filming at that height under those circumstances was physically the hardest, and emotionally the most challenging part of this entire shoot, I think, was the village. To get the nuance, to get exactly all the scenes right was challenging as there is patriarchy, child marriage, maternal deaths amongst other trying situations. To get the performance pitch of the two girls and their fathers perfect required intensity from the actors, and that was most challenging.
So the film starts off as Malgudi Days and then at the end of it, it's like Everest [the Hollywood film]; it just goes boom and it gets bigger and bigger and bigger till finally in the last 25 minutes of a 100-minute film, you are at 8500 meters. So all of that, combined with all the workshops we have done, hopefully leads to something fresh.

The Film Industry
The film industry always goes two steps forward, two steps back. I think the Indian film industry still lacks courage. It's sad that an Everyone Says I Am Fine [ESIAF] will not get funding again. It's sad that the English film has died because there is a constituency for it. I am very happy that the Hindi film industry has many more slices to it but if you look at the 70s, it had as many such slices. It had an Amar Akbar Anthony and Aakrosh. In a mainstream film, you pretty much know what is going to happen so you sit back, eat your popcorn and enjoy the ride whereas in art house films, you don't know what happens quite next and that is the fundamental difference between mainstream and art house movies. Watching mainstream, you are at ease because you pretty much know what is going to happen—however, how it's done is different. A mainstream film can have Raja and Menakshi from Mr & Mrs Iyer sing a song after they get off at one station and then sing a song in the sanctuary where they settle and then sing a sad song after the riot, or the way Aparna Sen made it. It is a question of pitch, form, not concept.

Foundations – Reach & Heal
My foundation completed 10 years in the October of 2016. It does something that nobody in the world is doing, not because we are so great but I just don't know why no one is doing it. The Andaman, Manipur and Kashmir program is called Reach – Restoring Equality through Education and Advancement of Children. The foundation realised at its inception that the only way a truly disadvantaged part of a world will be uplifted is by the people of that region itself. People like you and me will parachute in for a few years and parachute out but ultimately, long-lasting and permanent change is only going to happen consistently through people from that region.
Poorna | Behind the Scenes
So to that end, we device a program where over 18 months we select six children from a region and we educate them for 15 years – grade 6 to PG or whatever they want to do, and then send them back to the region they came from as world class thinkers. So my Andaman kids are in their 11th year. They joined us when they were 11, and will head back to the Andamans in three years as 25-year-olds. One of the kids is going back to become an environmental activist. On return, these kids will have a world-class outlet with deep roots in the Andamans or whatever region they come from. They will be community and thought leaders. We have five kids from the Andamans; they are in their 11th year with us. We have six kids from Kashmir and they are in their sixth year with us. And we have six kids from Manipur who are in their first year. So every four to five years we go to a new region and select six children and start a 15-year cycle.

The other half of the foundation is based on child sexual abuse. That was initiated by an ex member of the foundation, Suchismita Bose, no relation to me—she is much too bright. She was deeply concerned with child sexual abuse and she started the program. The child sexual program is called Heal – Help Eradicate Abuse Through Learning. We continue to council 60 survivors; for that we have gotten together a coalition of now more than 15 councilors who work pro-bono. We have a program to train would-be trainers, and finally we reach out to communities, schools, colonies, and we have done over 300 workshops with that. My challenge to the foundation was that if you crack Bombay where the resistance to this is so high in the rich parts, and the insolence of it is so high both in rich and urban poor in Bombay, then the rest of India will be easy for you. We have been working hard in Bombay for the last 8 years. We also fund, manage and hold an annual conference called ASC Annual Stakeholders Counsel on child sexual abuse where we invite every NGO and every player in this country and we share methodologies, experiences, frustrations, victories because I find it mind-boggling as to how they have rivals in the NGO segments.

The Future
The next spell is going to be a producer's spell. I am going to make a sequel to one of my best films, about which I can't say much right now.
I am also writing a story that has an extraordinary concept. It's a very fragile combination of the mainstream and it is conceptually interesting. Also the film I am writing has nine languages and no subtitles. I actually make a mockery of languages in the film—there is Konkani, Gujarati, Punjabi, Hindi, English, Marathi, Bengali and two others. I have an ear for languages because my mum spoke Marathi, Punjabi, and she spoke Bengali beautifully although she was not Bengali. My dad spoke Bengali and Punjabi; my aunt is Tamilian, so I hear Tamil all the time in the house. She is a Tam Brahm. In Bombay you hear Gujarati a lot. You hear street bombaiyya, you hear different kinds of English. As I was writing it, I found that it just wrote itself. I have reached a stage in my life where I want to do work with the hope that it lasts the test of time.


Text Shruti Kapur Malhotra