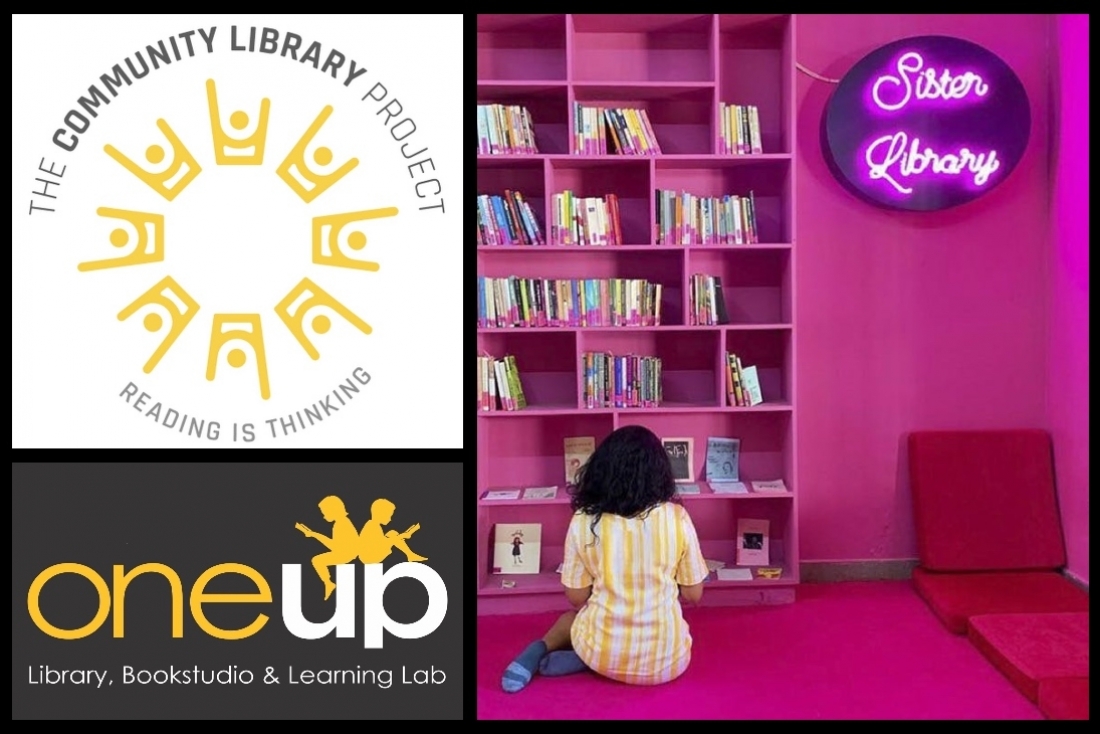 Platform Edit: Library Initiatives
Libraries are the essence of literature. As we've been shoved in the age of digital experiences, libraries have slowly begun to fade away from the collective reader consciousness. However, many people are still working to signify the need for libraries today, to foster creativity, critical thinking and community. Below, we shed a spotlight on three such library initiatives in India, to remind you of the other side of the literary experience.
The Community Library Project
The Community Library Project, seeks to set up libraries across the city, in partnership with NGOs like Nayi Disha. These libraries offer an inclusive space for people to come together and share their ideas and opinions. 'The world would be a better place if more people thought more creatively and critically. Good, free community libraries are one of the best ways to make that possible. Every person is a thinker, but free libraries give people access to books and a community to think with, and the thinking we do when we read is very powerful.The Community Library Project (TCLP) runs four excellent, free libraries in the NCR region, and through The Community Library Network (TCLN), we collaborate with dozens more libraries all over the country. TCLP has proven that good libraries that welcome all people work; if you build them, readers will come. Right now, it's a small movement, but it's powerful in a small way, and growing,' tells us Michael Creighton, who is intimately involved in the movement.
Read our full interview with Michael here.
Read more about The Community Library Project here.
Sister Library
Aqui Thami started the Sister Library, a community-owned feminist library, as a roaming library, with the intent of carrying books to places that feel an absence of libraries. Today, the space is not simply a space for reading, but also for collective healing. 'Library was one of the spaces that I created where I felt I was absolutely at peace, and then I see that reflected with many other people who come and visit. A lot of times when women come, they're in tears because it is the first time they're in a space like that. A lot of them are very happy and get a sense of belonging and feel connected to their community because of how they are in a space that is just for women. I think this is very important to healing because we have been trained to carry our own burdens, we don't think of sharing. We don't realize that it is not our individual problem, but larger structures are at play that make it difficult for us. The idea is not to alter ourselves and fool ourselves, and to not live like a machine. The library is a space to not let people feel isolated and share with others why you feel the way you feel and what to do about it next,' tells us Aqui.
Read our full interview with Aqui Thami here.
OneUp Library
One Up Library, Book Studio and Learning Lab is a unique entrepreneurial venture. They aim to revoltunise the idea of libraries from a traditional, quiet, cobwebbed repository of knowledge, to a dynamic, inviting and child-centered learning space. Founded by educator and reading enthusiast Dalbir Kaur, the first centre opened its doors in Amritsar, India in April 2011, and in 2017, a second library in New Delhi began operation. 'Strategic and guided reading is critical to the success of any individual and we envision creating an India of readers, thinkers, artists, scientists and inventors through our library. We offer a rich web of linguistic, social and cognitive experiences to ages ranging from toddlers to teenagers to realize this ambition. Our centre consists of a Children's Library, a Learning Lab, a Book studio and School programs. We offer library services and books to individual parents and school systems, where we help create curated collections of books and reading programs. Our Learning Lab curriculum is designed for the whole child and provides equitable physical and intellectual access to the resources and tools required for learning in a warm, stimulating, and safe environment,' their website tells us.
Read more about the One Up Library here.

Text Platform Desk
Date 22-03-2021