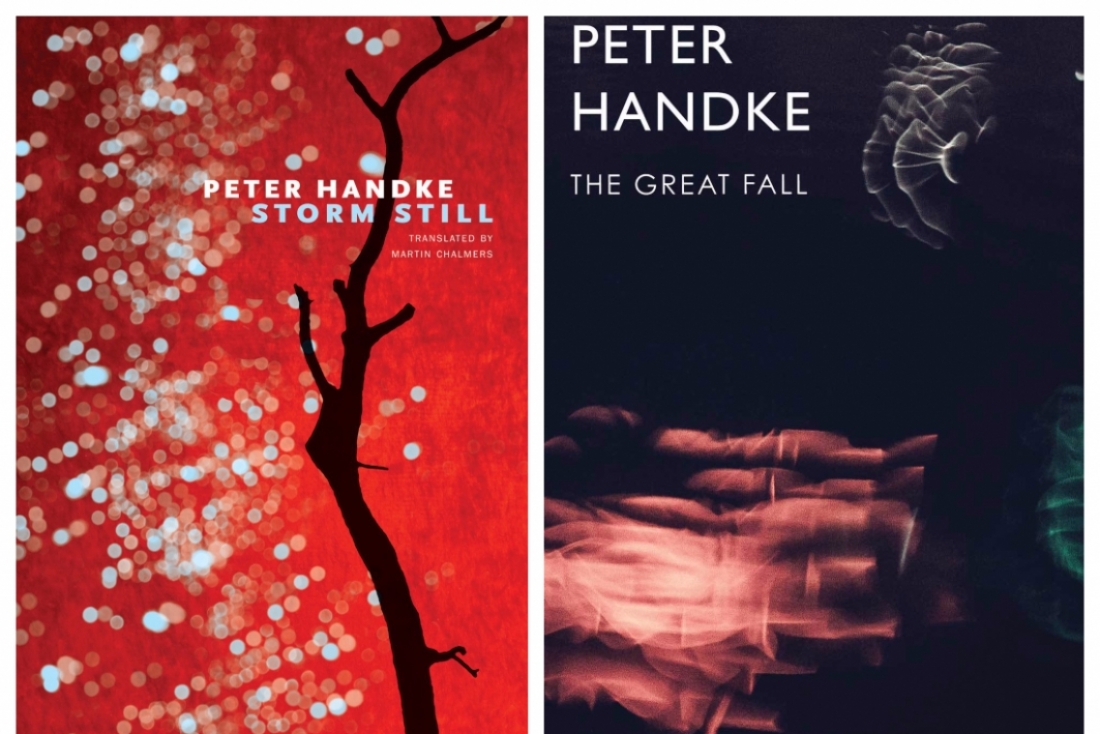 Platform Review: Peter Handke's Books
An avant garde Austrian novelist, playwright, translator, poet, film director and screenwriter, Peter Handke was awarded the Nobel Prize for Literature in 2019. His work, often been criticised due to various political reasons, cannot be ignored nevertheless. We had a chance to review some of his most recent works in English translation, presented by Seagull Books and exclusively distributed in the Indian Subcontinent by Pan Macmillan India.
The Great Fall
Nuanced with Peter Handke's signature intensity, the book chronicles a day in life of an ageing actor as he makes his way on foot from the outskirts of a great metropolis into its center. He is scheduled to receive a prestigious award that evening from the country's president, and the following day he is supposed to start shooting for a film—perhaps his last—in which he plays a man who runs amok. While passing through a forest, he encounters the outcasts of the society—homeless people and migrants—but he keeps trudging along, traversing a suburb whose inhabitants are locked in petty but mortal conflicts, crossing a seemingly unbridgeable superhighway, and wandering into an abandoned rail-yard, where police, unused to pedestrians, detain him briefly on suspicion of terrorism. Things don't improve when he reaches the heart of the city. There he can't help but see the alienation characteristic of its residents and the omnipresent malign influence of electronic technology. What, then, is the "Great Fall"? What is this heart-wrenching, humorous, distinctively attentive narrative trying to tell us? As usual, Peter Handke, leaves it to the reader to figure out.
The work is marked by an emotional depth that feels greater than a dive into human psyche. It acquires a realm of language that one rarely encounters yet finds completely in tandem with post modernism and its self reflective and introspective ways. The author's criticality of the world around him is at once arresting and liberating, creating a paradox of feelings, intrinsic hues of which tint the world around us as well. The contemporary significance of Peter Handke's philosophical views on human life and world make this book an important read for the present and the posterity.
Storm Still
In Storm Still, Handke's returns to the land of his birth, the Austrian province of Carinthia. There on the Jaunfeld, the plain at the center of Austria's Slovenian settlement, the dead and the living of a family meet and talk. Composed as a series of monologues, Storm Still chronicles both the battle of the Slovene minority against Nazism and their love of the land. Presenting a panorama that extends back to the author's bitter roots in the region, Storm Still blends penetrating prose and poetic drama to explore Handke's personal history, taking up themes from his earlier books and revisiting some of their characters. In this book, the times of conflict and peace, war and prewar, and even the seasons themselves shift and overlap. And the fate of an orchard comes to stand for the fate of a people.
The book is perhaps a good example of an author's attempt to capture his or her past and revisting it in order to transcend the boundaries of time and space, to relive that which has been lost. Time is an important theme here and the author manages to write about in subtle, philosophical ways, reminding the reader that time waits for none, not even the author, but the pages of his books and his characters survive time, just like many aspects of our lives do as well. The fiction is replete with simple and delicate prose, a warmth that engulfs you as you look back reminisce on your own life while the author accompanies you in conversation, reminiscing about his.
Till Day You Do Part
Described as an answer to, or at least an echo of, Samuel Beckett's Krapp's Last Tape, Till Day You Do Part is a monologue delivered by the "she" in Beckett's play. This unnamed female similarly recalls other significant women protagonists in Handke's own work such as The Left-handed Woman. Handke prefaces the monologue in Till Day You Do Part with a description of two stone figures. While the male figure remains "as dead and gone as anyone can," the female bursts into life, and her monologue gradually focuses on Krapp's use of pauses and language to dominate the other characters in the Beckett play. Ultimately, however, her complaints and critique of Krapp become a declaration of her love for Krapp or at least an affirmation of their attachment, as the two of them are ultimately bound together, perhaps even inseparable.
Till Day You Do Part is Handke at his best, evidencing the great skill, psychological acumen, and vision for which his work has been celebrated.