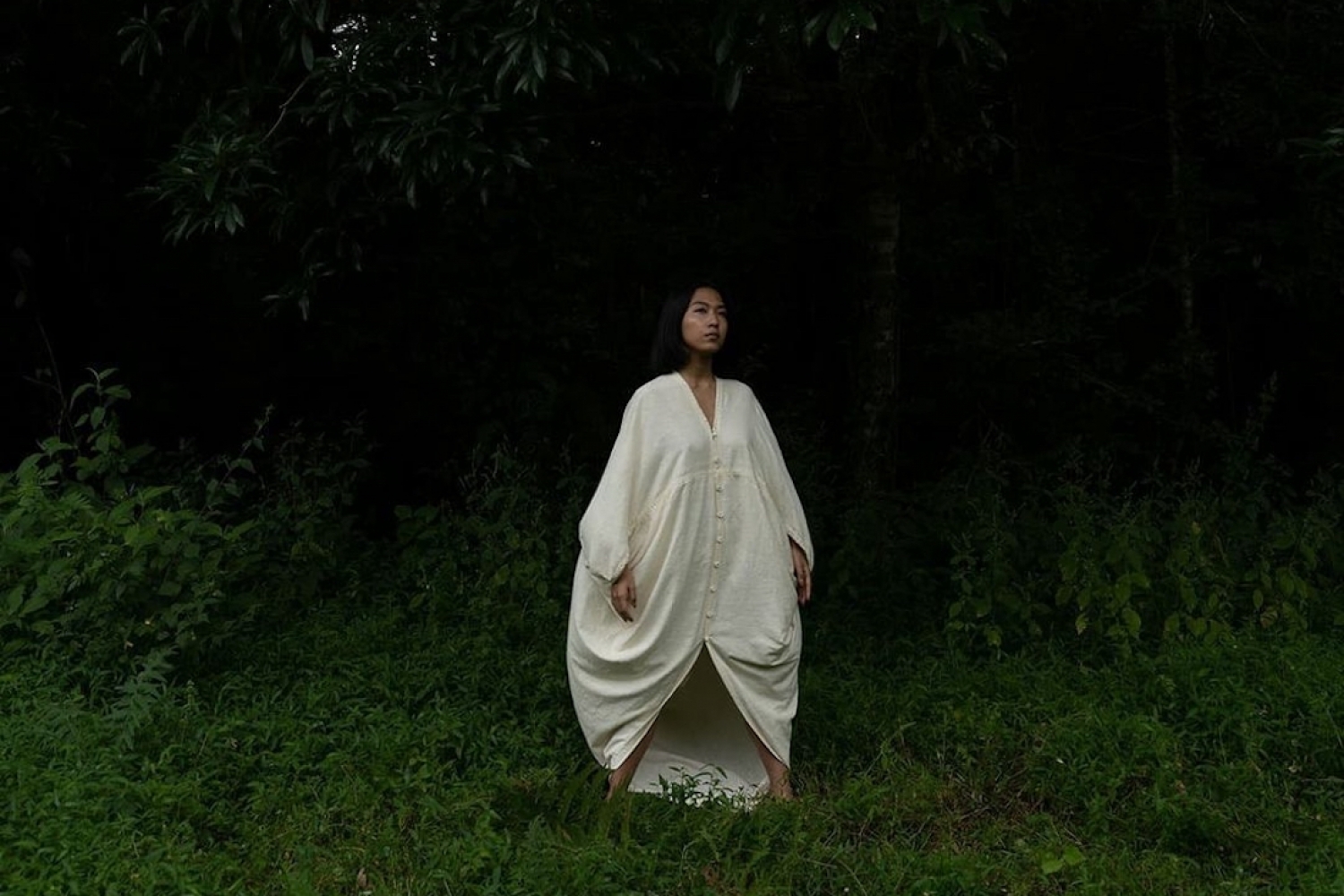 Hailing from the Ribhoi District of Meghalaya, designer Iba Mallai has always found herself deeply drawn towards the rich tradition and the folk tales embedded in her surroundings. Growing up in a community that dyes and weaves its own fabric, not only promoted her love for nature but also nurtured her curiosity for fashion. She strongly believes in preserving her heritage and creating garments that stem from sustainability. Built on the foundation of mindfulness and zero waste production, Iba's design practice is akin to none. The designer tells us all about her latest collection, creative process and more.
The Cocoon Collection
I have been looking for a better platform to showcase my work since I started my journey. A platform that understands my roots, my principles and my mission. I felt lucky enough to have met Priti Rao, co-founder of Northeast Edit three years ago, when she visited our production unit. Northeast Edit is part gallery, part creative collective and part journal, with an aim to tell the story of the emerging Northeast India to the world. Their curatorial philosophy is minimal aesthetic that is in tune with nature and local surroundings. I aligned with their beliefs and strongly felt that they would be the right voice to support my mission.
We conceptualised the collection together to showcase textile and clothing as a work of art, not just fashion. Northeast Edit also handled the creative direction for the shoot, the exhibit and storytelling. My first thought about cocoons came alive when I visualised how good it would look as a piece of art for the gallery. Cocoons remind me of home, shelter, a place of comfort. This took me back to the time when I felt far away from myself, disconnected, looking for a sense of belonging, only to realise that true sense of belonging is when you present your true authentic self to the world. The Cocoon Collection is about coming home to a place of comfort and acceptance. It is about expressing your genuine self without any fear of judgement. Cocoons teach us how to shape ourselves and embrace ourselves.
The Process
The designs have been created by using zero waste draping techniques using soft handwoven Eri silk fabric, with an aim to achieve cocoon-like shape/ silhouettes. I strongly feel that it's my responsibility to employ sustainable and ethical practices with every design I create. The designs are mostly free size for all women to embrace themselves. I also used local techniques to enhance the texture of the fabric. To complete the handmade feel, I incorporated a few embroidery techniques. The colour palette includes muted tones of off-white and beige.
All the designs in this collection are made of Eri silk — a sustainable, handwoven fabric from Meghalaya. I chose Eri as its production doesn't kill silkworms to obtain the fibre. I have been creating my own textile using the skills of my community of weavers to ensure my designs are ethically produced. We source our yarn locally and we sometimes create a portion of our own. I only use handwoven fabric which is a heritage craft to sustain the livelihood and income of the community. In the Cocoon Collection I further avoided natural dyes to reduce wastage of water or ingredients.
The Fashion of Now
I feel it should be more material driven than design driven. It should be a way to renew our commitment and relationship with nature.
Text Unnati Saini
Date 22-11-2021
Image Credits Northeast Edit