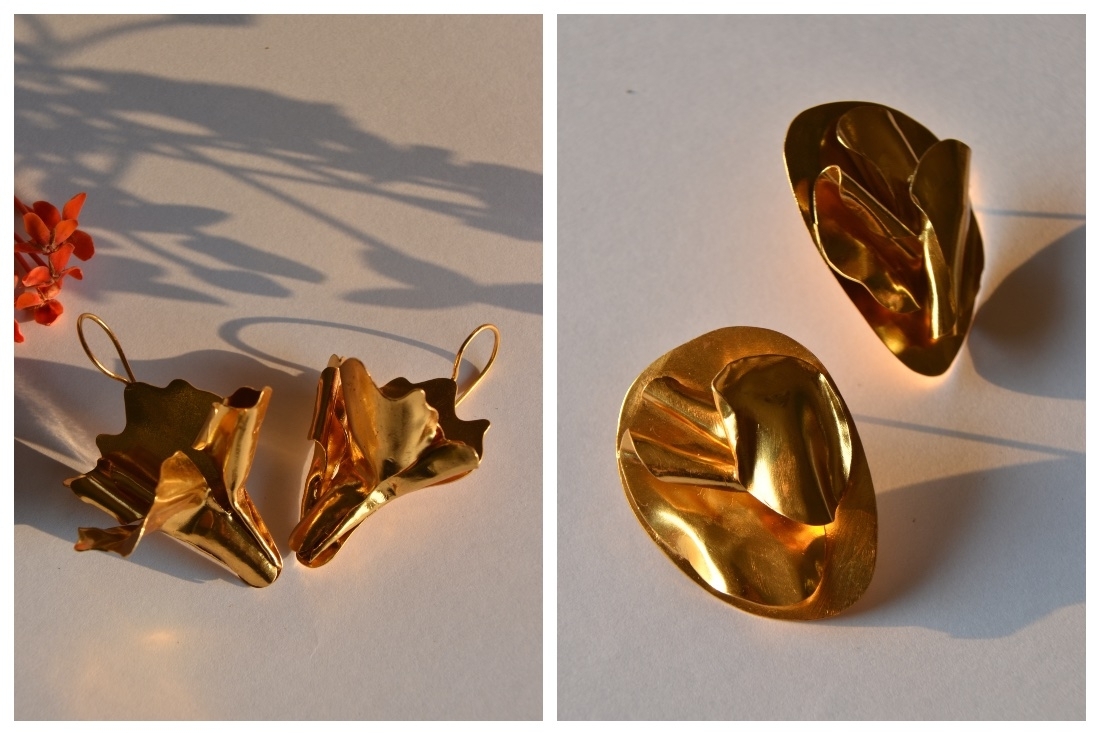 L: Iris earrings ; R: Melt earrings
Jewellery designer Aaliya Jamal began her journey in an entirely different field before her foray into design. A creative individual by nature, she was unsure of how to manifest her inclination in terms of a career. She pursued marketing for about six years to practice creativity in a business oriented environment. The designer then met a renowned photographer at an event she helped organise and that was just the beginning. She got involved in modelling and engaged with multiple photographers, designers and makeup artists, which renewed her creative interests further. Design was the natural next step in her journey and she took up jewellery design, owing to her interest in the field. Aaliya eventually travelled to Jaipur and worked with Kichu Dandiya. She tells me, 'I got to start designing my khwab jewellery collections there, before I even knew I would start khwab studio. That was in 2018. It's really special to me to be featured in Platform as a designer now considering my first modelling gig was with the magazine.' The designer tells all about her label and its practice.
The Studio
It was amazing to me that I could have a vision for something and not only could I make it, but have other people respond to it and want to own it. I realised that selling my designs could be a way of being able to develop my practice as a designer. I feel like people who have bought my jewellery can buy a slice of my khwab philosophy. khwab studio is the manifestation of my creative dreams coming true, as cheesy as that sounds.
I think I have spent many years thinking about what makes me feel fulfilled and what my medium for contributing to the world will be. I found that in art and design, which is what I hope khwab studio to be. Also, I think that my first two collections kind of came to me in my dreams. I had seen some beautiful artwork at a ceramics exhibition in Jaipur — Ashwatta by Nidhi Jalan and the late Kripal Singh's Iris studies. My moments of inspiration come when I think and reflect very deeply, almost like dreaming. khwab is also deliberately an urdu word which is a part of my identity that I wanted to represent and explore through my practice.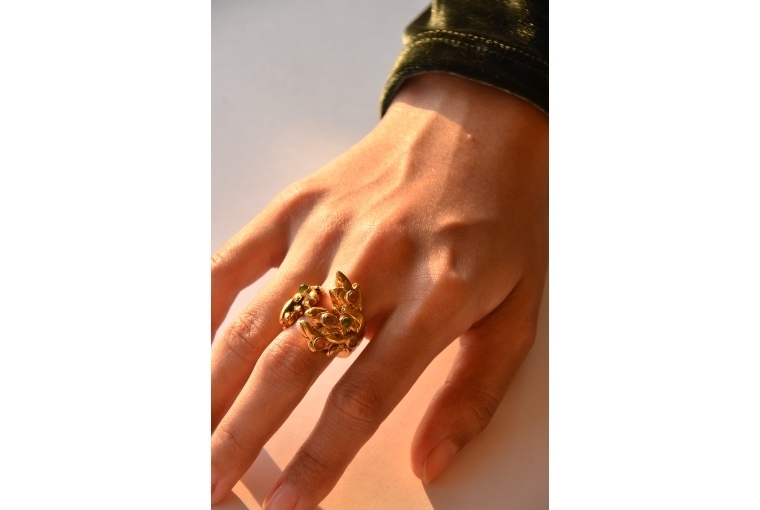 The Inspiration
I'm also doing my masters in Industrial Design right now from the Rhode Island School of Design. That's helped me develop a wider skill set and a way to explore my interests in sustainability, craft and well-being. I am currently fascinated by the power of ritual and how rituals and the objects around them reflect and influence our values and beliefs. This led me to design a compost bin that was like a piece of furniture where you could light candles and grow a plant which, ideally, flips our conception of waste as the 'end' of a material and also provides a sense of well-being. 'Waste' is then treated like a part of life that is to be cared for. I would eventually like to bring these ideas into my practice at khwab studio as well.
The Practice
Art and nature inspire and inform my practice. Nature led me to think about how waste is really a human construct and art led me to think about rituals. I went to a museum and saw all these beautiful artefacts from ancient Greece, Rome and Egypt, and they inspired me to think about the power of ritual. Whenever I am in doubt I turn to nature, for deep questions and for the answers as well. And when that is too overwhelming, I turn to ancient traditions for some wisdom. How people lived for centuries and millennia has so much insight in the relationship between humans and nature.
My jewellery is inspired by art that reflects on nature, and even when trying to figure out practical mechanisms, I would often turn to natural mechanisms like how flower petals arrange themselves, for visual cues and ratios. I think making it so helps me to move from research and inspiration to sketch, then create some kind of rough model and eventually see what's working and what needs work or more research. That sounds very smooth and linear but it's usually a bit more messy than that and depends on what I'm working on!
The Pandemic and Beyond
I've been managing khwab from the US so I hope to come back home soon and make a new collection. The pandemic has definitely made logistics a bit difficult, but I'm sure that's true for most people. I think my time at RISD has helped to enrich my process and I'm excited to get to work on jewellery again.
Text Unnati Saini
Date 11-02-2021