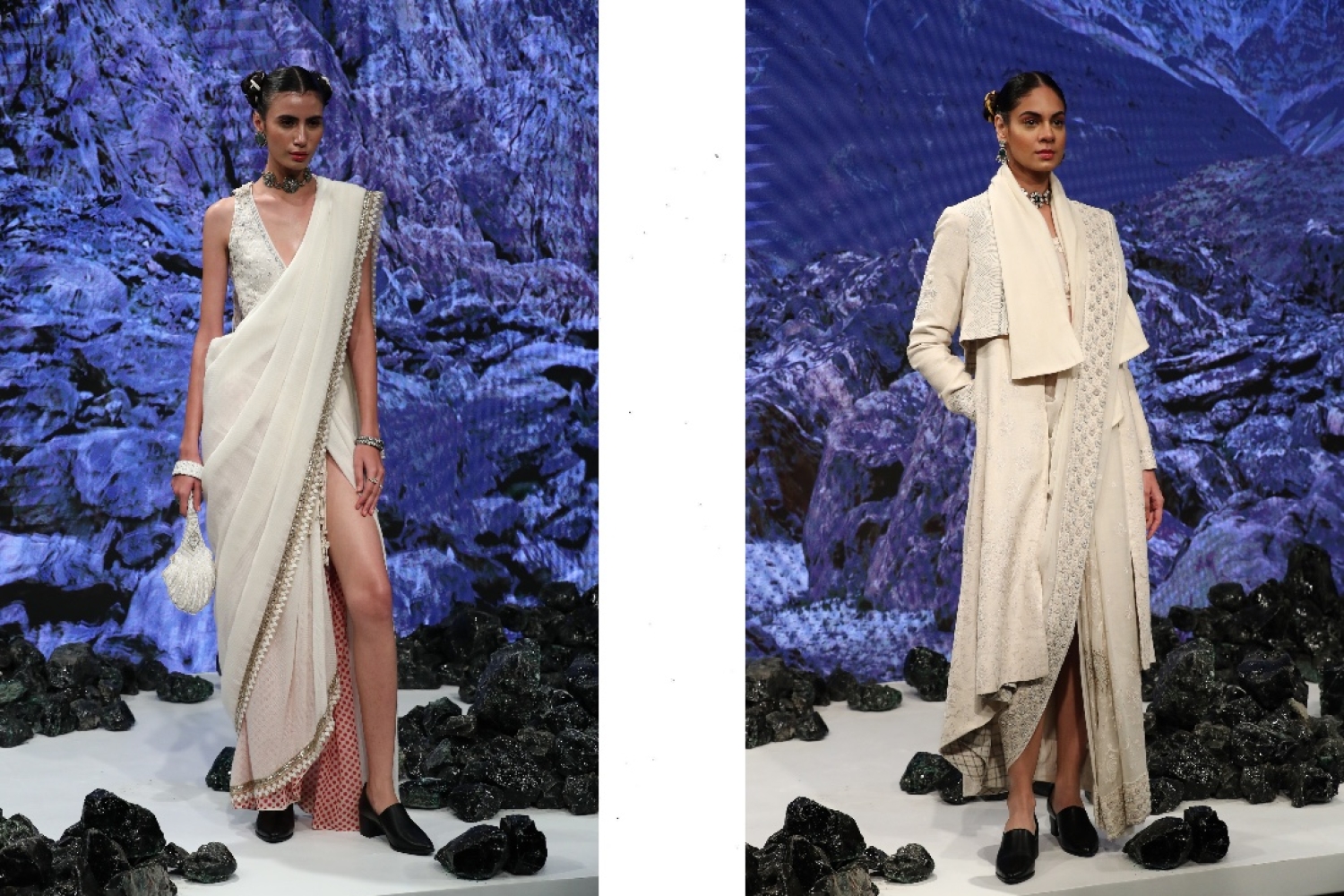 The Anju Modi brand has always considered itself a keeper of the Indian heritage and strived to amalgamate contemporary innovation with old traditions. The brand's success, in its endeavours to promote craftsmanship, is visible through their creations. The designer's newest offering, The Road Less Travelled, is a collection that encompasses her learnings and experiences through various walks around the world. It is a conversation she envisioned with her inner self, while taking a stroll through beautiful valleys and the mightiest of mountains. The collection speaks of how taking the longest routes and crossing glimmering rivers, can lead to a wave of change in our very being. We're in conversation with the powerhouse of Indian design who takes us through the new collection and more.
Going back, do you recall your first connection with textiles/fashion?
My love for textiles and fashion originated from my travels throughout India. Travelling to various remote villages, learning crafts and techniques from craftsmen, staying with them and experiencing their lives firsthand, gave me insights that only deepened my desire to learn more about textiles and what I could do with it.
What inspires you today?
I draw my inspiration from various things such as nature, architecture from all over the world, philosophy, poetry, et cetera.
Tell us about this new collection and what were some of your initial thoughts about it.
My new collection is called The Road Less Travelled and it is inspired by my travels over the years. It is about how travelling led me to look within, find my true calling and things I love. It's about how going to far away places only brings you back to yourself in the end. The collection is as personal and special to me as the concept itself. I was recalling the fondest memories of my travels when inspiration struck me.
You've been in the industry for over three decades now. What is it that you think fashion lacks in the present moment?
Fashion industry has grown immensely in the last three decades. I feel the fast fashion industry is something that has grown quite significantly over the last few years and it lacks intention. There's a need to hop on to the latest trends, and moreover, wanting them instantly has led to overproduction, escalated carbon footprint, poor quality clothing, and a lot more. It is disappointing to see the textile industry being one of the most polluting industries, when we have the option of being mindful as consumers and designers.

Text Unnati Saini
Date 04-08-2022