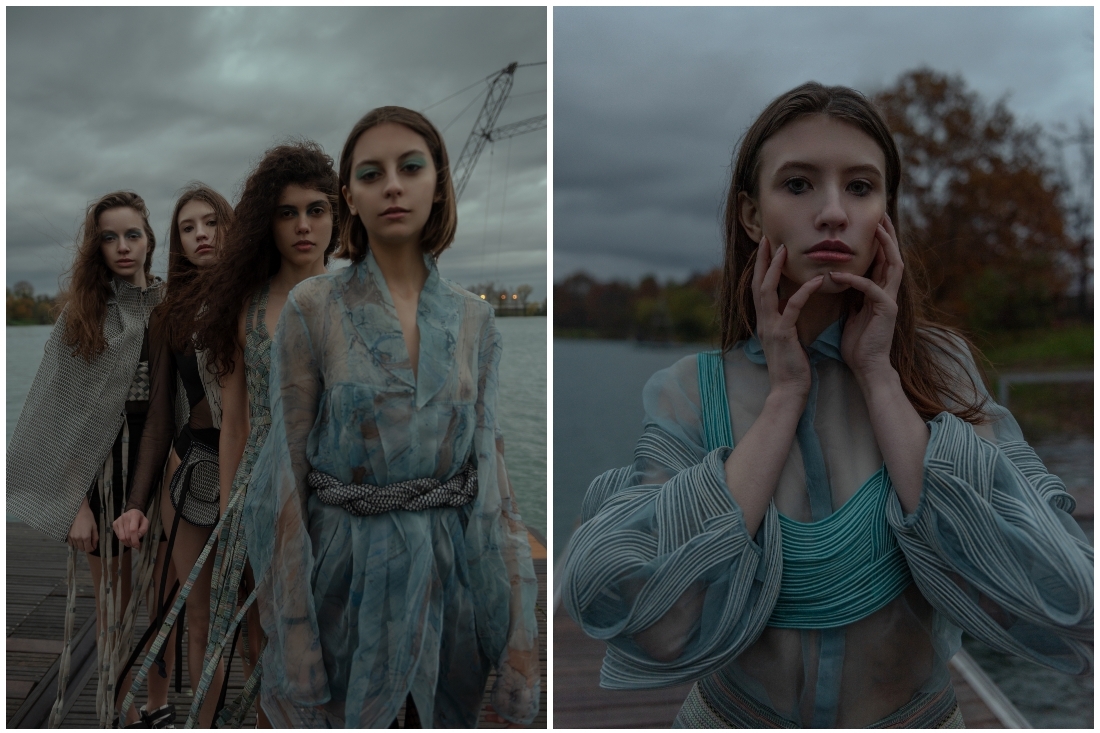 The Designer
Ever since my formative years, I was drawn towards observing simple things in life and was intrigued listening to stories and experiences. While growing up, I had developed an eternal love for performance and visual arts. This helped me express my emotions and creativity, which played a huge role in my thought process. As a curious child I always loved scribbling on the walls of my home in Delhi, from cutting my mother's saree's to wearing my dad's blazer, fashion became a second language. This passion also led me to pursue fashion design from NIFT, which played a pivotal role in shaping me and helped me hone the required skill set to enter the realm of the fashion industry. Post NIFT, I started working in the industry with designer labels and got a closer insight into the Indian market as well as the artisans.
After working for two years in the industry, I decided to refine my skills in search of personal growth and was intrigued by the international fashion space, hence I chose to pursue my master's in fashion design from Domus Academy Milano, Italy, where I got the opportunity to do projects with renowned brands like MM6 and Diesel, as well as internships. This exposure in Italy played a huge role in my design process, the Milanese culture renewed my love for vintage.
AMA REGASHI
In the current scenario, most of us are engaged in multiple activities, be it work, travel or leisure. Each sphere has its own need for apparel. I always wondered if clothing can be functional and accessible throughout the day, from swim wear to evening wear. I wanted to create clothing which provides a multipurpose aspect to a wardrobe. Given the current situation, people are moving towards a healthier lifestyle and there has been a drastic shift in the clothing industry, where clothing can be limited yet diverse, and is used for multiple purposes which can cater to the specific need of a consumer. A body suit can now be used for outdoor activities like swimming as well as a top for an ensemble. My clothing is an expression of reinventing vintage cultural concepts into modern day utility wear for women, which is not limited to a particular activity and can be worn for any occasion effortlessly.
AMA REGASHI is a collection inspired from the Japanese fisher women legacy that goes back to 1000 years. My fascination with it began when I pursued my personal diving experience in a small place called Pondicherry located in the South of India. As I traveled along the calm breeze of the coast of Pondicherry, looking at these South Indian women diving into the sea wearing their husbands' clothing, collecting fishes in a open weaved basket to feed their family, I started discovering similarities between the Japanese and South Indian fisherwomen culture by observing the little nuances and details, and how the idea of diving had become a part of their day to day life. The diving culture for both involved worshiping the sea and to take what nature has to offer them.
The Process
As a person, I have a nostalgic soul with observant eyes. Every design project I have done, involved going back to the history of fashion and reinventing what already exists. For instance, during my trip to Pondicherry I experienced scuba diving for the first time, this experience formed part of my memory and was later reflected in my collection concept during my time in Milan -- that was AMA REGASHI. Fashion should be about change and innovation, as well as using conscious methods of improving what has already been invented. It is a small step towards a sustainable world. At the present moment, I have started studying about the history of tribal groups that were inclined towards utility clothing, which can be reworked in today's time.
The Pandemic, Sustainability and Beyond
The current pandemic situation hasn't been kind, compared to the usual walk of life we are used to. On the contrary, the pandemic has given us a chance to spend time with our loved ones and focus on our wellbeing, it has given me a break from the existing cycle and a chance to explore and redefine various sides of design. I have actively been expressing my vision through mediums like painting and digital design, which has given me a wider perspective towards my design process.
Sustainability is the new buzzword in the fashion industry, though this concept has an idealistic appeal to it, it's still in its nascent stage. It's easier said than done, given the framework of our fashion industry. Be it runway, retail or e-commerce, it has always catered to the masses, which involves creating multiple collections each season, every year, and the endless cycle continues to the point where the clothes we produce are in much larger number than consumers. Thus the need to focus on sustainability arises, this can simply mean increasing the life cycle of the garments.
In order to propagate sustainability we need joint efforts from all the stakeholders. We need our industry stalwarts to be the torch bearers in promoting the sustainable way of fashion, support from the government in facilitating the required conditions for making sustainable sourcing accessible, and a conscious effort from our young designers to imbibe this way of design. Shifting towards sustainable fashion cannot be done overnight. As an industry, we at an individual capacity would be required to collectively make efforts towards a sustainable future, one design at a time. My attempt towards a sustainable approach was during the process of making my collection for Fashion Graduate Italia. I wanted to explore sustainability and the most captivating method was up-cycled fashion, therefore I incorporated luxury textile waste, such as waterproof fabrics, and used stockings as materials for the clothing range. The footwear was the most interesting as it was remade by hydro-dipping technique and hand embroidery.