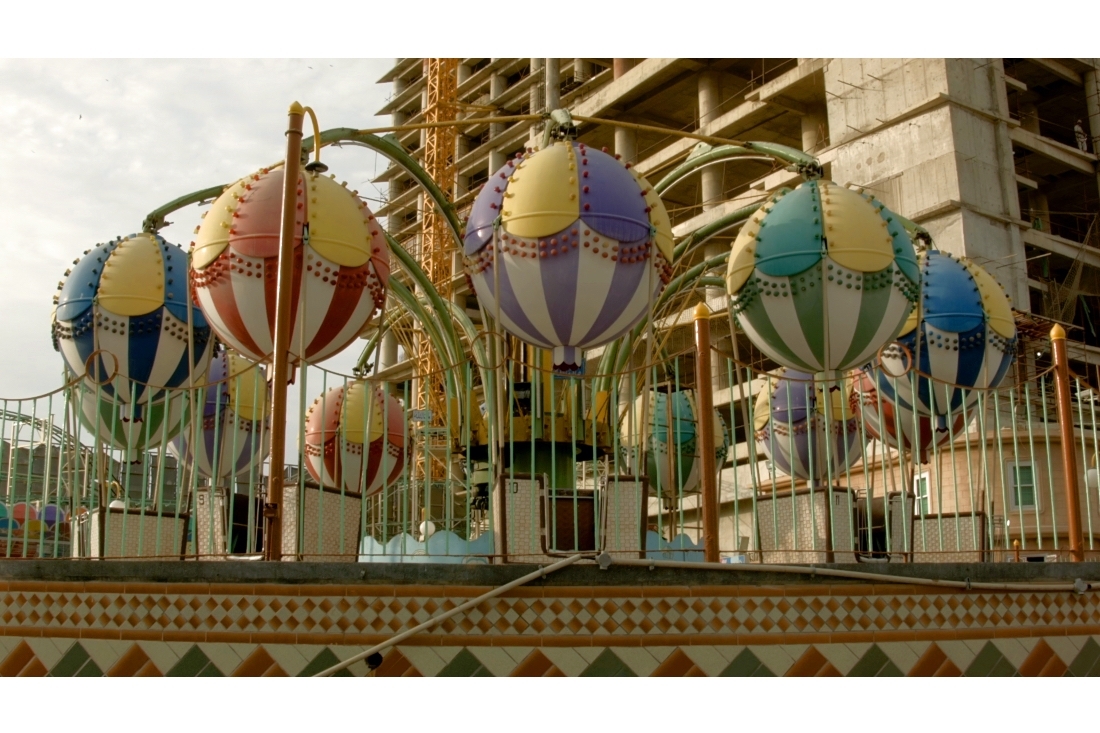 Bani Abidi, 'Funland' – Karachi Series II, Film Still
Experimenter presents the second part of its online film and moving image program Filament, showing films by Bani Abidi as a four part online exhibition, embedding the films on Experimenter's website for 10 days each. Bani Abidi from Karachi, Pakistan is now working between Berlin and Karachi and uses video and photography to comment upon politics and culture, often through humorous and absurd vignettes. The exhibition weaves a selection of her moving-image work from the last decade.
The films and their viewing schedules are:
An Unforeseen Situation (2015) | 6 min 42 sec | 10 July - 20 July
The Distance From Here (2009) | 12 min | 20 July - 30 July
'Funland' – Karachi Series II (2014) | 15 min | 30 July - 10 August
Death at a 30 Degree Angle (2012) | 15 min | 10 August - 20 August
About the films

An Unforeseen Situation
An Unforeseen Situation refers to a series of orchestrated mass events and spectacular individual feats hosted by the Punjab Ministry of Sports in 2014 during which multiple world records were reportedly broken by Pakistan. Picking up from the popular rumours, newspaper clippings and video footage surrounding the events, the artist spins her own version of the events as they unfolded.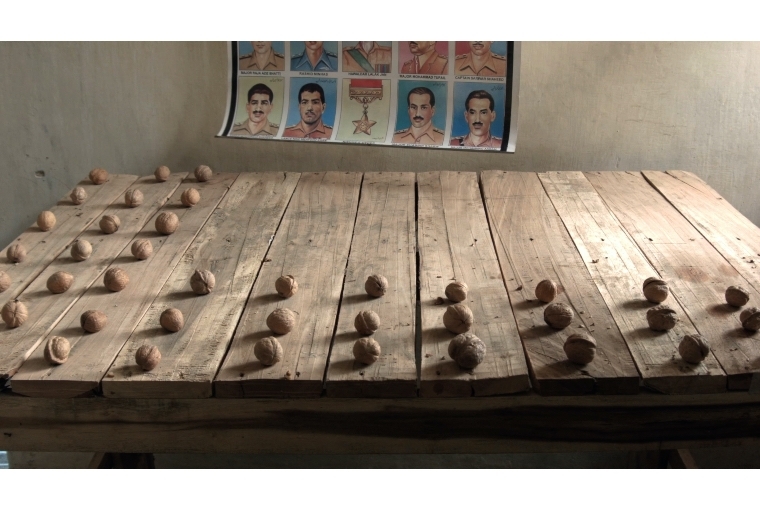 Bani Abidi, An Unforeseen Situation, Film Still
The Distance from Here
The Distance from Here is a reflection on the psychology of visa waiting rooms, embassy protocols and the nervous anticipation of visa applicants who are hoping to access international travel from cities in South Asia. Gleaned from frequent visits to the 'Diplomatic Enclave' in Islamabad, Abidi gently observes the gestures of her fellow visa applicants, their conversations and questions, the spontaneous local economy that props up to enable the time of waiting and preparation, and the forbidding architecture and processes of permission that strip people of their belongings, and separate and organize them into obedient bodies. This is an homage to everyone who feels scared and unsure about whether they will ever get to make their journey.
Funland (Karachi Series - II)
The documentary works in Bani Abidi's video and photo installation Funland (Karachi Series - II) meander between being memorials of a cosmopolitan city that fights for its survival, to melancholic imaginings of a hypothetical, deserted future. A library in Karachi puts itself under a harsh regiment of censorship. Threatened by suspicious visitors asking questions about the vast reserve of books on comparative religion and history, the board decides to hide seventy percent of its collection; a cinema hall from the 50's in the city center is burnt down by an outraged mob protesting a video posted on the internet; an amusement park built in the 1970's fears closure as construction of the country's tallest skyscraper begins next to it. These moments in scantily inhabited public spaces play alongside a video of a man on a sea shore, sitting on a set of meticulously laid out chairs, watching the sea. This work is a continuation of Abidi's ongoing exploration of the demographic, economic and cultural changes in her home city Karachi. The first work from this series were the photographs she orchestrated in 2009, titled 'Karachi Series I'. This 6 channel video installation has been re-edited for a single channel presentation.
Bani Abidi, The Distance From Here, Film Still
Death at a 30 Degree Angle
Death at a 30 Degree Angle is a work about the commissioning of a monumental statue by a small-time politician. Located in present day India, the film is shot in the atelier of a sculptor who is renowned for large statues of politicians and national heroes. The politician, along with his cronies, experiments with a variety of costumes and poses, actively participating in the writing of his own memory and myth making. Death at a 30 Degree Angle is a reflection on self-portraiture, megalomania and monumentality. Today, statues of erstwhile leaders, rulers and heroes lie scattered in graveyards and public squares all over the world. Communist leaders of all sizes, colonial explorers with hands thrust forward in righteous motivation, glowering facsimiles of African dictators made in Korea, fists, boots, disembodied heads, all lie relegated to remote tourist parks or to overgrown backyards of palace museums. These are objects that once controlled and impressed upon public space and imagination, but overnight became mere proxies, subjected to torture, ridicule and public vengeance.

Image credit The artist and Experimenter, Kolkata
Bani Abidi, Death at a 30 degree angle, Film Still