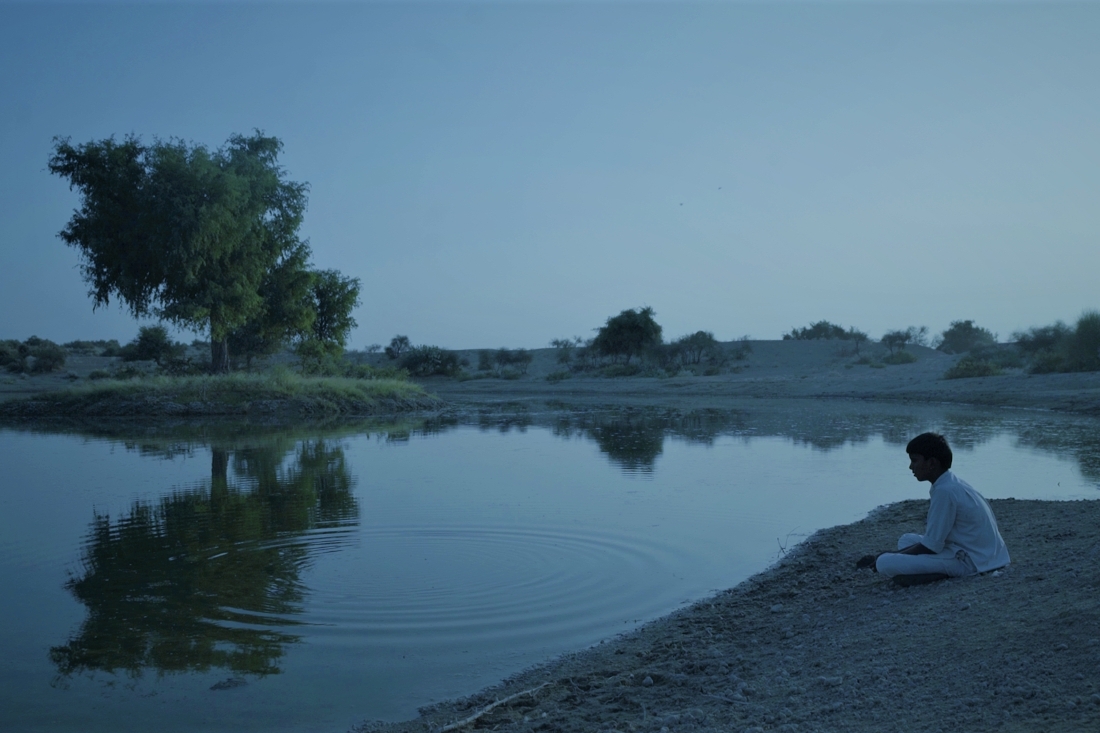 Divided into chapters, and punctuated by traditional songs, Pearl of the Desert provides a fascinating insight into the traditions, customs and etiquette of the Muslim Manganiyar caste, by seamlessly combining observational documentary with dramatised scenes. The hybrid film follows twelve-year-old Moti, who lives in the dusty Rajasthani countryside. As a Manganiyar, singing is an integral part of his life — a way to tell stories and pass on traditions. When Moti is cast in a musical and embarks on a world tour, he becomes the first member of his village to spread the spirit of his people overseas. His adventure marks the initial step in a journey of self-discovery. He is part of the new digital-age seeking change, but has to still hold onto his age-old traditions and roots. Directed by Pushpendra Singh, Pearl of the Desert has travelled to many festivals, including International Documentary Film Festival Amsterdam, before making its way to Dharamshala International Film Festival this year.
Pushpendra is a filmmaker from Sainyaa, a small town near Agra in India. Interestingly, he first enrolled himself in an acting course at the Film and Television Institute of India in Pune. However, while cementing his foundation, he found directing to be a more fulfilling role in cinema. Pushpendra has been making films since 2014, which have travelled to some of the most prestigious festivals around the world. In 2014, his directorial debut Lajwanti was screened at the Berlinale Forum, while his second feature film, Ashwatthama, premiered in the New Currents Competition at the Busan International Film Festival. His recent film, called Laila Aur Satt Geet, explores the folk storytelling traditions of the Bakharwal community in Kashmir.
We spoke to him to know more about his journey and the film.
When did your romance with filmmaking begin?
It began very early, during my childhood. Every Saturday, a Bollywood film would be screened at our hostel and the next week, I would enact or direct a version of that film while playing with my friends. Usually the games like 'Cops and Robbers' or 'I spy' would use the characters of the films we watched. Eventually, I began imagining stories of my own.
You first studied acting at FTII before moving behind the camera as a director, what inspired that?
Before moving into our specialisations, we had a common course where we learnt all aspects of filmmaking. I was always interested in directing and later when I shifted to Mumbai, I began doing solo performances using video. That experience led me towards searching for new stories, and whenever I read such stories, I started imagining them as films.Vijaydan Detha's folktales drew my attention to feminist themes and his imagery was very poetic. So, I decided to adapt his tales into film. Directing is very fulfilling as it engages you with the art of cinema, and as a director, you create it in collaboration with others.
How do you think you have evolved as a filmmaker since your debut feature in 2014?
I feel that I'm still evolving and this encourages me to continue working with the art. The day I feel like I've stopped evolving, I'll stop making films. There are many learnings but one that I feel everyone should follow is to involve the locals more and more in the process of filmmaking. Their insights and wisdom are more powerful than any book or experience.
As a filmmaker, what kind of themes do you gravitate towards?
I'm interested in stories about the marginalised and people on the fringes.
Talking about Pearl of the Desert, what was it about Moti, the young protagonist, that interested you to create a film around him?
I was interested in the oral tradition of the Manganiyars and wanted to document it through a child's point of view. Moti's voice and talent drew me instantly, and him belonging to a remote village became a significant reason to explore their tradition. I'm interested in the kind of cinema which draws from folklore and the Manganiyars represent the plural traditions of our country, which are attacked more often now than ever. The film is part of my exploration of our rich culture and diversity.
It's a hybrid film — part reality part fiction. Why do you think the story needed that?
As a practitioner of the art of cinema, I'm interested in exploring the fine boundaries between fiction and non-fiction. That is why in my fictional creations, I work with real locations and local people, involving them to bring out the nuances of their culture and language. Similarly in this film, I wanted to highlight the strength of their musical heritage and culture. Allowing staging and asking them to interact musically, evoked that truth more beautifully. My instincts informed my decision.
What do you want the audience to take away from the film?
As with everything today, digital technology is affecting all of us in ways we are unaware of. Similarly, Moti is drawn to Bollywood songs, but he has slowly realised that he cannot be in a place where there is a sea of singing talent struggling to find their places. He is comfortable with his heritage and singing for people interested in it.
Your films have been screened at Dharamshala International Film Festival in the past. Pearl of the Desert is screening this year as part of the digital edition of DIFF. How do you think such festivals help films and the filmmakers?
Independent films struggle to find releases and they don't have resources to market or reach audiences. Film festivals bridge these gaps in some ways. Also, like-minded people converge at film festivals and they become networking events for ideas and talents. Though I had met Navjot Randhawa briefly earlier, I met her again at DIFF when I was thinking of casting for my next film, and we cast her for the titular role.
Where are you with your new film, Laila Aur Satt Geet?
The film premiered at Berlinale in their inaugural competition, Encounters, just before the pandemic hit the world. It is traveling the festivals and has since won the NETPAC Award at Jeonju International Film Festival and the Best Director at Hong Kong International Film Festival.
Lastly, what is next for you?
I've been full of ideas as I was stuck alone at my apartment in Pune during the lockdown. Let's see what takes shape in writing first.
Text
Hansika Lohani Mehtani