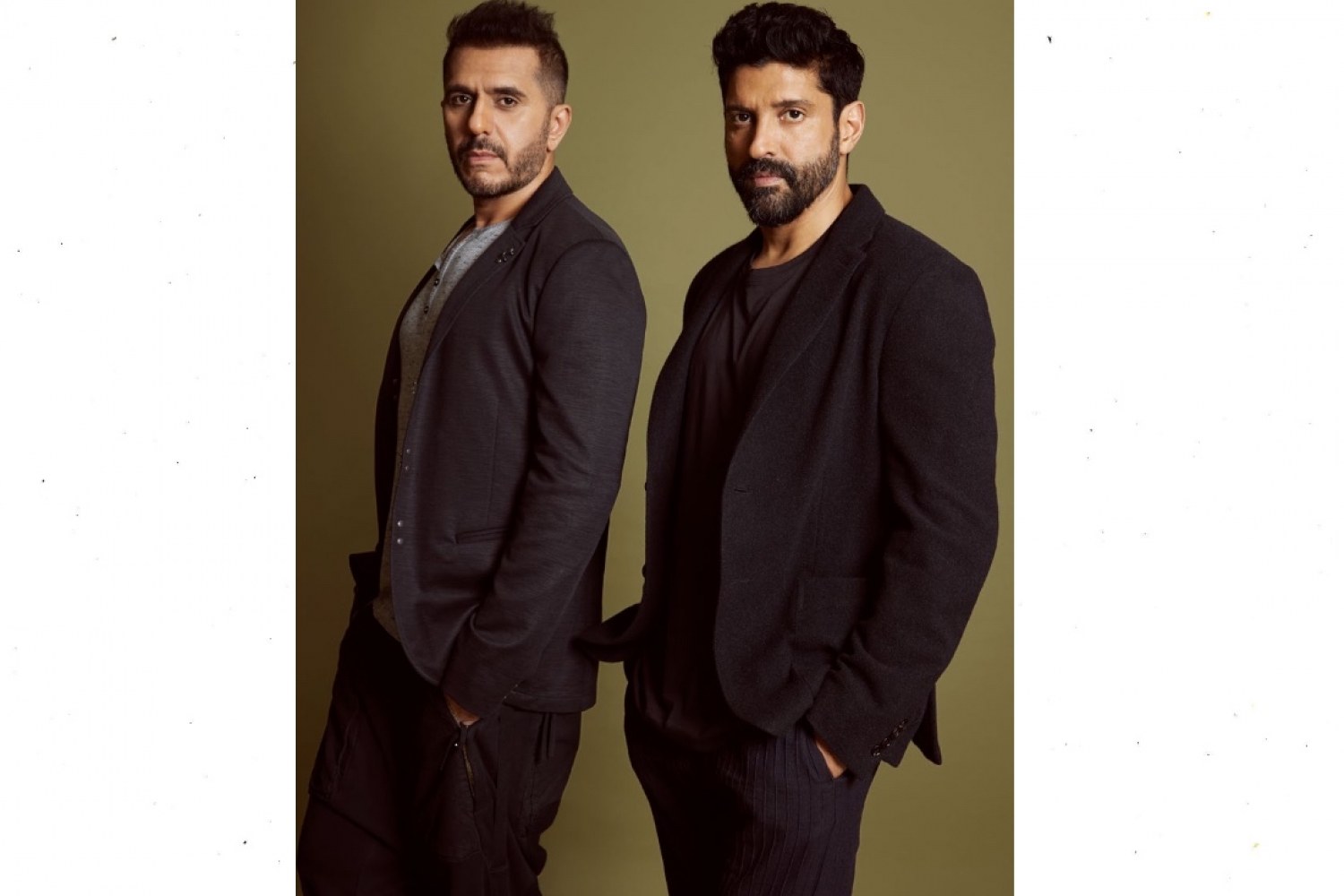 Photography: Abheet Gidwani
Ritesh Sidhwani and Farhan Akhtar
Celebrating Stories
Twenty years ago, when Excel was formed, it changed the entire cinema-going experience. It gave us films that resonated with us at a real level. Farhan Akhtar and Ritesh Sidhwani followed their passion and gave us Dil Chahta Hai. Many guys saw themselves in Akash and could identify with Sid's unrequited love for Tara. All along their journey, they have taken bold decisions and their passion for the stories they wanted, and want, to tell, continue to engage the audiences at various levels. Excel has given us ordinary and extraordinary stories. We laugh, cry, think, and feel, but all along, we have fun when we watch any of their films. Now two decades old and getting only stronger, I connect with Farhan and Ritesh to know more about their journey with Excel Entertainment.
THE BIGGEST LEARNING
Ritesh Sidhwani: This journey of twenty years has been really heart warming and there is a lot that you learn. There hasn't been that one learning but I think what it teaches you is you can never say that 'I' have done this. Filmmaking is a process where we say 'we'. It is collaborative and I think that's one thing that we all, as filmmakers, have learnt. Whether it is five years or ten, fifteen or twenty, you can never say I know it better or I know it all. Every film will have its own challenges. It will be a different experience and you will have to jump over some hurdles.
The inherent nature of what we do is so unpredictable, so challenging at times, and you need to rec- ognise that. Never take anything for granted, especially your audience. Learn from your audience verdict and try and bring about those changes in the next film you do. Always be willing to learn, never say that I know it all. With the feedback, the love, the acceptance, rejection you get, learn to accept everything and try to bring in those elements of your experience in your next film.

Farhan Akhtar: My biggest learning has been that you can never know enough. There's no end to creativity, there's always room for more, so much more can always be done. Iremember when I directed my debut film, Dil Chahta Hai, I knew I wanted to make that film and now when I look back at my films, I look back with so much wonder and awe and love what I do. It's an awesome job. The possibilities are limitless of what you can create and the experiences keep growing. We feel extremely fortunate to do what we do.
STORY CHOICES
RS: Twenty years ago, when Farhan narrated the script of DCH, there was an instant connection, relateability and identification with the characters and their journey. For me, any kind of emotional connect is extremely important and that remains true even today. I feel that if you believe in it, you will be able to convince millions of people when you put your voice behind that story. I think that's what keeps those stories alive even today, as they are relatable stories.

FA: I try my best to keep it real and have a relatability factor in all my films, even through the fantastical worlds I create at times. So even with a film like Don, where the story is larger than life, I tried to keep the characters real and that is something I tried to do with all the stuff I have made and acted in. I love the big films as I have grown up watching them too, so I don't want to deny my audience of that, but my add-on is to keep it real within that world.
OTT
RS: Creating content for the streaming platform is more long format content, it's where you are invested in the characters slightly more as you see them for more than one to three hours. It's more individual viewing rather than theatrical, latter being communal. Stories that can be told in the one to two hours format should be made for the theatre. It doesn't have to be a big action film, it can be any story you would like to see with other people.
Streaming platform is also exciting. We did Inside edge, Mirzapur, Made in Heaven, but I think the format is different. They are stories that require four hundred minutes or more, depending on the content. Characters keep building, new characters are introduced, so it's a different format of story telling, but both are equally exciting. If we can manage for both theatre and streamers, then that's great for us.
THE BALANCE
FA: Art makes your mind go to places without self-censoring, so yes, being an artist is super exciting. However, every film a person makes is a risk, as you don't know how it is going to be received. You don't know how it's going to go down. You could have the biggest star in the film and it could fail at the box office. So there is no assurance or guarantee that what you are doing will reap you great awards. At times, you could get appreciated commercially but not critically. Garnering appreciation both critically and commercially is a rarity.
So there is risk in everything we do. The question is, how much are you willing to risk on the bottom-line to stick to your belief? If you are convinced about your belief then it gives you the power to go ahead and make the film without worrying about the bottom-line. But if you make a film because you feel the audience will like it, then you are in serious trouble as you need to first believe in what you are making. What you are put into it in terms of energy, time, talent, money. Everything else will follow if you have the passion for it.
THE FUTURE
RS: We are going to release season two of Inside edge, Mirzapur and Made in Heaven. There are two more shows that will be out next year. Rishiji's last film Sharmaji Namkeen will be out next year, which I am very excited about. There's Phone Booth, which Guru is directing. There's also Yudhra.
FA: I am directing Jee Le Zaraa next year, so work will start on that. As a director, I am really excited about that. There's a lot of stuff we are producing at Excel. We have tied up with Netflix to create content, so our hands are full. What I am really waiting and hoping for is the live experience to open up, so we can start performing live gigs again.

This article is all exclusive from our November EZ. To read more such articles follow the link here.

Text Shruti Kapur Malhotra
Date 20-12-2021