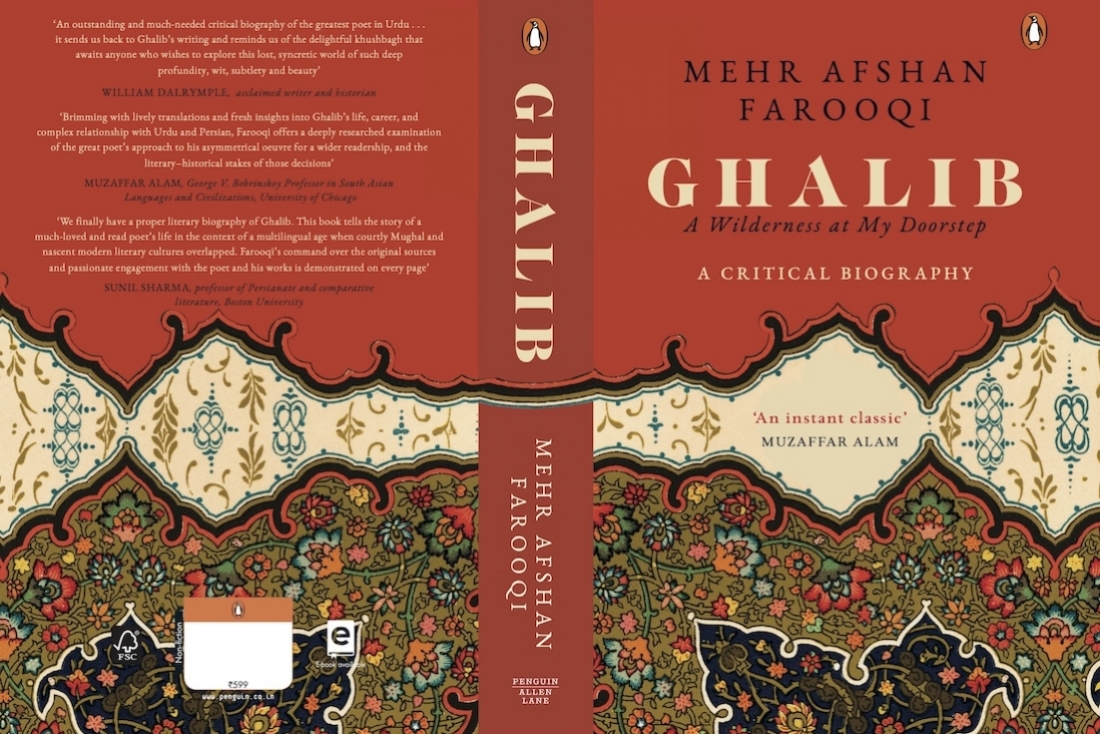 Ghalib: A Wilderness at My Doorstep
Mirza Asadullah Khan Ghalib was born in Agra in the closing years of the eighteenth century. A precocious child, he began composing verses at an early age and gained recognition while he was still very young. He wrote in both Urdu and Persian and was also a great prose stylist. He was a careful, even strict, editor of his work who took to publishing long before his peers. His predilection for writing difficult, obscure poetry peppered with complex metaphors produced a unique commentarial tradition that did not extend beyond his work. Ghalib: A Wilderness at My Doorstep is the most definitive, authoritative and comprehensive biography of Ghalib till date. It explores his life, work, philosophy and opens a window to many shades of India and the subcontinent's cultural and literary traditions. In conversation with the book's author Mehr Afshan Farooqi about the book and one of the greatest poets in human history.
Could you tell us a little bit about yourself and your relationship with literature?
I was born and grew up in Allahabad, in a household that cherished literature. My parents were deeply involved in literary activities and sponsored a journal, Shabkhoon, that ushered the trend of modernism in Urdu. My sister and I studied at the local St. Mary's Convent where English was the medium of instruction. At home we only spoke Urdu. I was also taught Persian at home. My parents also taught us to love animals and nature. I am told that I could recite verses at the age of two. By the time I was ten years old, I had memorised hundreds of verses. Literature, especially poetry was synchronic with my life. I absorbed poetry. But I did not become a poet.
How was Ghalib: A Wilderness at My Doorstep conceived?
At the University of Virginia, I was teaching mostly modern Indian literature. My first monograph (The Postcolonial Mind, 2013) was on Muhammad Hasan Askari, a literary critic whose thought was postcolonial way before postcolonialism became a critical theory that unlocked the ways to read colonial literary production. My close reading of Askari showed me how colonialism had created a chasm with our classical past that was difficult to bridge. Colonialism created disequilibrium. Connecting with our classical tradition was vital. I was drawn to Ghalib because I enjoyed his cerebral, multilayered poetry. Ghalib's imagination in ineffable. My father had once mentioned to me that Ghalib had 'rejected' a large portion of his Urdu poetry. I was curious why he did that and what were the consequences? I began to research a neglected area in Ghalib studies. I realised there was much to write about. I have been working for the last seven years mostly on Ghalib.
Writing a biography is a rather challenging process. Could you give us an insight into your process behind creating this book, especially in terms of the research that went into it?
Yes, indeed it is challenging. Establishing Ghalib's date of birth was complicated. Some events in his life didn't match up with the dates. For example, when did he take up residence in Delhi? When did he write his first poem? Ghalib's relationship with his in-laws was problematic. His father-in-law Nawab Ilahi Bakhsh Ma'ruf was a well-known poet, whose ustad was Ibrahim Zauq. Later on, Zauq and Ghalib did not get along. Ghalib's father-in-law was a Sufi and very different from his powerful older brother Nawab Ahmad Bakhsh. The latter could have supported Ghalib financially, but he didn't do so. Ghalib's lifestyle landed him in deep debt. Ghalib was presumably bitter that his relatives were wealthy.
In terms of writing, what was your process like behind keeping the book scholarly yet accessible?
I wanted to write a book aimed at a general reader who was interested in literature and the times that produced it. I didn't want my book to be bogged down with jargon. I uncovered new ground but presented my findings in an approachable style. I enjoy telling stories. I really enjoyed writing the part on Ghalib's journey to Calcutta and his spats with his peers.
What was the biggest challenge you faced while writing this book?
The biggest challenge was going back and forth between English, Urdu and Persian. Translating is not easy. What I was translating had to make sense in English. I tried to include the original as much as possible but I didn't want to burden the reader with unfamiliar words and phrases.
What do you hope the readers take away from this book?
I hope readers will become aware of Ghalib's great contribution to both Urdu and Persian literature. Ghalib's Persian poetry is a neglected field. Also, Ghalib's prose works need to be studied. He wrote extremely convoluted and dense prefaces to his Divans. In these prefaces he explored the importance of language, the reach of language, the equation between Urdu and Persian. The preface to his Urdu Divan tells us that it is a selection, an intikhab. Ghalib also provides a copy right of sorts when he says that anything outside of this Divan should not be attributed to him. He was very particular about his reputation.
In our contemporary reality, with an ongoing pandemic and treacherous socio-political issues, what role do you think poetry should or can play?
Poetry like music and art appeals to our inner selves. The language of poetry is concise and affective. Poetry could be subversive. Poets had the freedom to express their thoughts; rip the curtain and expose truths. Ghazal poetry is particular brings the message of love. Love is the force behind creation. Love is what brings meaning in life. Love is the light in darkness.
Lastly, how have you been coping with the pandemic and what are you working on next?
The pandemic has helped me enjoy the beauties of nature more deeply than ever before. The slower pace of life has given me time to think about my family and close friends, about death too. I lost my father, the renowned litterateur Shamsur Rahman Faruqi to Covid. I am grieving his passing. I wish he could have seen my book. He did read parts of it and was looking forward to its publication. I am working on a second book on Ghalib. I have collected a lot of material. Everything I have to say couldn't be said in one book.

Text Nidhi Verma
Date 21-01-2021