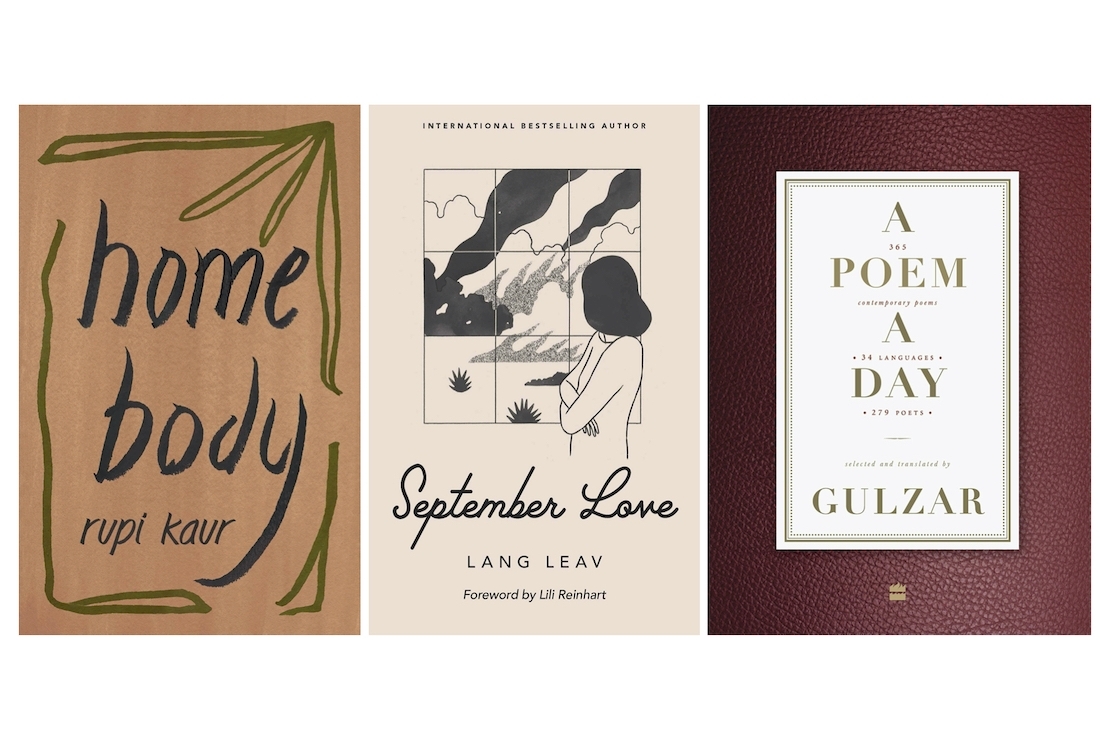 With Margaret Atwood releasing a new poetry anthology after a decade, and Louise Glück winning the Nobel Prize for Literature for her austere poetic voice, poetry has been garnering renewed attention from readers again, and rightly so. Just like other genres, incredible poetry books have released this year, and many are yet to be released. From new books by bestselling poets like Rupi Kaur and Lang Leav, and by Pulitzer Prize winner Vijay Seshadri, to an ambitious anthology of African American poetry, and a fascinating poetry collection curated by Gulzar himself, the poetry books that have recently released, or are about to be released, deserve all your attention. Presenting a Platform edit of essential poetry books you should be reading this month.
Home Body by Rupi Kaur
Rupi Kaur constantly embraces growth, and in Home Body, she walks readers through a reflective and intimate journey visiting the past, the present, and the potential of the self. Home Body is a collection of raw, honest conversations with oneself - reminding readers to fill up on love, acceptance, community, family, and embrace change. illustrated by the author, themes of nature and nurture, light and dark, rest here. The book is set to release on November 17th.
A Poem a Day: 365 Contemporary Poems 34 Languages 279 Poets by Gulzar
A Poem a Day is a volume of Indian poetry like no other, selected and translated by Gulzar, one of Indias most renowned and respected poets. This prestigious volume showcases 365 memorable poems a poem for every day of the year written over the seven decades since Independence by some of the leading poets of the Indian Subcontinent. A true collectors item, A Poem a Day belongs on the shelf of any litterateur. The book is set to release on November 30th.
September Love by Lang Leav
A book that will change the way you think about love, relationships, heartbreak, and self-empowerment. Breaking the rules, challenging perceptions, and exploring the secret desires we keep hidden from the world. Beautifully composed and written by international bestselling author Lang Leav, this new collection of poetry and prose will positively influence your life. The book was released this month.
That Was Now, This Is Then: Poems by Vijay Seshadri
The brilliant new collection from Vijay Seshadri, author of the Pulitzer Prize–winning 3 Sections. No one blends ironic intelligence, emotional frankness, radical self-awareness, and complex humour the way Vijay Seshadri does. In this, his fourth collection, he affirms his place as one of America's greatest living poets. That Was Now, This Is Then takes on the planar paradoxes of time and space, destabilising highly tuned lyrics and elegies with dizzying turns in poems of unrequitable longing, of longing for longing, of longing to be found, of grief. In these poems, Seshadri's speaker becomes the subject, the reader becomes the writer, and the multiplying refracted narratives yield an 'anguish so pure it almost / feels like joy.' The book was released last month.
African American Poetry: 250 Years of Struggle and Song by Kevin Young
A literary landmark: the biggest, most ambitious anthology of Black poetry ever published, gathering 250 poets from the colonial period to the present. Only now, in the 21st century, can we fully grasp the breadth and range of African American poetry: a magnificent chorus of voices, some familiar, others recently rescued from neglect. Here, in this unprecedented anthology expertly selected by poet and scholar Kevin Young, this precious living heritage is revealed in all its power, beauty, and multiplicity. The book was released last month