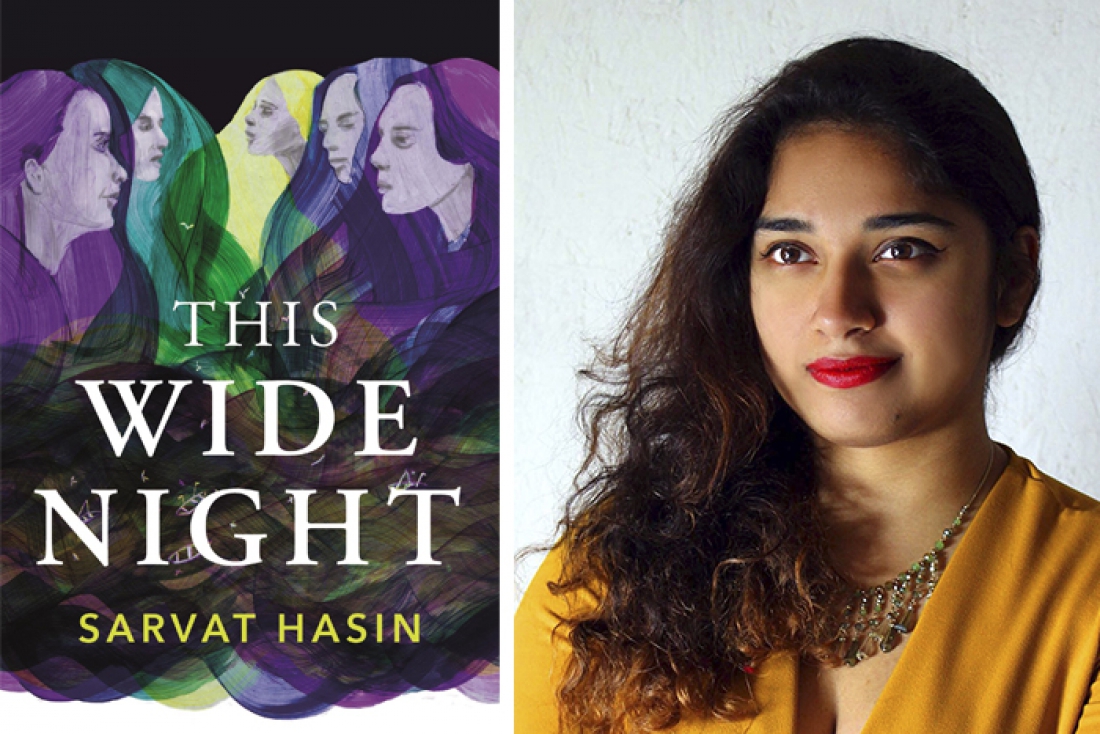 This Wide Night
Sarvat Hasin
This Wide Night
Sarvat Hasin
Why must a book always be burdened with the task of explaining the city that it is set in? Sarvat Hasin's story unexplains Karachi as it has been seen all along. Four young, bold women play with their lives and our minds just the way they wish to, and all prosaism vanishes from the scene at once to lead you into an island deftly crafted in pen.
Sarvat studied politics at Royal Holloway, worked as a bookseller and wrote her debut novel while undertaking a Creative Writing course at Oxford University. Her essays and poetry have appeared widely in journals and anthologies including The Mays Anthology, Catweazle Magazine and Dawn Newspaper. What started as the 25-year-old's Master's project has culminated in a much-anticipated debut that we set out to explore further.
What is your first memory of writing?
Almost definitely at school. I wrote some [terrible] poetry as a kid and short stories at school. I distinctly remember writing one about a chocolatier poisoning the competition – sort of a dark Willy Wonka. I must have been about eleven then.
Can you give me a blurb on This Wide Night?
The Maliks live a life of relative freedom in Karachi: four beautiful sisters—Maria, Ayesha, Leila and Beena, are warily watched over by an unconventional mother. Captain Malik is usually away, and so the women forge the rules of their own universe, taking in a few men: Amir, the professor who falls in love with Maria, and Jamal or Jimmy, the neighbour who tells this tale. The curious young man is drawn in by all four sisters, and particularly by rebellious Ayesha. But slowly, it becomes clear he will never completely penetrate their circle—just as they will never completely move with the tide that swirls so potently around them.
What inspired you to write it?
I started writing the novel as part of my Master's degree. We did a creative project alongside a critical one. My critical essay was on the relationship between post colonial literature and the politics of their countries. I wanted to write against the trend of the texts I was studying—a book set in Karachi, where I grew up, that didn't feel the need to explain Karachi. I wanted the setting to be distinct but not overwhelming; I concentrated on the idea that the story could happen anywhere without losing its specificity. And from there, the idea of this family came; an unknowable collection of women and an outsider who longs to be a part of them.
How did you come upon your characters? Could you share an insight into their lives and the story?
The girls came to me first. The book ends in Manora, a not-quite island off the coast of Karachi that I visited with a friend as a teenager. I remember how isolated the beaches were there, completely different from the ones in the city, even the private ones. It felt like the end of the world. The characters were born out of that setting, people who would choose to live apart from society. In a city as thickly populated as Karachi, this feels impossible. I got the structure of the family and their next-door neighbour, Jimmy, from Little Women. I always liked Laurie and his fascination with the March girls. My editor and I often talk about this book being a halfway house between Little Women and The Virgin Suicides; the family dynamics of the former infused with the langour and dreaminess of the latter.
How did you decide on the flow and structure of your book?
Starting the book as part of my degree meant that I had to write a synopsis early on. I more or less followed this to the end. I have a weakness for three-act structures. I loved the idea of Jimmy meeting the Malik girls in the first section and immersing himself in their world, only to be torn away in the second act and returned in the third.

Take me behind your creative process. How does your writing occur?
I'm a creature of habit. I need rigorous structure when I'm writing or at least the illusion of it: when I was writing the first draft, my agent would read it in segments. He'd always ask me when the next one was coming and so I treated it like a job. At the time, I was living in Oxford in the company of other writers and artists. It was important to see other people giving their work the same attention that they would in an office. I have memories of writing at the same kitchen table as other people, thinking how fast they were typing and would I ever finish my book!
It also took me time to learn that a lot of writing happens in those moments when you're not at your desk; ranting about how badly it's going to a friend, waking up at three in the morning with a line that just has to go down, walking or running till you can't feel your feet but your brain clicks something into place and suddenly, you know how to start the next chapter.

What are the biggest challenges while writing your debut?
I think young writers are told a lot that getting published is difficult and that they'll never make any money off that writing and while those are valid concerns, no one ever really tells you that writing a novel is like running a marathon. It's a different beast from just having a good idea or writing a little here and there. It can take a long time. Novels, even short ones, can feel pretty damn long when you're writing them. You can fall out of love with your story. You can lose the thread, the willingness to follow it to the end. Writing a debut means coming to terms with what it means to go on, even when you don't necessarily feel that rush of excitement every time you sit down to write.
Name the authors and books that inspire you, and why.
I've read everything Junot Diaz has written, at least thrice over. Also Joan Didion and James Salter. Lately I've loved the Neapolitan books, Alexander Chee's Queen of the Night and Stephanie Danler's Sweetbitter. I love coming-of-age stories, the violence of growing pains and the process of becoming yourself, at any age. Books where the writing is crisp and quick, even a little funny but with sharp edges underneath. Anything that can suck me in and make me miss my stop on the Tube.
I read to write a lot so my book choices are often informed by what I think will feed my current projects best. When I'm in a slump, I read Raymond Chandler or Donna Tartt's The Secret History: they remind why I started writing in the first place.

You're a writer, student and Fiction Editor at The Stockholm Review. Which of these roles do you most enjoy and how easy or difficult is it to be all at once?
It's easy for writing to take prominence over everything else but I love being an editor. There's something glorious about being at the frontline of the process; I've worked in bookshops and publishing houses. It's fun to sort of take these things apart, learn what people read, how stories get picked up, shaved and shorn into finished pieces. There's something sneaky about being on the other side when you've been a reader all your life: as a kid, libraries and bookshops are places of such mystery.

More than that, I'm as hungry for new voices as any editor. There's nothing like finding a story that flies off the page and getting to work on it and put it out into the world. At The Stockholm Review, we have a distinctive style and there's a pleasure in that too: in seeking the darker, sleeker stories, ones that make you sit up. You learn to tell what pieces will sit well next to each other. You're curating an experience.

Where from here?
There's always a new project. Mostly, I'll have another project on the go when I'm writing, a mistress project to my wife one. It keeps me from getting run down and means that when I'm in that painful period of editing and waiting for the project one to take off, I can bury myself elsewhere. I'm currently working on finishing up a connected series of short stories about modern Karachi youths: a friend recently described it as Gossip Ghoul, which I like to think is social satire with an edge of horror.

This Wide Night releases today.

Text Soumya Mukerji