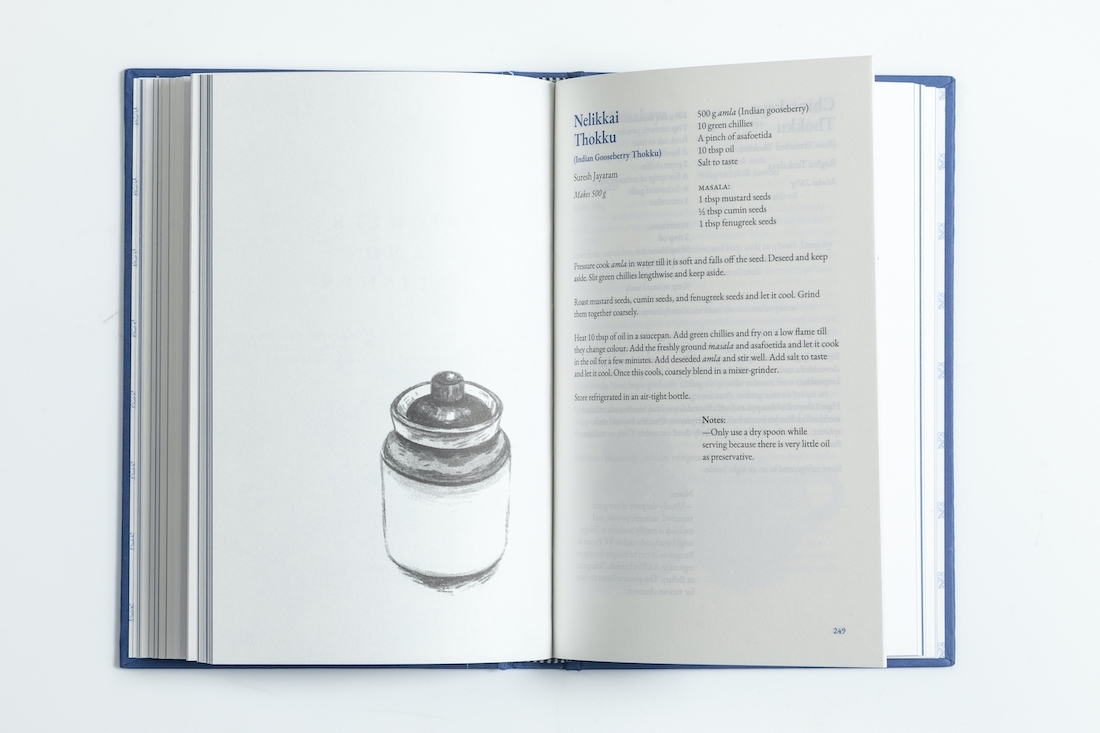 Credit - Anu Davis and Ahmad Shaqulain (Offset Projects)
A Cookbook with a Difference
In 1977, when the Museum of Modern Art compiled the definitive Artists' Cookbook, it offered a little-seen peek into the lives of artists in their kitchens. Inside, were Helen Frankenthaler's recipe for chilled button mushrooms stuffed with red caviar for entertaining unexpected guests, along with Andy Warhol's no-nonsense instructions for making Campbell's canned milk of tomato soup ('stir, serve'). The 1Shanthiroad Cookbook, published by the Bengaluru-based independent publishing house Reliable Copy, adds to this long-running tradition of documenting what artists cook, eat and serve.
Part-coffee-table-book, part-manual, it is a cookbook with a difference. The recipes collected within, sourced from a family of friends consisting of artists, curators, patrons and residents, pay ode to 1Shanthiroad Studio/Gallery, Bengaluru's oldest running non-profit residency and arts space. It was started in 2003 by Suresh Jayaram, an artist and curator who taught art history at the Karnataka Chitrakala Parishad. Born to a family of socialists, Suresh grew up in a household where cooking was seeped in community. The family principle of maintaining an open kitchen has continued since, earning 1Shanthiroad its reputation as a soup kitchen or salon. This culture affords a bohemian vibrancy to the space, where artists and guests eat meals at a communal dining table, that doubles up as a workstation.
Credit - Anu Davis and Ahmad Shaqulain (Offset Projects)
The space sees the unique intersection of the public and private, housing both studios for artists and a private residence. The two lush courtyards, one shaded by an almond tree, serve as extensions of the studio-cum-gallery. The house is populated by a curious mix of artefacts and furniture, collected over the years. A turtle-shaped coconut scraper hangs as the centrepiece in the kitchen — a coming together of utility and beauty, that captures the essence of the cookbook. Its pages are dotted with hand-drawn illustrations of these objects, made by Akshay Sethi. 'These are all part of the experience of living at 1Shanthiroad,' says Suresh. The book has something to offer to both admirers of art and design, and avid cooks. Each element not only forms part of a larger narrative, but tells a story of its own.
A delicate motif that runs behind the cover shows the Annapakshee, a mythical bird that had the wisdom to choose between truth and untruth, and milk and water. The emblem comes from a Kanjeevaram wedding saree that belonged to Suresh's mother and pays homage to her spirit, an integral part of the evolution of 1Shanthiroad. 'In fact, many visitors still remember her and her food. They would insist that she cook a particular mutton stew or coconut rice,' Suresh shares fondly. Many of these recipes, taken from personal archives, have been reproduced in The 1Shanthiroad Cookbook. Divided across thirteen sections that range from mains to masalas, the book chronicles a gastronomic heritage of 1Shanthiroad. Take the classic Rum Punch, a staple at openings, or the generous Spanish Paella, a regular item on the menu, that appear alongside more familiar recommendations.
Credit - Anu Davis and Ahmad Shaqulain (Offset Projects)
But no artists' cookbook would be complete without its eccentricities, and this one has its share — there are Dressed-Up Chapatis, Half Moon in the Forest Salad, Pineapple Curry. 'The kitchen is also a laboratory. You experiment with food and ingredients, learn from each other, and mess up. Sometimes, a cooker blows up, so you learn on the job,' Suresh adds. The book's diverse contributors also survey the geographies and politics of food that these recipes form a part of, inevitably. For instance, see the recipe for the assassinated journalist and activist, Gauri Lankesh's Urgent Saaru.
What had begun as a dinner table conversation grew into a process of compiling, tasting and testing recipes, with a simultaneous method and madness. For all its purposes, The 1Shanthiroad Cookbook is a book to cook out of, intended as a collectible to be smeared with stains of 'turmeric and chocolate'. It is firmly rooted in 1Shanthiroad's pivotal role in Bengaluru's bustling art scene, while inviting both old and new audiences, quite literally, to the table.
Text Nikita Biswal
Date 05-04-2021