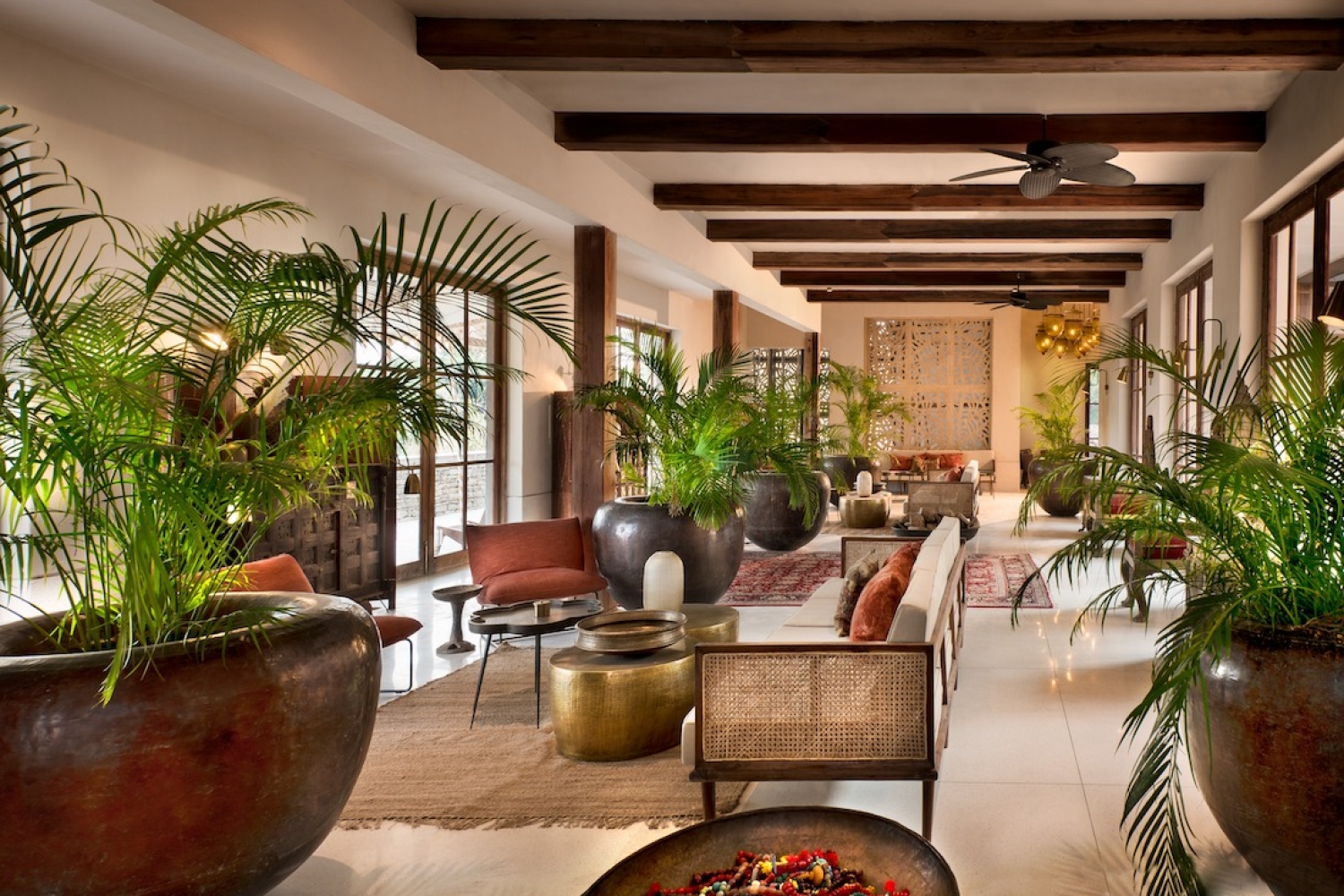 Comfortably nestled right on the fringes of the Sasan Gir National Park amongst flora, fauna and some of the last few remaining Asiatic lions, Aramness Gir, a luxury safari lodge coexists with the semi-nomadic Maldhari tribe. Founded by Jimmy Patel owing to his immense love for Gujarat, dedication towards wildlife conservation, Aramness, provides an experience replete with luxury but with a touch of the local flavour of the region. Located within the 18 square kilometre area that skirts the National Park, the lodge sits within a rarely undeveloped natural paradise in a protected teak forest.
Creating a truly immersive experience in the Indian wilderness, the design of the lodge is a creative collaboration between Fox Browne Creative and Nicholas Plewman Architects. Inspired by the idiosyncrasies of the neighbouring village of Haripur, the Aramness blueprint incorporates central cobbled streets with courtyard homes. Being sensitive to the natural surroundings the forest and the meadow gardens have carefully found their way on the property grounds. The team explains, " Our aim was to merge the natural habitat of the area with the built environment and pay homage to the original use of the land as farmland."
Bringing forth a taste of the Gujarati village setup and its informal arrangement, Aramness stands tall with private kothis. Staying true to their name that stands for a peaceful village, the interiors have been designed to advocate for a deep sense of comfort and tranquility yet ensuring a luxurious experience. Constructed making use of indigenous methods and craft techniques native to the region, the lodge houses fifteen standalone single bedroom kothis and three standalone double bedroom kothis with a shared dining space. Each kothi is a spacious double storey building that includes a cool shaded courtyard and upper deck veranda that overlooks waterways and beyond to the dense forest. Equally luxurious in its approach, each kothi boasts of a private pool inspired by the characteristic Indian step wells.
This article is an all exclusive from our November Bookazine. To read the entire article, grab your copy here.
Text
Unnati Saini
Date
04-03-2023