The self is merely an extension of nature, and to protect one is to protect the other. With each passing day, climate change continues to be a pressing concern. Living in a consumerist society, it is our duty to the Earth to try and be as sustainable as possible. An environment-friendly approach towards living, not only helps the planet, but is also a lot cleaner, safer and healthier for our own selves. Ergo, eco-conscious organic living is the trend to follow. Hence, we bring you a curated list of homegrown labels that provide handcrafted soaps, shampoo bars and skincare, made using natural products only.
Mollis Soaps
Mollis Soaps is increasingly making a mark in the world of sustainable skincare. The natural soaps produced by this line incorporates a cold-press method, which ensures zero wastage. Their raw materials are locally sourced and made by hand, making the brand truly Indian. Utilising essential oils or fragrance oils, their mantra remains 'better for your skin and for the planet'. And so, all their products are paraben and SLS free. Be it Lavender Patchouli, Jasmine Oatmeal, Vanilla and Coffee, Sweet Orange and Patchouli or Eucalyptus and Tea Tree, they know how to channel the goodness of the earth.
.Life
.Life or pureliving.life is a brand committed to nature. They endeavour to celebrate the natural, which is reflected in their brand collection that features everyday objects and experiences, as they themselves claim. Their minimalist ideal pays homage to handmade processes, revisiting the ideals of self-sufficiency. Using reduced resources, they not only produce cold-process soaps, but also have a line of ceramics, candles and shampoo bars. In an effort to elevate our everyday, their soaps use ingredients such as essential oils, turmeric, hokum butter, honey, herbs, patchouli, lemongrass and all things available locally. The world is slowly recognising the need for zero waste shampoo bars and soaps, which are vegan and free from detergents, paraben, silicone, sulphates and synthetic fragrances and dyes, and .Life is providing a brilliant alternative.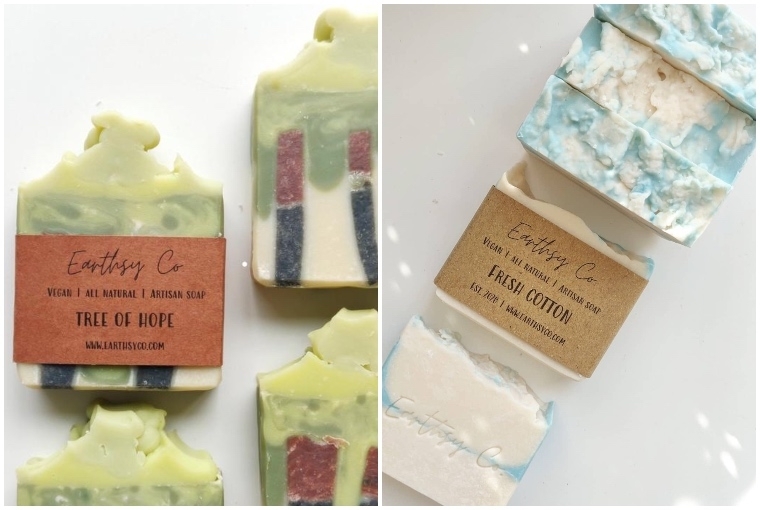 The Switch Fix
'Where self care meets planet care' is the leading line for The Switch Fix. They wanted to create a well-balanced, sustainable and healthier world, and they're doing everything they can to that end. Only taking form the Earth that which is absolutely necessary, The Switch Fix's shampoos bars, conditioners, lip balms, and a host of other skincare products, are non-polluting to water sources when rinsed down the drain, plant-based, cruelty-free, paraben and sulphate free and non-toxic. Furthermore, their packing is entirely plastic free, which is clearing a new path for both consumers and producers. Their clean and conscious collection breaks free from years of chemical-use and provides the body with the nourishment it truly requires.
Earthsy Co.
Small businesses have a knack for packaging their products with love, effort and care. Earthsy Co. is a female-owned and run label, with special attention given to nature. Caring for the skin, this brand offers a range of gentle and handcrafted vegan bath soaps. Key ingredients include organic coconut oil, olive oil and a host of butters, alongside lavender, coffee, mint, eucalyptus, cinnamon, orange, and many more. In addition to these body bars, soap dishes made of neem wood are also available on their online store. Made in small batches in a home studio, quality is insured in these cold-process soaps. Their packaging is made of eco-ware and features a personalised note, making each purchase a heartfelt endeavour for both the producer as well as the customer.
Text Devyani Verma
Date 28-05-2021