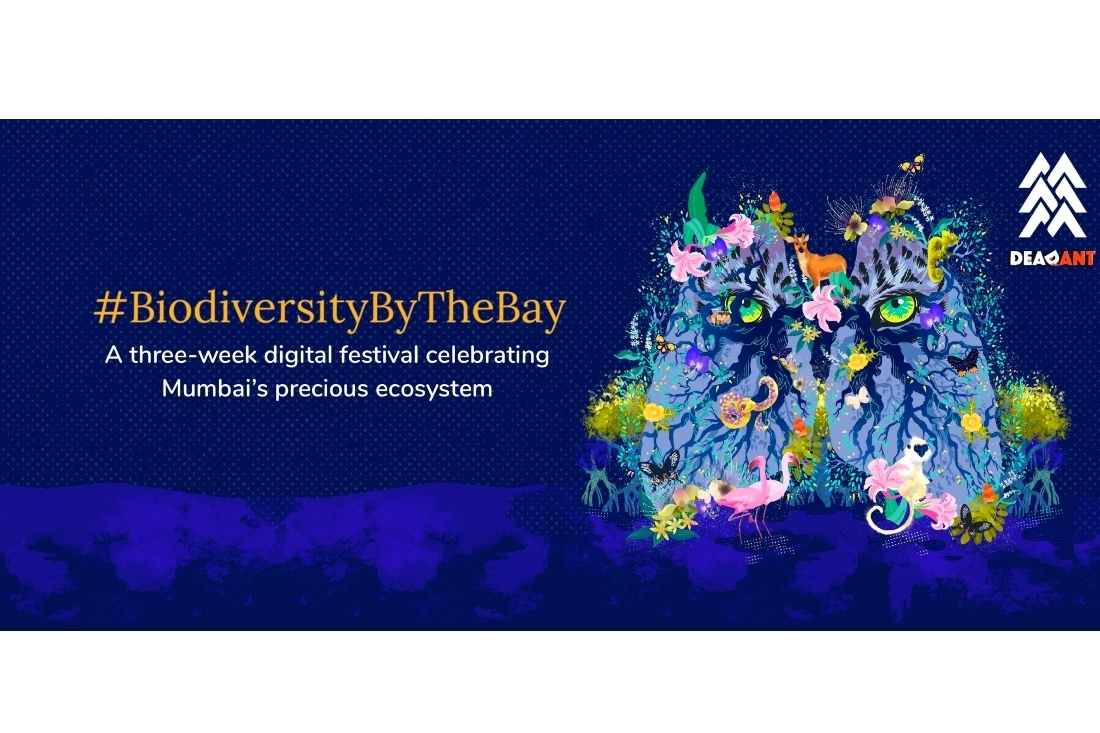 Biodiversity By The Bay is a festival of music, art and comedy to raise awareness around climate issues and celebrate Mumbai's diverse ecosystem. The three week festival is being hosted across Instagram and YouTube and includes special performances by Jose Covaco , Shilo Shiv Suleman , Anushka Manchanda and many more. The free to attend digital festival has been put together by Ministry of Mumbai's Magic , a new collective committed to raising awareness around Mumbai's pressing climate issues and DeadAnt, India's first and only entertainment, news and new-media company dedicated to comedy.
Split into three sections of music, art and comedy Biodiversity By the Bay kicked off on 5th October with a week of special online music performances including Kolkata based pop duo Parekh + Singh ; singer model and actress Anushka Manchanda aka Nuka, who has gone on to have a celebrated and diverse solo career after coming to prominence with Indipop group Viva!; and Blot! who are renowned for pioneering minimal, modern house and techno music in India. Other musicians include Nikhil D'souza , Tejas and Dee MC, live with Poetik Justice.
The second week (11-20 October) will see a host of artistic interventions , where artists and designers launch new works which respond to Bombay's ecosystem. The selection of artists is an impressive one with names such as Shilo Shiv Suleman and Pia Alize, who have created artworks to continue raising awareness around the Aarey forest; and Shweta Malhotra who is producing work celebrating Mumbai's Flamingos. The festival ends with a five days of comedy (20-25 October) including live sets from Kunal Rao, a pioneer of Indian standup and co-founder of East India Comedy; Mumbai based comedian and host of The Anti Social Network José Covaco ; and Daniel Fernandes , one of the biggest stand-up comics in India right now and known for his dark and irreverent style. Other performances include stand-up artist Prashasti Singh, film director and screenwriter Anu Menon, and the hosts of the weekly comedy podcast The Internet Said So.
Biodiversity By The Bay is part of the Ministry of Mumbai's Magic's broader campaign to use digital and social action to help protect Mumbai's ecosystem and celebrate what makes the city special. Set up by a collective of Mumbaikars, Ministry of Mumbai's Magic believes in the idea of Mumbai as a city where climate consciousness and modernity are synonymous. Made up of organisations including Waatavaran, a climate non-profit, and Civis, an organisation that works to ensure public opinion is heard, they have created a list of demands that will be presented to civic bodies and policy makers within the government of Maharashtra.
The team hopes that Biodiversity By The Bay will be more than the usual digital festival and emerge as a campaign to build a community of young Mumbaikars who use their creativity and collective voice to fight for Mumbai's biodiversity. "We are delighted to be working with the Ministry of Mumbai's Magic on this project. We have put together a really strong lineup of artists, musicians and comedians. But most importantly, this is a lineup of people who care passionately about the environment and Mumbai's rich ecosystems, using their craft to spread awareness and talk to young audiences about the urgent need for their attention."—Ravina Rawal, Founder & Editor-in-Chief DeadAnt.