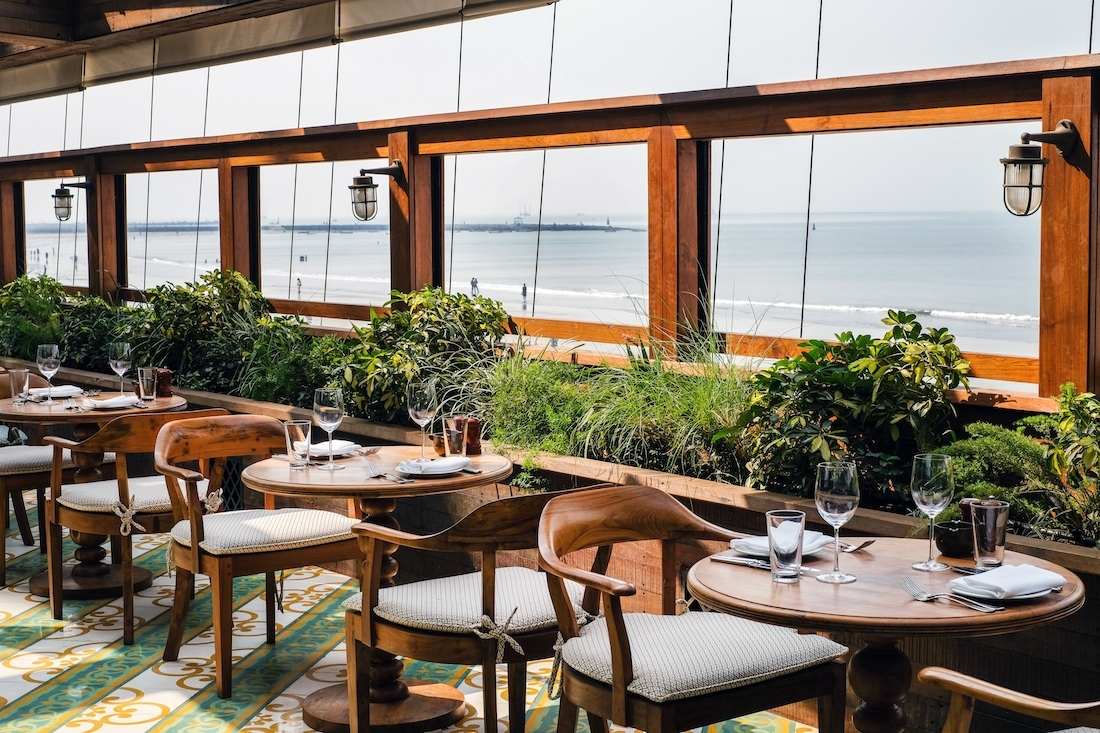 For those who love both cocktails and the sea, margaritas by the beach is a dream no more as Cecconi's Mumbai joins sister restaurants in London, New York, Miami, West Hollywood, Istanbul, Barcelona, Berlin and Amsterdam. The restaurant situated at the ground floor of Soho House, Mumbai overlooks the sea and makes for the perfect backdrop for a round of evening cocktails and coffee shots.
The restaurant has both inner and outer seating, but as I walked into the space with a friend after a tiring day at work, I knew I wanted the table overlooking the Juhu Beach. As we started with our usual rants about the mundane, we found ourselves looking at the people at the beach. We saw them enjoy the simple pleasures of life- a group of men played volleyball, couples camouflaged and families with kids took dips into the sea. This sets the mood for the rest of the evening as we sat back, laughed and discussed how Mumbai tends to always bring solace.
The restaurant has glass chandeliers, warm timber and rattan panelling with antique Indian handmade brass lights. There is an L-shaped marble bar and a seating area with leather banquettes and Indian cut-glass lights. Outdoors, there are rattan chairs, tables and plants lining the terrace. It's both green with its interior and blue with the overlooking exterior (the sea) so the colour palate is a combination of calm and cosy.
We're offered a menu with a wide range of cocktails and food to choose from. The staff is kind enough to recommend dishes after we describe our taste buds. We order the Cocomero, the ideal refreshing watermelon cocktail and Cecconi's Spritz which is Bombay Sapphire, house chinotto and Sparkling wine and it most definitely makes for my favourite drink from the evening.
We ordered the Baked gnochi romana, gorgonzola and Buffalo mozzarella, tomato, basil wood fired pizza, and Chicken paillard. Though I can't think of an ideal time of the day for Cecconi's since it has meals for all moods of the day, the newly curated five to eight menu sounds like an ideal way to spend the Mumbai monsoon. We also recommend the menu Del Giorno which is a special 2-3 course set menu by head chef Luca D'Amora consisting of nine new Italian dishes.

Text Priyanshi Jain