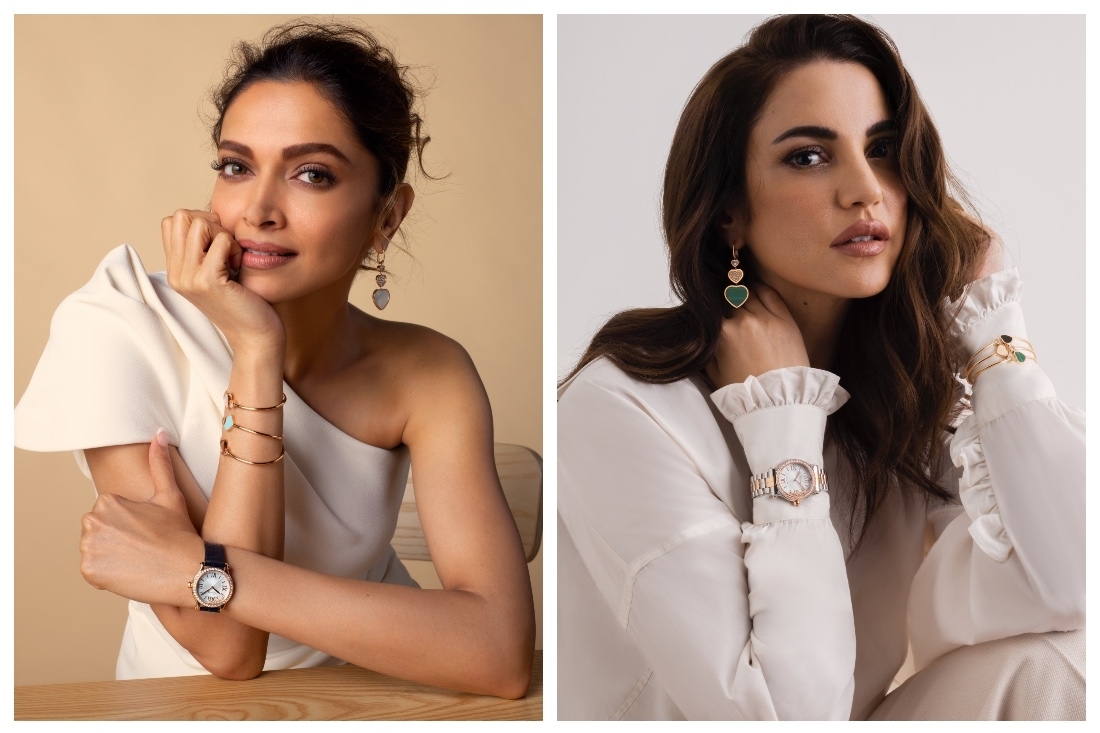 Deepika Padukone- VIVIENNE+TAMAS
Diamonds symbolising a call to freedom and happiness: an iconic emblem permeating jewellery and watchmaking alike, Happy Diamonds are a powerful anthem to joy that resounds around the world with unmistakable panache. A legendary Chopard signature, whose colours are now flown by seven Happy Women who, each in their own way, shape the world and personify an irrefutably free-spirited attitude. Happy Diamonds tell the story of a world on the move, in which diversity, freedom and radiance are conveyed like a burst of laughter that delights every heart in its path. With an enchanting smile, seven Happy Women, from the four corners of the world, make the Happy Diamonds codes their own and stage the vibrant energy of their perpetual movement. Deepika Padukone, Aja Naomi King, Jung Ryeo-Won, Sadie Sink, Anne Nakamura, Dorra Zarrouk and Yang Zi exemplify the perpetual rebirth of Happy Diamonds.
It is a sunny wave that vibrates, undulates and spreads at lightning speed like good news: a perpetual movement of the heart that carries the world along with it. In a wide-ranging campaign, Chopard's Co-President and Artistic Director, Caroline Scheufele, presents the iconic Happy Diamonds, talismans that epitomise freedom and Joie de Vivre with peerless charisma. In their dazzling whirl, they have consistently embraced the twists of history through infinite transformations, while contributing the strength of their independent spirit. Is it a watch? A piece of jewellery? Dancing diamonds are equally elegant in both realms, but they are, above all, a flash of wit. Happy Diamonds are Françoise Sagan speeding along in a sports car on her way to a dance, Anita Ekberg bathing in the fountains of Rome: images that have always instilled a sense of joy and which tirelessly sweep us along on a tide of personal reinventions. Happy Diamonds is also a constellation of free-spirited and stunning women giving a face to this energy, which makes its way through the ages while remaining as vibrantly alive as ever.
Caroline Scheufele has chosen seven Happy Women with unparalleled influence to embody Happy Diamonds. Seven Friends of the Maison who represent, each through in their own way, a strong, free, joyful way of living in the world and of owning the spirit of the era. Deepika Padukone, Aja Naomi King, Jung Ryeo-Won, Sadie Sink, Anne Nakamura, Dorra Zarrouk and Yang Zi have all grasped the codes of their time to blaze their trail in a manner that is both singular and generous. Theirs are powerful voices that resonate with that of Karin Scheufele -- Caroline Scheufele's mother -- who once exclaimed, faced with the first sketches of the future Happy Diamonds: "diamonds are happier when they are free." A wealth of life paths that intertwine, create links and emotions, and give new texture to Joie de Vivre.

Date 27-05-2021