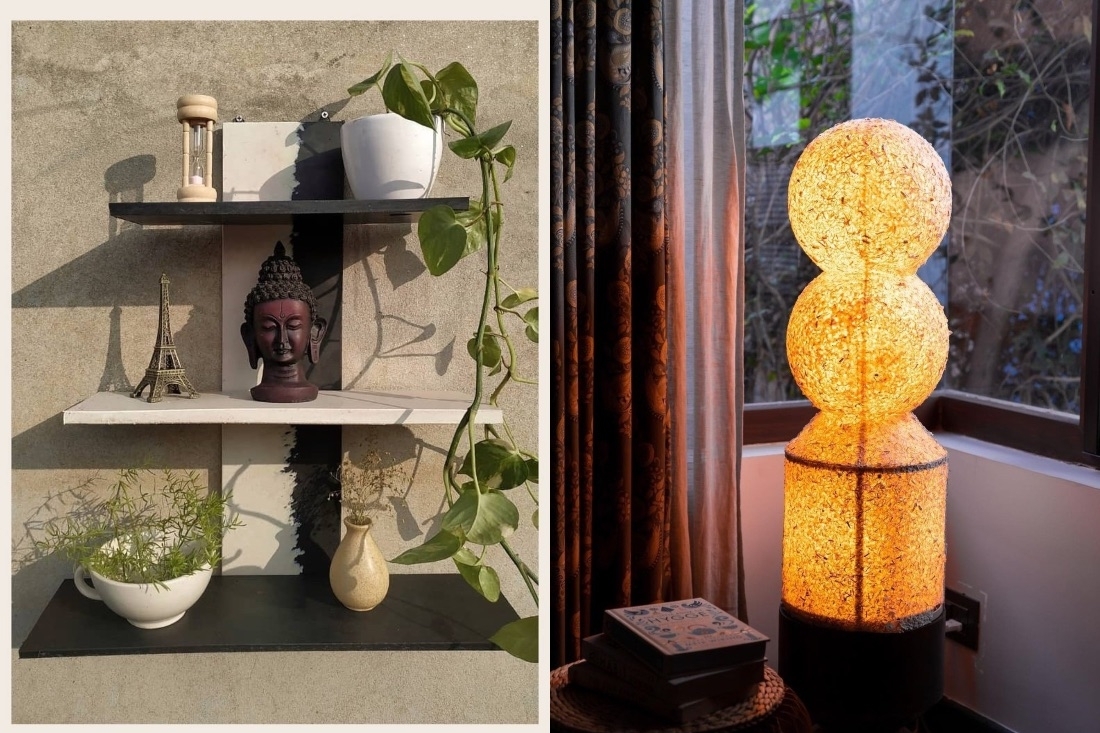 At a global level, 400 million tonnes of plastic waste is generated annually. The environmental impact of this can now be witnessed in the form of critical climate change. As consumers living in an overwhelmingly capitalist society, it becomes our responsibility to adopt sustainable practices. From sanitary products to home decor, our everyday life is ridden with toxic non-biodegradable waste, which adds immense pressure on our planet's powers of regeneration. In an attempt to introduce ecologically ethical and conscious living to our daily lives, we bring a list of brands that produce and promote recycled, upcycled and repurposed homeware and lifestyle products.
Porul ReStored
Porul ReStored believes in people's choice to to consume responsibly, to buy what's better, what's reusable, what's recyclable, what produces less waste and improves the overall wellbeing of all. This home decor brand works with reclaimed wood, clay, pottery and fabrics, and anything that can be recycled and repurposed. Their range of products features pallet furniture, which is made using recycled wooden pallets, usually pine wood. From a shelf to a bed, Porul ReStored has your home covered. Reusing wooden pallets not only reduces waste, but also promotes the green cover, by avoiding the cutting down of trees to make furniture. Their recent designs feature eco-friendly feeder bowls for your pets, Edison lamps and home bars, which offer a chic alternative to mass-produced goods. They also practice fair trade when it comes to their artisans. Sustainable home interiors are ethically crafted and Porul ReStored is the up-and-coming brand to bring home.
Samsāra - The Recycle Company
As part of the global community Precious Plastic, intent on developing solutions to reuse plastic waste, Samsāra is a design and manufacturing house, churning out trendy homeware decor. Creating a range of ethical products, from key chains and coasters to elegant lamps, centre tables and multipurpose shelves, is Samsāra's goal. 'The materials we use, where and how they are sourced, and their ecological impact are all factors that we wanted to take into consideration before we launched a product in the market,' say co-founders Pradyumna K Rao and Mridhula Chandramohan. This young company is leading the new generation in their endeavour to live consciously. As designers, their products are chic yet quirky, aesthetic yet functional. Each product is tasteful, unique and carefully crafted, ensuring utmost quality.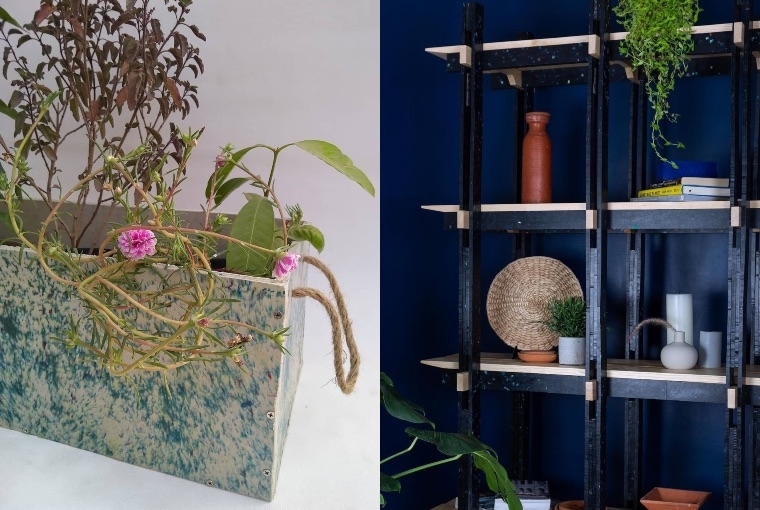 Econiture
Madhur N Rathi, along with Roshan Pidiyar, Bhushan Boob and Ashish Modak, established Recycle Bell Private Limited, a waste management company, after being inspired by a waste management conference. By minimising and diverting waste that's being sent to landfills and oceans, RE-BELL recycles dry waste material into new products. Thus emerged Econiture, a venture to turn waste into homeware. Offering chairs, bar stools, multipurpose shelves, stands and outdoor furniture, Econiture marries minimalistic design with conscious consumption. In their own words, 'the recycled plastic lumber is nonporous, nontoxic and a clean product, free from any metallic inclusions.'
Eco Deco - The Recycle Company
Eco Deco - The Recycle Company's mission is to transform how society manages its used materials, to move away from single-use and throwaway culture. Instead, they want to enable a culture where waste itself is eradicated and 'everything helps in building a better, circular economy model.' To tackle the problem of increasing climate change, Eco Deco aims to reduce carbon dioxide emission, by replacing virgin plastic products with their recycled plastic material. What makes them unique is that in addition to their own line of eco-friendly products, the startup also manufactures recyclable panels, which can be used in making sustainable and green building designs. They even incentivise individuals and corporations to donate their waste, which Eco Deco then converts into beautiful custom designs for a minimal processing fee. From planters and shelves to benches and dustbins, Eco Deco does it all. The company is urging people to make environmentally conscious choices, through their innovative designs.
Text Devyani Verma
Date 30-07-2021