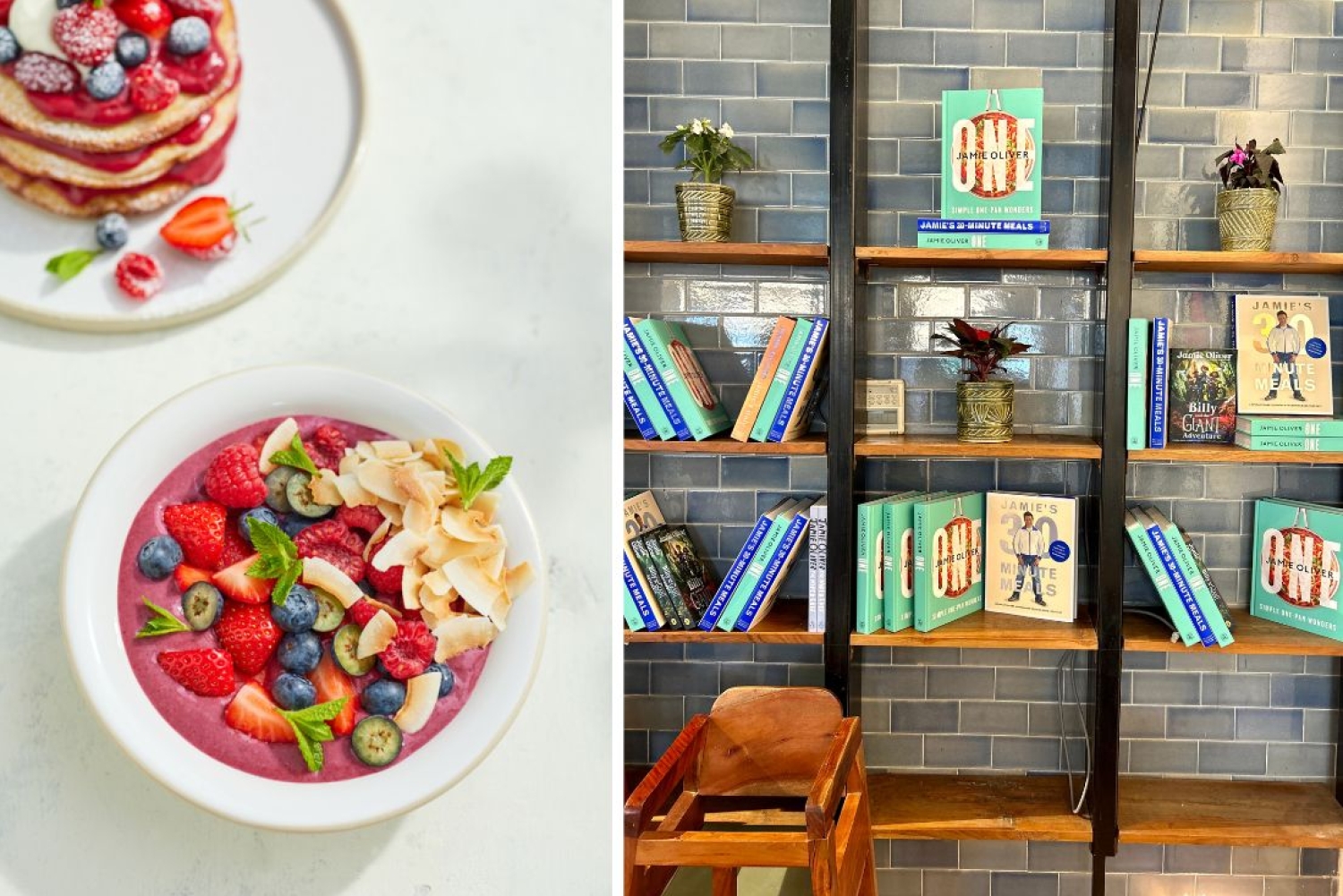 Jamie Oliver's Kitchen Cafe
An amalgamation of Jamie Oliver's culinary journey across the globe and his love for local produce & flavours has been the driving force for bringing his new outfit to life. The teams in India and the UK have collaborated to curate an experience tailored exclusively for the Indian market. The result is an incredible all-day menu steeped in the Jamie Oliver ethos – a celebration of fresh, thoughtfully sourced ingredients, served with an abundance of love and care. Welcome the Jamie Oliver's Kitchen Cafe!
Akin to the warmth of a memorable holiday brunch, the café decor draws inspiration from the essence of lazy afternoon coffees and sun-kissed al fresco summer lunches among friends. The space is an inviting blend of contemporary design and vivid pops of colour, fostering a rejuvenating atmosphere that transcends every meal.
Dive into a world of flavour with the all-day dining menu, featuring breakfast classics ranging from the must-have omelet to everyone's favourite Avocado toast and the refreshing Açai bowl that has fresh seasonal fruits & berries. But the café doubles up as space for work as well. There's a corner library for people seeking both culinary inspiration and a cozy corner for their projects.
Jasper Reid, CEO of Dolomite, expressed his enthusiasm, stating "This is a really great day for our customers and for Jamie's. We've known and admired FabIndia for decades and are so proud to be teaming up with this iconic Indian brand to launch our new cafés. The café are all about fresh and yummy food served all day with super service and good energy. And like all Jamie's offers, ingredients are very carefully sourced and menus are based on nutritional balance and integrity. We are bursting with excitement at the chance to serve more customers and get their feedback. Our café provides a seamless blend of exceptional food, inviting ambience, and versatile spaces that cater to different moments of the day."
The menu showcases the very best of Jamie Oliver, offering diners delicious, accessible food from a diverse and exciting menu that celebrates Jamie's journey through food. Guests can expect some great healthy, vegan options like their Sunshine Jackfruit Curry, Sunshine Salad Bowl, Tofu and Avo club, Smashed Chickpea Sandwich. For the meat lovers, they've got their signature Tuna wrap, Next level chicken burger and fully loaded Breakfast Bun.
"All of our ingredients are meticulously sourced with the utmost integrity in terms of welfare and provenance, with absolutely no compromise, because that's what makes us stand apart," shares Jamie Oliver. The cafe's commitment to dietary diversity is noteworthy. Their menu has plenty of innovative vegan options and features a gluten-free pasta selection. All the food is made with locally sourced organic produce including their creamy avocados, spring water tune and free-range eggs. Whatever you're in the mood for, they've got you covered. The beverage menu is equally expansive, offering contemporary choices to complement every dish.

Words Hansika Lohani
Date 31.08.2023