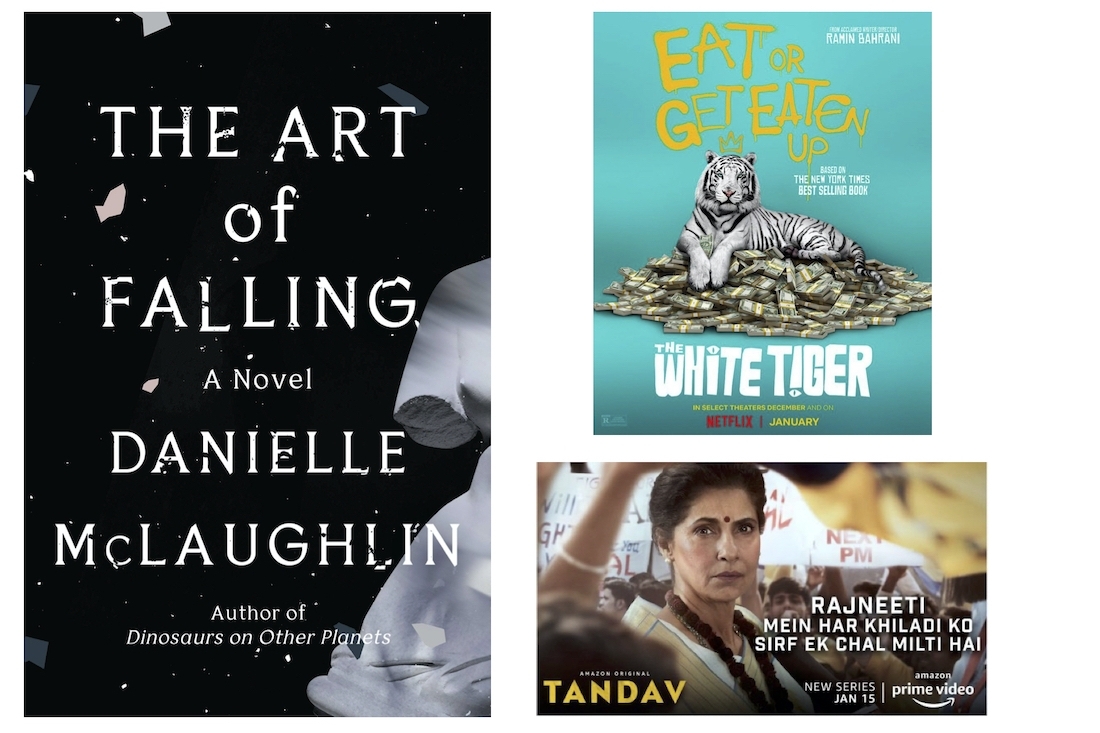 Must Calendar: January 2021
MUST READ
Let Me Tell You What I Mean by Joan Didion
From one of our most iconic and influential writers: a timeless collection of mostly early pieces that reveal what would become Joan Didion's subjects, including the press, politics, California robber barons, women, and her own self-doubt. In 'Why I Write,' Didion ponders the act of writing: 'I write entirely to find out what I'm thinking, what I'm looking at, what I see and what it means.' From her admiration for Hemingway's sentences to her acknowledgment that Martha Stewart's story is one 'that has historically encouraged women in this country, even as it has threatened men,' these essays are acutely and brilliantly observed. Each piece is classic Didion — incisive, bemused, and stunningly prescient.
A Swim in a Pond in the Rain: In Which Four Russians Give a Master Class on Writing, Reading, and Life by George Saunders
For the last twenty years, George Saunders has been teaching a class on the Russian short story to his MFA students at Syracuse University. In A Swim in a Pond in the Rain, he shares a version of that class with us, offering some of what he and his students have discovered together over the years. Paired with iconic short stories by Chekhov, Turgenev, Tolstoy, and Gogol, the seven essays in this book are intended for anyone interested in how fiction works and why it's more relevant than ever in these turbulent times. A Swim in a Pond in the Rain is a deep exploration not just of how great writing works but of how the mind itself works while reading, and of how the reading and writing of stories make genuine connection possible.
The Art of Falling: A Novel by Danielle McLaughlin
Nessa McCormack's marriage is coming back together again after her husband's affair. She is excited to be in charge of a retrospective art exhibition for a beloved artist, the renowned late sculptor Robert Locke. But the arrival of two enigmatic outsiders imperils both her personal and professional worlds. As Nessa finds the past intruding on the present, she realizes she must decide what is the truth, whether she can continue to live with a lie, and what the consequences might be were she to fully unravel the mysteries in both the life of Robert Locke and her own. In this gripping and wonderfully written debut, Danielle McLaughlin reveals profound truths about love, power, and the secrets that define us.
The Good Girls: An Ordinary Killing by Sonia Faleiro
The girls names were Padma and Lalli, but they were so inseparable that people in the village called them Padma Lalli. Sixteen-year-old Padma sparked and burned. Fourteen-year-old Lalli was an incorrigible romantic. Then one night in the summer of 2014 the girls went missing; and hours later they were found hanging in the orchard. Who they were, and what had happened to them, was already less important than what their disappearance meant to the people left behind. In the ensuing months, the investigation into their deaths would implode everything that their small community held to be true, and instigate a national conversation about sex and violence. Slipping deftly behind political manoeuvring, caste systems and codes of honour in a village in northern India, The Good Girls returns to the scene of Padma and Lalli's short lives and shameful deaths, and dares to ask: what is the human cost of shame?

MUST WATCH
Tandav
Set in the capital city of the world's largest democracy, Tandav, the series will take viewers inside the closed, chaotic corridors of power and uncover the manipulations, charades as well as the dark secrets of people who will go to any lengths in pursuit of power. The Amazon Prime Original stars Saif Ali Khan and Dimple Kapadia in pivotal roles.
The White Tiger
Priyanka Chopra and Rajkummar Rao are supporting acts in Ramin Bahrani's adaptation of Aravind Adiga's Booker Prize-winning novel of the same name, which follows an ambitious man (debutant Adarsh Gourav) from the so-called lower castes who starts work as a driver for a rich family (Chopra and Rao). The White Tiger dissects the severe class issues that run through India. The film will release on Netflix.
Pieces of a Woman
Vanessa Kirby won best actress at Venice Film Festival for her role in this Netflix drama from Kornél Mundruczó. After a home birth ends in tragedy, a woman (Kirby) must deal with her husband (Shia LaBeouf) and her domineering mother (Ellen Burstyn), and navigate a trial involving the midwife (Molly Parker). The film has been highly praised as an outstanding study of grief.
Losing Alice
Releasing on Apple TV+, Losing Alice is a thrilling cinematic journey that uses flashbacks and flash-forwards in a satisfyingly complex narrative that takes the viewer through the conscious and subconscious of its protagonist's mind. Through the prism of this female Faust, Alice, the series explores issues such as jealousy, guilt, fear of aging, and the complex relationships women have among themselves and each other.

MUST LISTEN
Drake's Certified Lover Boy
Certified Lover Boy is the upcoming sixth studio album by Canadian rapper Drake. It is scheduled to be released in January 2021 through OVO Sound and Republic Records.
Justin Bieber's Anyone
Post the announcement during an Instagram live in April 2020, Canadian singer, songwriter Justin Bieber finally released his track Anyone in the New Year. The song is written by Bieber, Michael Pollack, Raul Cubina, and produced by Andrew Watt, Jon Bellion and The Monsters & Strangerz.
Pearl Charles' Magic Mirror
Pearl Charles' upcoming release Magic Mirror follows the cartography of a girl, growing into a woman, as she moves through life from singledom, to the expansive space of self-reflection, and the newly appreciated perspective of coming back together again and finding yourself, this time with someone new.
Rhye's Home
Home is centred around the idea of home as the core of creativity and community. It's familiar in its synthesis of propulsive beats, orchestral flourishes, piano rumination and sultry, gender-nonconforming vocals, but never have they sounded more cohesive or alive.