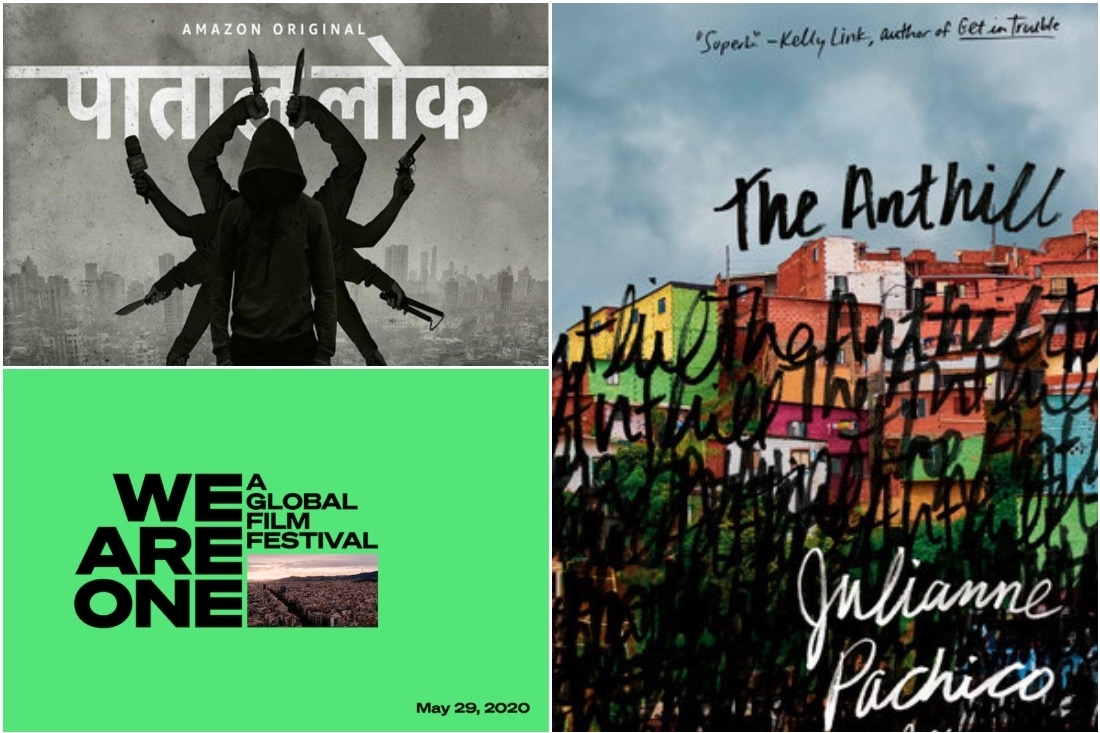 MUST WATCH
A Beautiful Day in the Neighbourhood
This new movie on Amazon Prime Video focuses on the real-life story of an Esquire journalist (Tom Junod) who is assigned to write a profile of TV personality Fred Rogers (Tom Hanks), who is better known as Mister Rogers. The movie takes you through their interview, the beautiful journey shared by the two men and the story of Fred Rogers' kindness.
Release Date: May 1
Becoming
Join former first lady Michelle Obama in an intimate documentary releasing on Netflix this month, looking at her life, hopes and connection with others as she tours with 'Becoming'.
Release Date: May 6
Gamak Ghar
In a north Indian village, a family reunites at their ancestral house to celebrate a new birth in the family. It's a joyous, carefree occasion. Over the next two decades, through festivals and feasts, births and deaths, the film observes the house age, and the relentlessness of passing time straying and fraying familial ties. The movie will be releasing on MUBI this month.
Release Date: May 10
Schitt's Creek Season 6
The final season of the Emmy nominated and critically acclaimed comedy series, is coming to Netflix this month.
Release date: May 14
Pataal Lok
A brand new Indian original series is about to join the list of new shows and movies on Amazon Prime Video that are releasing in May. This gritty crime show is produced by Anushka Sharma's Clean Slate Films and promises to explore the 'dark and sinister by-lanes of human immorality'.
Release Date: May 15

MUST READ
The Anthill by Julianne Pachico
A wildly original blend of social horror and razor sharp satire, The Anthill is a searing exploration of privilege, racism, and redemption in the Instagram age.
Funny Weather: Art in an Emergency by Olivia Laing
Laing's latest, Funny Weather: Art in an Emergency makes the case for art in a time of perpetual crisis, proffering it less as a solution to the endless tumult of manmade disaster but rather an antidote to the pervasive poisons of modern life.
Why is my hair curly? by Lakshmy Iyer
Meet 10-year-old Avantika, adopted at the age of six months. In a family where everybody has sleek, straight hair, she has a head full of unruly curls. Interspersed with illustrations, the protagonist's preoccupation with her hair becomes a starting-point for conversations about genetics and the fabric of a family.
Indelicacy by Amina Cain
A haunted feminist fable, Amina Cain's Indelicacy is the story of a woman navigating between gender and class roles to empower herself and fulfil her dreams.

MUST ATTEND
JLF Brave New World
The iconic Jaipur Literature Festival's literary series is a virtual initiative to celebrate books, their power and positivity during the nationwide 21-day coronavirus lockdown. The line-up includes names like Jhumpa Lahiri, Jeet Thayil, Pico Iyer, Shashi Tharoor, and more. The initial sessions of the series will run on the official social media platforms of the Festival and will be free and open to all. Going forward, attendees can access sessions on the official website of Jaipur Literature Festival by registering on the website. There will be live question and answer sessions at the end of every session with the audience.
Where: Across Jaipur Literature Festival's social media platforms
When: Every Wednesday and Saturday, two sessions per day, 7pm IST.
Reading Space by Pan Macmillan India
Pan Macmillan India will upload videos and articles every Tuesday of the month from their authors wherein they tell you what they do apart from writing in terms of their profession, their interests and skills, their ways of contributing to society and nature and their recommendations about finding your true self; you will be amazed to find what inspires them to write and entertain us.
Where: Across all Pan Macmillan India's social media channels
When: Every Tuesday
Met Opera Streams
Met recently launched "Nightly Met Opera Streams," a free series of encore Live in HD presentations streamed on the company website during the coronavirus closure. "We'd like to provide some grand opera solace to opera lovers in these extraordinarily difficult times," said Met General Manager Peter Gelb. "Every night, we'll be offering a different complete operatic gem from our collection of HD presentations from the past 14 years."
Where: metopera.org
When: 5:00 a.m. IST onwards (stays for 23 hours post the time), everyday this month.
Baithak by HCL Concerts
A series of exclusive evenings of classical melodies will feature over 25 young and senior artists in exclusive live concerts that you can enjoy from the comfort of your home.
Where: Facebook Live on HCL Concerts Facebook Page
When: On Monday, Wednesday and Friday, 7p.m. onwards
WE ARE ONE: A Global Film Festival
Discover and watch films during this first ever 10-day global film festival co-curated by over 20 film festivals from across the world. All funds raised during the festival will benefit COVID-19 relief funds. The festival will feature programming curated by the Annecy International Animation Film Festival, Berlin International Film Festival, BFI London Film Festival, Cannes Film Festival, Guadalajara International Film Festival, International Film Festival & Awards Macao (IFFAM), Jerusalem Film Festival, Mumbai Film Festival (MAMI), Karlovy Vary International Film Festival, Locarno Film Festival, Marrakech International Film Festival, New York Film Festival, San Sebastian International Film Festival, Sarajevo Film Festival, Sundance Film Festival, Sydney Film Festival, Tokyo International Film Festival, Toronto International Film Festival, Tribeca Film Festival and Venice Film Festival.
Where: https://www.youtube.com/weareone
When: May 29th onwards