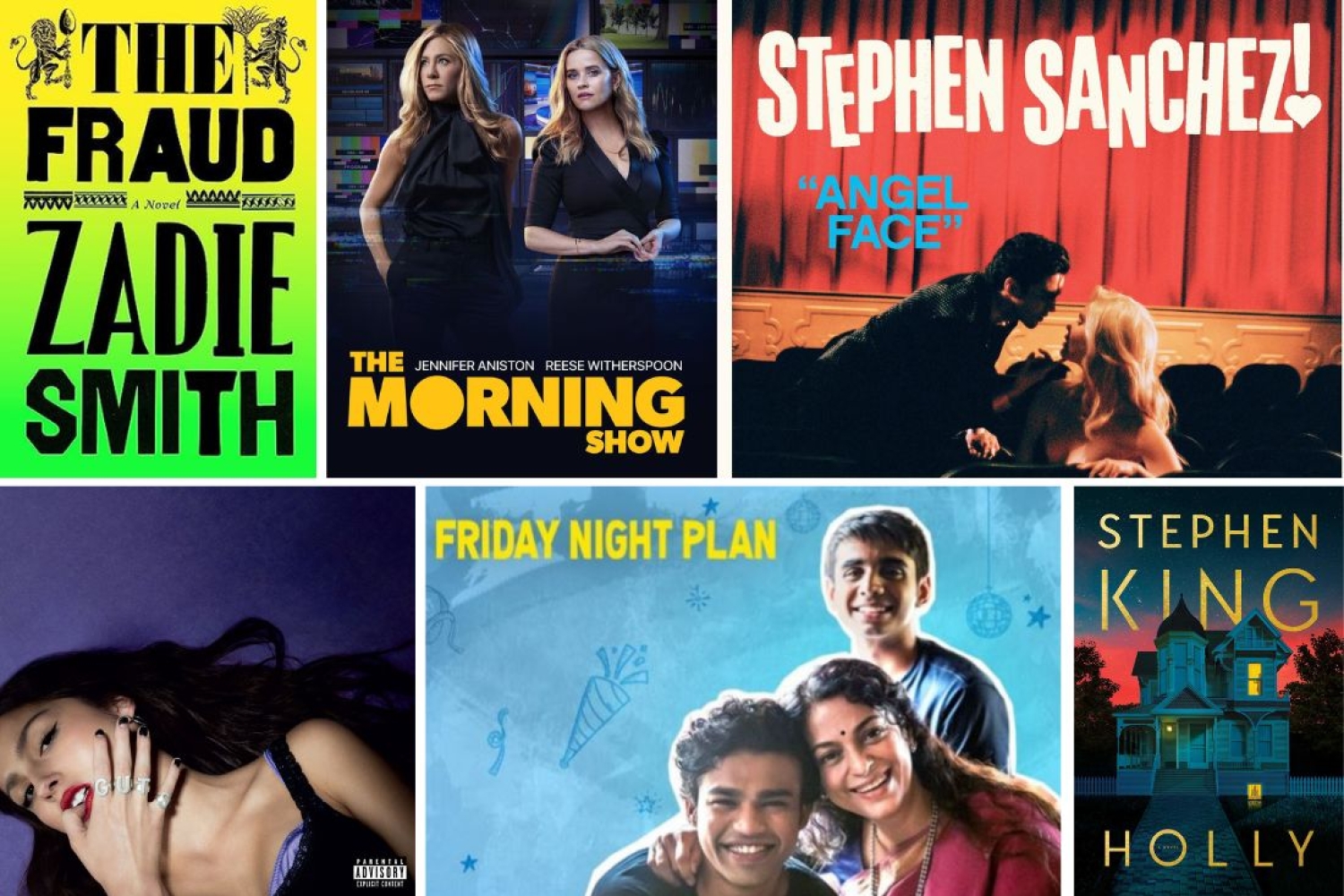 Must Calendar: September 2023
The ultimate guide to the essential readings, must-see films, and captivating tunes for this month. Your go-to definitive Platform Calendar. From the books of award-winning writers to fun films and indie music, we recommend you the best that is coming out soon.

Must Read

The Fraud by Zadie Smith
Penguin Press recently announced that they will be publishing Zadie Smith's next novel The Fraud on September 5, 2023. The Fraud is a kaleidoscopic work of historical fiction set against the legal trial that divided Victorian England, about who deserves to tell their story — and who deserves to be believed.
Holly by Stephen King
Stephen King's Holly marks the triumphant return of the beloved King character Holly Gibney. Readers have witnessed Holly's gradual transformation from a shy recluse in Mr. Mercedes to Bill Hodges's partner in Finders Keepers to a full-fledged private detective in The Outsider. In King's new novel, Holly is on her own, and up against a pair of unimaginably depraved and brilliantly disguised adversaries.

This Is Salvaged: Stories by Vauhini Vara
Pushing intimacy to its limits in prose of unearthly beauty, Vauhini Vara explores the nature of relationships between self and others. In the title story, an experimental artist takes on his most ambitious project yet: constructing a life-size ark according to the Bible's specifications. The characters in This Is Salvaged, unmoored in turbulence, are fervently searching for meaning, through one another.

Must Listen

Guts by Olivia Rodrigo
Following the success of her debut album, Guts is the upcoming second studio album by American singer-songwriter Olivia Rodrigo. It is scheduled to be released on September 8, 2023, through Geffen Records. The lead single "Vampire" was released earlier this year. Rodrigo hopes for this album to be playful and happy, while also touching upon the things she's learned over the past two years.

The Land Is Inhospitable and So Are We by Mitski
This is the upcoming seventh studio album by American singer-songwriter Mitski, scheduled to be released on September 15, 2023, through Dead Oceans. This album explores love as an inhospitable land, which beckons us, and then rejects us.

Angel Face by Stephen Sanchez
Set to release towards the end of September, singer of the global hit, Until I Found You, Stephen Sanchez, is all set to release his debut album, Angel Face. The intention behind this album is to feel connected to the moments of great love and heartache in our lives.
Must Watch

The Morning Show Season 3
Reese Witherspoon and Jennifer Anniston come together for the 3rd edition of this newsroom drama, set to return after almost two years. The new trailer shows the rivalry between anchors - Alex Levy, played by Jennifer Aniston, and Bradley Jackson, played by Witherspoon, and how their lives in the newsroom are getting more challenging as the new tech titan Paul Marks, played by Jon Hamm, takes an interest in UBA, the fictional news channel.

Jaane Jaan
Jaane Jaan is Kareena Kapoor Khan's OTT debut, where she plays the striking role of a mother with actor Vijay Verma, playing the role of handsome police officer. The film also features actor Jaideep Ahlawat. Directed by Sujoy Ghosh, the crime thriller will be out on Netflix on September 21st. The film is based in Kalimpong and is the official adaptation of the bestselling novel Devotion of Suspect X by Keigo Higashino.

The Kill Room
Starring Uma Thurman and Maya Hawke, The Kill Room is a dark comedy thriller film directed by Nicol Paone and written by Jonathan Jacobson. The plot follows an art dealer, who teams with a hitman and his boss for a money laundering scheme that accidentally turns the hitman into an overnight avant-garde sensation, forcing the dealer to play the art world against the underworld.

Friday Night Plan
A high school drama starring Babil Khan, Amrith Jayan and Juhi Chawla, Friday Night Plan is set to be a heartwarming narrative of self-discovery and companionship. Brought to you by Excel Entertainment, this is Babil Khan's second on-screen project, following the success of Qala.

Words Neeraja Srinivasan
Date 31.08.2000