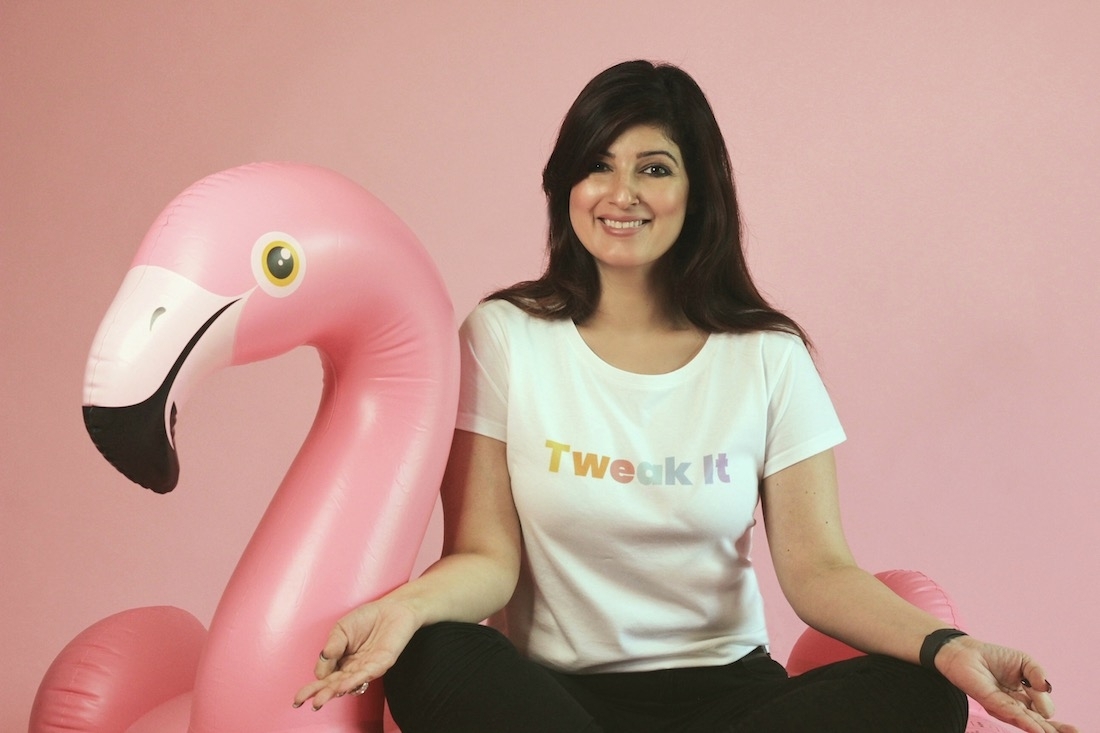 Of woman, for woman, by women
Twinkle Khanna, Tweak
From twirling her frilly Spanish skirt in Barsaat to turning around the Indian narrative of the way women in India live, Twinkle Khanna has evolved, along the way, into many interesting people–actor, mother, author and now changemaker. Her collaborative online project, Tweak, aims to talk to the Indian woman about the things that truly affect her, and the course that may empower her in day-to-day living. Twinkle's own journey at creating this platform is an interesting one.

Looking back at your journey, what have been the major experiences and learnings over the past two decades and how have these shaped you into the person that you are today?
I don't know if I could encompass all my experiences into brief words. They say you need to spend 10,000 hours on something to master it. I seem to be spending those hours, if not mastering them at least getting very comfortable with it and then immediately wanting to speak another 10000 hours on a new challenge. I think this enthusiasm for learning more than my experiences has truly shaped my life.

What inspired Tweak?
When I started writing my columns, books, my movie Padman came along, all these struck a chord with many people. Women reached out to me and I realised that there were many women just like me who were looking for ways to make their lives easier, to find a way to be equal and hold their own. I thought it was time that we had a platform like Tweak for both obtaining knowledge as well as being heard.

We are heading toward an equal society – what made you feel the need for a dedicated channel that would empower women for a better life?
I would love to believe that we are heading towards an equal society but I feel that we are still very far away from that eventuality and Tweak is anyway not just about equality it's fundamentally about how to live better in all aspects.

What is at the core of the project?
The core of Tweak is to be a place where you can get information in an irreverent manner. It is a place to be exposed to new ideas and to see if those ideas make you want to alter things. Tweak is a collaborative platform that hopefully helps you get maximum results with minimum effort.
"The core of Tweak is to be a place where you can get information in an irreverent manner. It is a place to be exposed to new ideas and to see if those ideas make you want to alter things."
Who is on your A-team and what does the contributors' list look like?
Our team consists of like-minded women who believe in the same ideology and vision. We have three-pronged content generators, starting from our in-house writers, celebrity contributors, freelancers and qualified experts in their respective fields.

Celebrity vs. Guide. How does the initiative make sure you explore the latter part of you; the leader, the mentor – and let it take charge over your public identity?
I am not a mentor; I am also a woman who is looking for solutions. Tweak is different from other platforms in the way it views its role, we are not leaders but explorers. We try and process the way the world works, do extensive research and share our views, always making sure that we balance it with an expert's point of view as well.

What research went into the creation of this project and how long has it been in the works?
It took 18 months and even now I sometimes wonder how in the world did it take this long. The research was expansive as it covered everything from the strengths and weaknesses of other platforms, the tech that our platform needed which had to be on par with international platforms, the revenue model and hiring the right people.

What are the various sections and how do these aim to engage women from far and wide in India? Would we also see stories and experiences from smaller towns and villages?
We have various sections from work, wellness, culture and even parenting. We are trying to look closely at breaking even more taboos and myths for women, right from mental health to other issues related to women's roles. our space will encourage stories and experiences from various region of the country and even beyond.
"I am not a mentor; I am also a woman who is looking for solutions. Tweak is different from other platforms in the way it views its role, we are not leaders but explorers."
What were the biggest challenges along the way?
I think it was really understanding the core of what I was trying to do and to streamline it. The challenges were in making sure that we had a platform that was distinctive from any other in India in terms of both content and aesthetics.

What is the role of men in women's empowerment, according to you – if any?
It is still a patriarchal world and true equality will only be accomplished when men are also able to shrug off ingrained notions of women and their role in the world.

I'm reminded of Oprah and her revolutionary team of women leading the way. What are your plans for Tweak ahead in charting the global map?
Our focus is primarily towards Indian women and so let's first speak to the millions we have here which I think is a mammoth task itself.

If there's one thing you could tweak about your life, what would it be?
The one thing I need to tweak in my life is getting rid of my daily habit of eating soya chaklis so that I don't end up as round as my favourite snack.

Text Soumya Mukerji